"Which Civic variant should I get: the turbo or the 1.8-liter?"
It's a question I've been asked a handful of times over the last few years. Hot take: The Honda Civic is a big deal.
Okay, so that's more like a wet fart than a hot take. Anyone who's been paying attention for more than five minutes will surely know that. Now in its tenth generation, the compact car has long been a staple of Honda's automotive lineup. In the Philippines, Civics have been all over the place for as long as most of us can remember. Think back to the '90s when EG and EK units were a common sight, and how gearheads of a certain age still hold those models in high regard today.
For me, though, the eighth-generation FD takes the cake. Maybe it's because I was just coming of age when those were around, but I once dreamed of blaring loud, obnoxious music through their speakers as I cruised down to the mall. The closest I ever got to that dream was watching with envy as my Civic-owner classmates did the same thing. Oh, youth. 
And because the nameplate is such a big deal, the launch of the current iteration back in 2016 got everyone excited. It wasn't just the dawn of a new Civic, it was heralded as a return to form—the ninth generation had lost the badge's legendary sportiness and sleek looks. With this model, Honda succeeded in regaining its street cred, and leading the charge was the RS Turbo with its 1.5-liter turbo engine. 
Driving the RS back when it first came out was a really exciting proposition. It came during a time when the turbo revolution was truly taking off in the country, and the modern powertrain provided plenty of thrills once you put the pedal down and the tachometer climbed to the appropriate range. It drove just fine at slower speeds, too, but its ability to call upon forced induction wizardry on a whim was what set it apart from the base 1.8-liter. Throw agile handling and a swankier-than-expected interior into the mix, and you had a car that many argued was the Civic to end all Civics.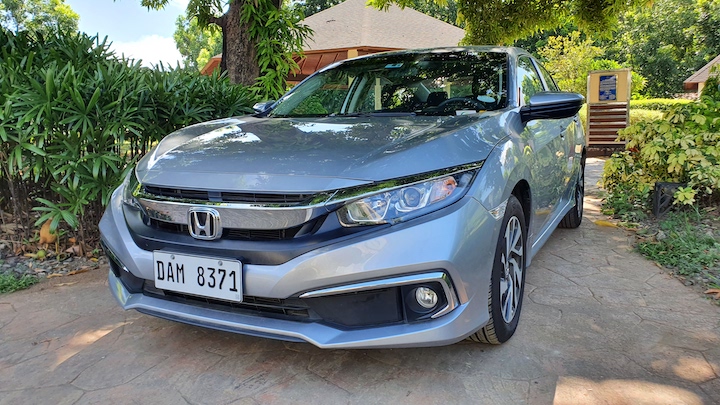 Fast-forward four years, and we find ourselves with a facelifted Civic that now comes with an additional third variant: the range-topping RS, the 1.8 E CVT, and the 1.8 S CVT, which now takes the E's spot as the entry-level iteration. 
So, what's different with the S CVT? Well, this variant comes with some expected budget cuts in the form of halogen headlamps, plain silver alloy wheels, no cruise control, body-colored door handles, fewer speakers, and an LCD instrumental cluster. Propulsion comes courtesy of the same 103hp, 174Nm powertrain as the E CVT.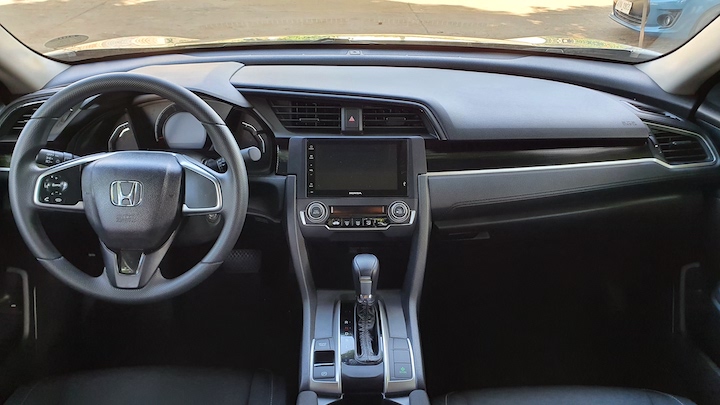 But that's not to say it's bare. In fact, it gets a lot of goodies for an entry-level option: a multi-view reversing camera, steering-wheel controls, auto-hold braking, full disc brakes, and automatic air-conditioning. 
Bells and whistles aside, though, the big question is whether or not this lives up to the RS's generation-defining penchant for excitement. Well, let's just say that the RS sets a high bar as far as fun goes, and the base variant will inevitably fall short. There's nothing wrong with the S CVT's driveability—it's comfortable at cruising speeds and stays planted on corners, and its 133mm ground clearance is high enough to not cause too many worries on city roads. But it just doesn't get your pulse racing the way the RS can. Sure, stomping the throttle will get you up to the speeds you want, but it's a labored crawl compared to the RS's dual personality. Besides, wringing out every last ounce out of an engine big enough for crossovers these days feels a little out of place, and harkens back to a bygone era when mass-market sedans were commonly bigger and more billowy.
And to that, I say: Is that such a bad thing?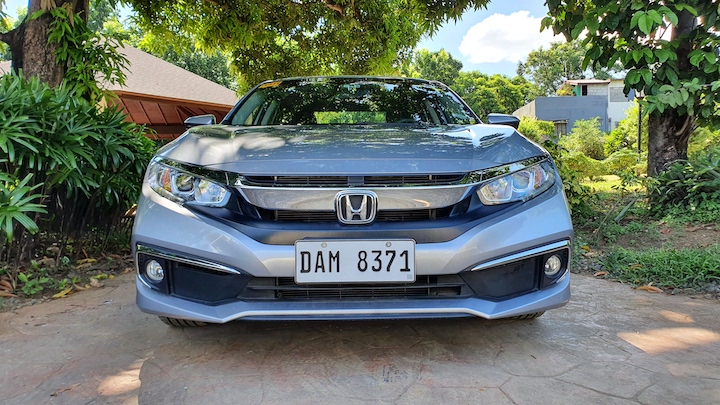 Let's go back to the question of whether buyers should opt for the RS or the 1.8-liter. My logic for this is pretty simple: If fun isn't a primary concern but budget is, go for the cheaper option. The two 1.8-liters are roughly in the same ballpark at P1,115,000 and P1,185,000, but the RS costs nearly half a million pesos more at P1,608,000.
Some buyers might say to themselves, "To hell with P500,000, the top-of-the-line Civic is worth it!" And kudos to you if you're one of them. The RS CVT is really a car for the ages. But the fact is that a P1.6-million sedan isn't for everyone. Not only is it pricey, there are already other players on the market offering similar packages for less. Consider the MG 6, a 1.5-liter turbo fastback costing less than P1.2 million.
The S CVT, meanwhile, is Civic-lite—it's just as spacious, isn't short on creature comforts, has a more cruiser-friendly ride compared to the RS, and looks almost as sporty all around. What it lacks in fun, it makes up for in savings. Not a bad trade-off, right?