"I owe you a 10-second car."
To many of us, although we don't readily admit it, that line needs no introduction. Brian O'Conner muttered it to Dominic Toretto (characters who also need no introduction) toward the end of the first installment of a film franchise that likes to fling sports cars into the sky. 
Prior to The Fast and the Furious, many people in the Philippines have not heard of the Toyota Supra. It was never officially sold here, and it wasn't the hero of an anime street racing series. Car fans know it, of course. The Supra began as a variant of the Celica, another classic Toyota model, in the '70s. By the mid-'90s it morphed from a sedate coupe with a bit of power into a serious sports car. 
The fourth-generation Supra arrived with a bang in 1993. In top-spec twin-turbo guise, it broke into the 5-second-to-60mph club; a rarefied circle of mostly European sports cars. It reached 97kph (60mph) from a standstill in 4.6sec, humbling non-Turbo Porsche 911s and matching V12 Ferraris of the time. 
ADVERTISEMENT - CONTINUE READING BELOW ↓
Testarossas, in their designer Pininfarina bodies, looked up and down at this Japanese interloper and said, "nice spoiler," then sent an SMS to their kuya F40, telling the limited-edition Ferrari that, "we've seen the Japanese version of your wing." The 911s just grunted and went back to the 'Ring to hone themselves.
ADVERTISEMENT - CONTINUE READING BELOW ↓
Recommended Videos
While amusing and (probably) imaginary, the European disdain for the Supra's performance was proof of how well Toyota did its homework. In those days it took serious engineering to get performance at the level of exotics. The Japanese did it through a twin-turbo in-line six and rear-wheel drive, with a chassis shared with the Lexus SC. 
The '90s Toyota Supra would become even more of a legend in the tuning community, when it was discovered its cast iron engine block could contain a weak nuclear explosion. Tuners easily double the power output with minimal modification, some easily reaching 1,000hp levels. And that's how no-intro-needed Jesse looked at a junk Supra in a street racing movie and said, "This will decimate all. If we have to, overnight parts from Japan."
By the time Paul Walker drove away in his white Supra in the seventh movie, the popularity of Toyota's sports car was stronger than ever, more than a dozen years after it was last for sale in the market. 
ADVERTISEMENT - CONTINUE READING BELOW ↓
Now after almost two decades of waiting, not to mention about 10 years of concepts and rumors, the fifth-generation Supra is here, and I have the key fob. 
My first thought is, it's so small. I imagine something so hyped would be...bigger. Compared to the Toyota 86, the Supra is a few inches longer, a few inches wider, roughly the same height, and interestingly, shorter by 100mm in terms of wheelbase.
ADVERTISEMENT - CONTINUE READING BELOW ↓
My immediate next thought is it's beautiful. It shouldn't be pretty because of all the bulges, creases, and that busy front end—especially when you compare it to the clean lines of the 86. But it's beautiful. The headlights forge a visual connection to the previous-generation Supra, but for the rest of the body the designers went all out—and it works. 
ADVERTISEMENT - CONTINUE READING BELOW ↓
You can't help stare at the bodywork. The curves look like bulging muscles, the long hood hints at massive power, and the low stance evokes pure athleticism. I thought the wheels were too shiny when I saw them at the launch last year, but out in the real world they look fine. The outrageous body matches the bold 19-inch wheels—although I already see the exciting aftermarket possibilities of filling those wheel wells. 
Another visual link to the previous Supra caps the current one in the form of a ducktail spoiler. It's noticeable but still more subtle than the old one's massive wing.
ADVERTISEMENT - CONTINUE READING BELOW ↓
To enter the Supra you have to swing the door wide open, and it's long so be wary of other cars beside you. The Toyota also sits quite low, so you really have to bend your knees to get in. Then on the first try you will most likely hit your head on the low roof, so you learn to lean your head back a little so you can tuck yourself in. This acrobatic act of entering will be the first clue that Toyota made few compromises in making the Supra a true sports car—you want ease of entry, get a RAV4. 
Then once you're inside the suede and leather cabin, you see it, you smell it; what so-called Supra fans have been grousing about—the BMW connection. As many of you know, the current Supra was built as a joint project between Toyota and the esteemed German brand. This car shares a platform, among other things, with the Z4. I haven't driven the latter yet, but as someone who has been driving BMWs across the range for many years, this cabin feels familiar. 
ADVERTISEMENT - CONTINUE READING BELOW ↓
Eh. 
A separate article can be written about the Supra's DNA and who built what, but platform-sharing is old news. The 86 is built in Subaru's factory, and the Toyota Yaris being sold in the US is a rebadged Mazda 2. As far as I can tell none of these brands' luster has been diminished, and in fact it has been a win-win situation for all parties involved. 
ADVERTISEMENT - CONTINUE READING BELOW ↓
And from what I've heard, neither the Z4 nor the Supra might have been possible had this joint venture not pushed through. The electric revolution is coming, and the case for fire-breathing sports cars isn't as strong as it once was, so partnerships to defray the cost have to be made. And frankly, as I sit in the low seat surrounded by leather, suede and carbon fiber, I'm glad the Supra exists again.
ADVERTISEMENT - CONTINUE READING BELOW ↓
I press the engine start button and a loud rumble reverberates through the car as the 3.0-liter turbocharged in-line six fires up. It settles into a low thrum while waiting for you to get your bearings. 
The gauges are all digital, and the functions are controlled by a circular knob in the center console. A/C controls are intuitive and can be accessed via physical buttons. The shift knob has a bit of a learning curve if you're not familiar with European cars. The steering wheel is big and delightfully chunky, with leather stitching and the usual infotainment and cruise control buttons. There is a heads-up display, and it's amazing in the sense that it needs no adjustment like early iterations in other brands. It's just there, floating and clear. 
ADVERTISEMENT - CONTINUE READING BELOW ↓
There is no backseat, and you can see the JBL logos on the speakers as well as the rear cargo area when you look behind. You can actually reach out to the back to get something if needed. Don't worry, a cover hides your belongings from prying eyes. 
The seats are comfortable, with just the right amount of depth and support. With how faithful Toyota is sticking to the sports car playbook, I was afraid the seats would be tight like the Recaros in the Mazda MX-5 RF Club Edition. But you can easily sit here for hours, I imagine, and be comfortable. 
ADVERTISEMENT - CONTINUE READING BELOW ↓
Driving around in the Supra, you realize how tall regular cars are. Motorcycle riders and SUV drivers literally look down at you. But they look down in awe. The Supra really stands out because nothing looks like it on the road, not even from Toyota's own stable. 
The ride is forgiving and pleasant, which is remarkable given the low profile 35-series rubber fitted on all four tires. In retrospect, it should come as no surprise given that Toyota has mastered how to cushion passengers from unpleasant road surfaces. I remember the previous-generation BMW Z4 had a chassis that was so stiff it almost vibrated your fat away. You do feel the heft of the car as you move around. At around 1,400kg, it's 100kg heavier than a Corolla Hybrid. 
ADVERTISEMENT - CONTINUE READING BELOW ↓
It's not sharp like a European sports car; the Supra likes to have fun. It certainly has that Waku Doki spirit befitting the GR badge on the back, just below the beautiful Supra script. There's a playfulness in how the Supra moves, a bit of skittishness. Where the Germans like to tell you everything that's going on on the road, down to what brand of paint is on the lane markers and how much kickback the contractor earned from that pothole you ran over, and some people like that, but Toyota wants to give you your best life. 
Press firmly on the throttle, wait half a second for the boost to kick in, and the Supra will make your grocery errand feel like a fun run. The engine is tuned not for precise inputs but for driving enjoyment. The Supra wants you to gradually learn how it reacts to your driving, and it will reward you when you get it.
ADVERTISEMENT - CONTINUE READING BELOW ↓
But there is a monster inside this car. Flick the driving mode to Sport, watch the Supra animation change on the infotainment display, and the idling becomes angrier. You will know what your balls are made of once you mash the throttle. From a standstill, 100kph comes in around 4secs. This is quicker than many non-Turbo Porsche 911s, again. That sounds fast, but when you're behind the wheel, it's scary. Yes, my balls are not made of titanium. I admit that now. 
ADVERTISEMENT - CONTINUE READING BELOW ↓
In Sport mode the Supra eats up road, and your bravery, like very few cars in the market can. And it does so with a glorious soundtrack coursed through the twin tailpipes in the back. The car just accelerates if you keep feeding it gas, and you become hyper-aware of your surroundings. The Hand of God pushes against your chest as physics is mocked by 335hp and 500Nm, coursed through an eight-speed automatic. If you don't want to question your mortality and life choices, it's best to bring this to a track and hire a driving instructor. 
The downside to all this is that it gets a bit tiring in the literal sense. The aural inputs, the visceral movements, the awkward entry and exit—there will be days where you just want to get in a Corolla Hybrid for errands. An old knee injury began to twitch from extending my leg to get out, shuffling my body away from the low roof sill, and pulling myself up. Apparently, there is such a thing as too much of an occasion. 
ADVERTISEMENT - CONTINUE READING BELOW ↓
Yet, this is a good thing. I like how Toyota didn't compromise by softening the Supra to cater to those who want exhilaration and relaxation at the same time. The Japanese carmaker wanted another sports car in its lineup, and so it designed one. A car can only be so many things before it reaches the limit of compromise. BMW, Mercedes, and Audi have almost made it a game of engineering prowess to 'sportify' their crossovers and SUVs, and, to an extent, they've succeeded. 
ADVERTISEMENT - CONTINUE READING BELOW ↓
But I admire the purity of the Supra, for being an all-out sports car in looks and in deeds. And yes, in spirit.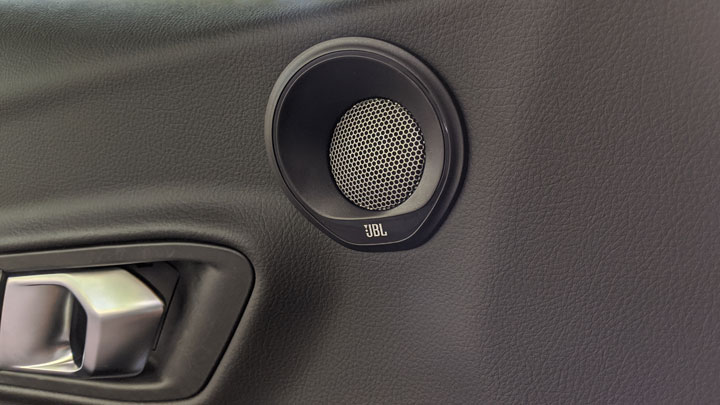 I would have liked the audio system to be better. The JBL system is okay, but there are definitely better setups in this price range of P5 million. Apple CarPlay would have been nice as well. Fuel economy just hovers around 5km/L, which is no surprise. But these are just nitpicks. 
ADVERTISEMENT - CONTINUE READING BELOW ↓
Like with the 86, Toyota has succeeded in bringing another true sports car to the market. The specter of its birth and creation was present at the start, but after two weekends—after a few days—I didn't care anymore. Some people might care, I assume, but it is what it is. 
Near the end of my time with the Supra an interesting thing happened. As I was parking inside a mall, reversing into a free slot, a guy in a Vios drove in front of me. When he saw the white sports car I was driving, his eyes widened and he nodded vigorously, and then he drove past. I parked, eased my body out of the Supra, and locked the car. I saw the Vios guy walking toward me. I mentally began to prepare for what he might ask, and they usually ask for the price first. He stopped several meters away, looked at the Supra in pure wonder, gave the most enthusiastic thumbs up I've seen in my life, and walked away. 
ADVERTISEMENT - CONTINUE READING BELOW ↓
I've borrowed Ferraris, Nissan GT-Rs, and various roadsters, and I've never gotten such a look of unfiltered adulation. And I think part of what moved him was that his Vios shared the same badge, that somehow a mass market sedan and a rare coupe had a connection. He didn't care whether this was built in Austria or by Santa's workshop in the North Pole.
ADVERTISEMENT - CONTINUE READING BELOW ↓
The Supra is here, in the Philippines, ready to forge a new legacy beyond ludicrous movie franchises. Is it a 'true' Toyota? That answer might differ depending on who you ask. If you ask me, what's more important is that this is the Toyota Way. In the midst of industry upheaval and a changing market, the Japanese found a way to revive a hallowed name that stays true to its sports car spirit.
ADVERTISEMENT - CONTINUE READING BELOW ↓