The Mazda BT-50 currently available in our market is a really old model. Really. It was introduced way back in 2012 and received a refresh in 2015. Fast forward to 2020, nearly a decade after its debut, and the BT-50 finally received the overhaul it deserved. But instead of bringing in the all-new model, Mazda Philippines had other plans: The Japanese carmaker unveiled the BT-50 Pangolin Edition.
It's an attempt to revitalize the old pickup while raising awareness about the endemic and critically endangered Philippine Pangolin. It was a strong move from Mazda, especially considering how it donated one unit to the Katala Foundation to help Pangolin monitoring and preservation activities in Puerto Princesa, Palawan.
Outside of its advocacy, though, how does such an old pickup hold up as, well, a pickup? Is it still a viable option for car buyers looking for a ute? Or is it lagging too far behind its competitors in a stacked segment?
I was recently able to try out the BT-50 Pangolin Edition myself for a few days to find answers to that. I was handed the keys to the 4x4 variant, though—only 4x2 variants now remain in the local lineup—but it still gave me a good idea of what exactly the truck had to offer.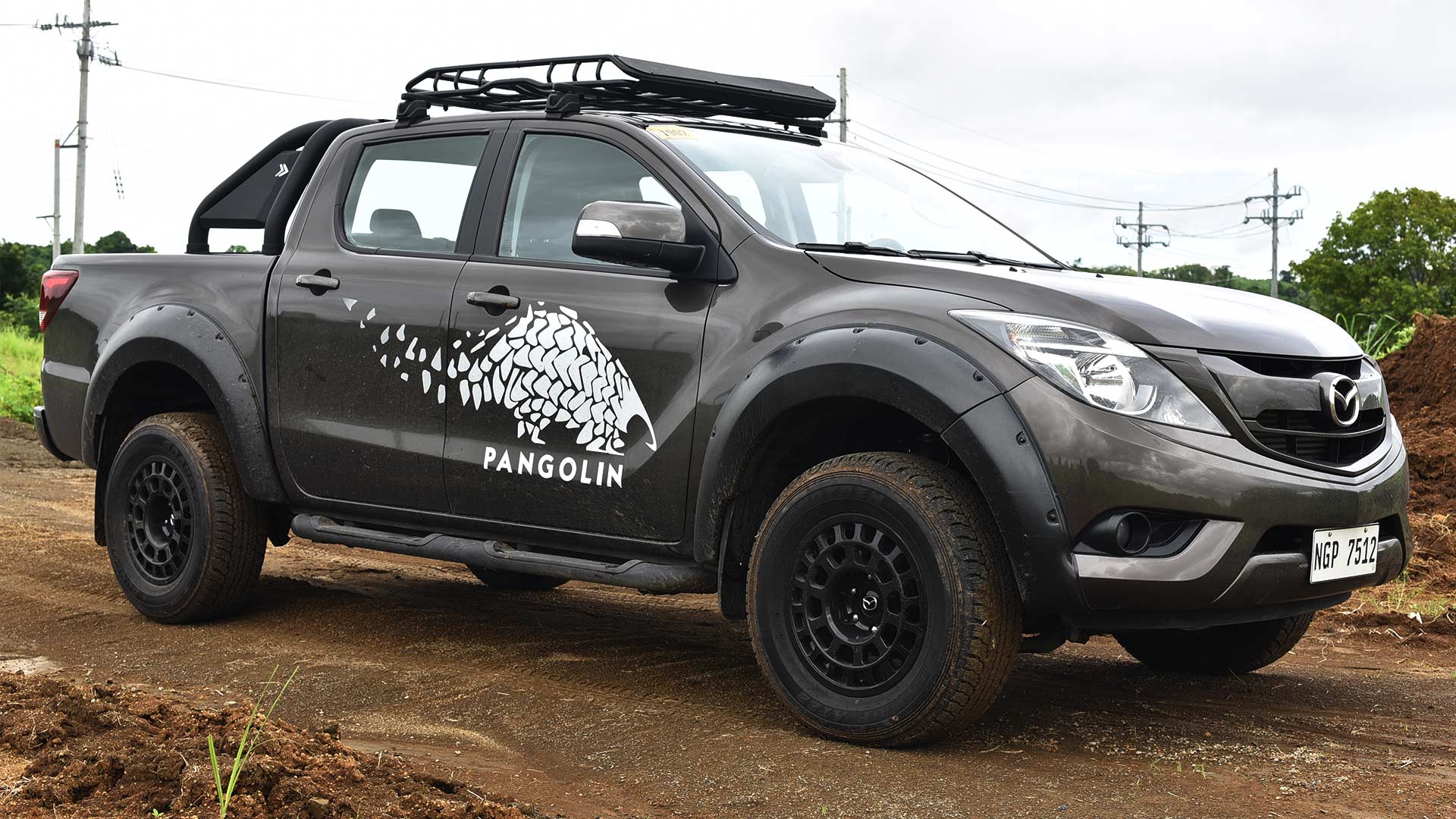 You might be familiar with how current-gen Mazdas look—they're proof that the brand has been at the top of its design game these past few years. But as we mentioned, the BT-50 is already quite old, and it no longer exudes the same Mazda appeal that newer models like the 3 or the CX-30 have. That being said, it's also not behind its competitors in the segment in terms of styling.
It's still nowhere near as handsome as the next-generation BT-50, but Mazda has done a pretty good job breathing life into the pickup with this Pangolin Edition model. Frankly, I dig its rugged look—with those snazzy 17-inch Rota matte black wheels and flared fenders—over the newer albeit vanilla styling of other pickups in the segment.
Personally, I would've preferred if Mazda actually painted the Pangolin art and lettering on the door panels instead of plastering them on as decals. But that's just me, and the way Mazda did it actually makes more sense. At the end of the day, these decals are what help make this BT-50 the special-edition truck that it is.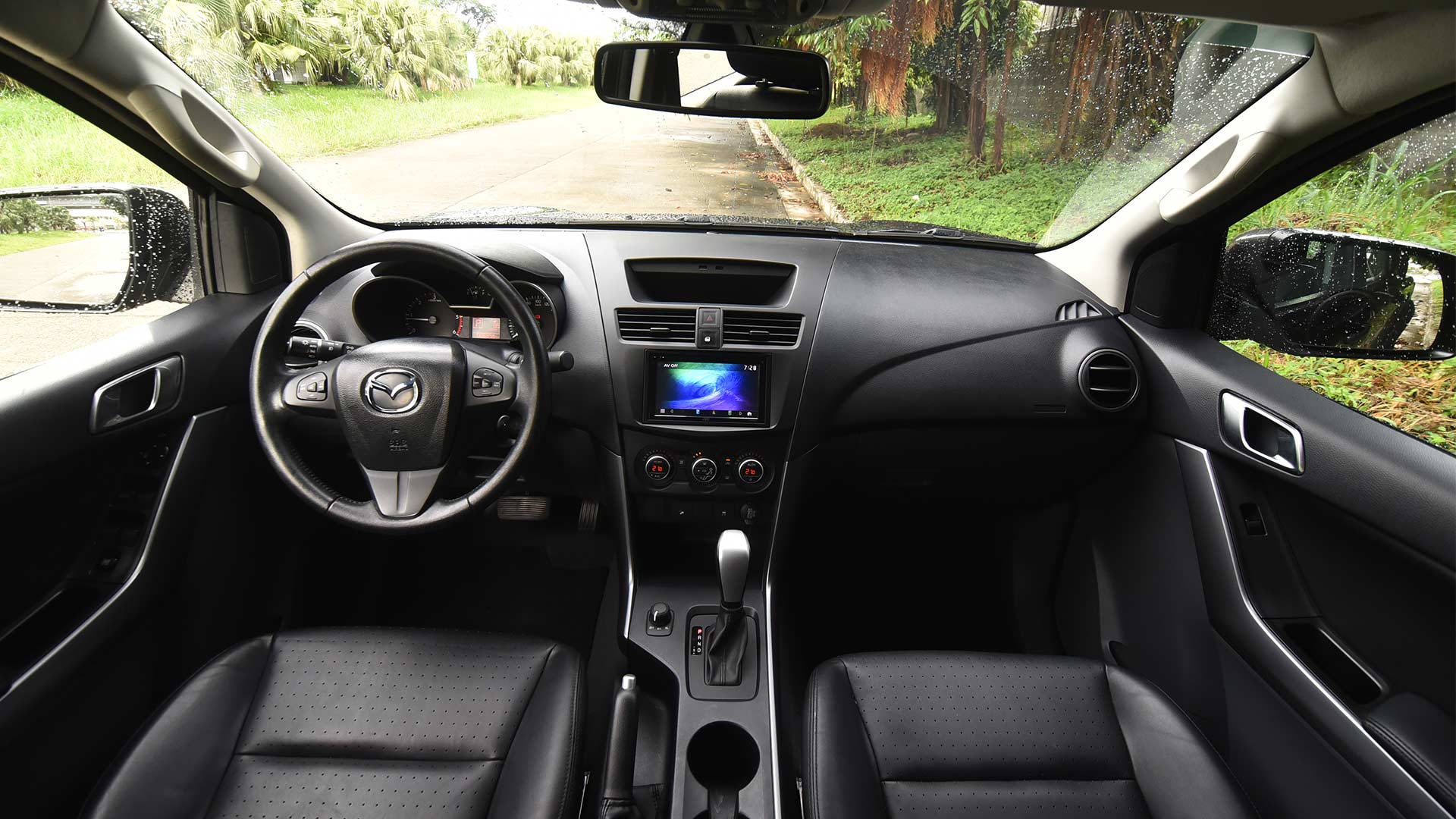 As you make your way inside, here's where the BT-50 will really start to show its age. Yes, there are leather seats and soft-touch materials on the door panels, but the cabin just looks dated. The instrument cluster, the knobs on the center stack, and even the gear lever and the steering wheel-mounted controls all look like they could use an overhaul.
However, if you aren't very particular with interior design when it comes to a pickup, you probably won't have a lot of problems here. While it doesn't boast a lot of storage up front, there's an abundance of head- and legroom even in the second row, so much so that a family of five won't have any trouble fitting here. Minus any cargo, of course—those can be loaded on the bed instead.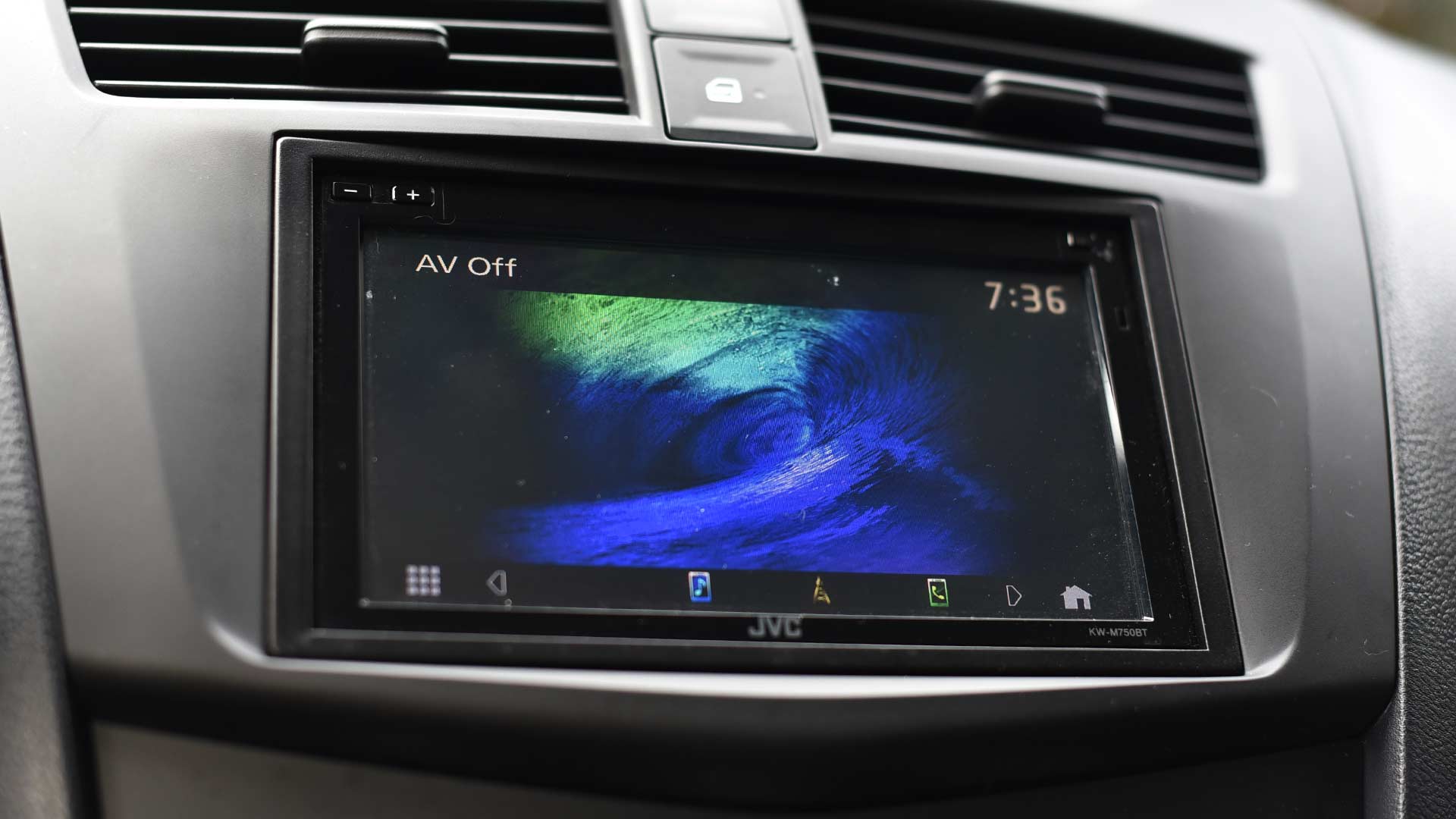 There are rain-sensing wipers, an auto-dimming rear-view mirror, and hill-descent control. There's also cruise control at your disposal, but it isn't displayed through the instrument cluster. There is a new seven-inch JVC infotainment system with Apple CarPlay and Android Auto available, however, as well as a reversing camera with parking sensors. Thank goodness Mazda decided to at least replace the BT-50's old head unit.
That's about all of the tech, though. No parking assist or added safety features on this truck—this department is where it really falls behind newer competitors. But in my opinion, it doesn't really matter.
The BT-50 Pangolin Edition still gets niceties like the step boards for easier ingress and egress. It also gets a nifty roof rack up top and sports bar out back. Sure, they look good, but they're also very functional, too. Unlike with a standard pickup, you'll always have both the rack and the bar to tie your stuff to, so loading and securing cargo during out-of-town trips with family or friends won't be an issue.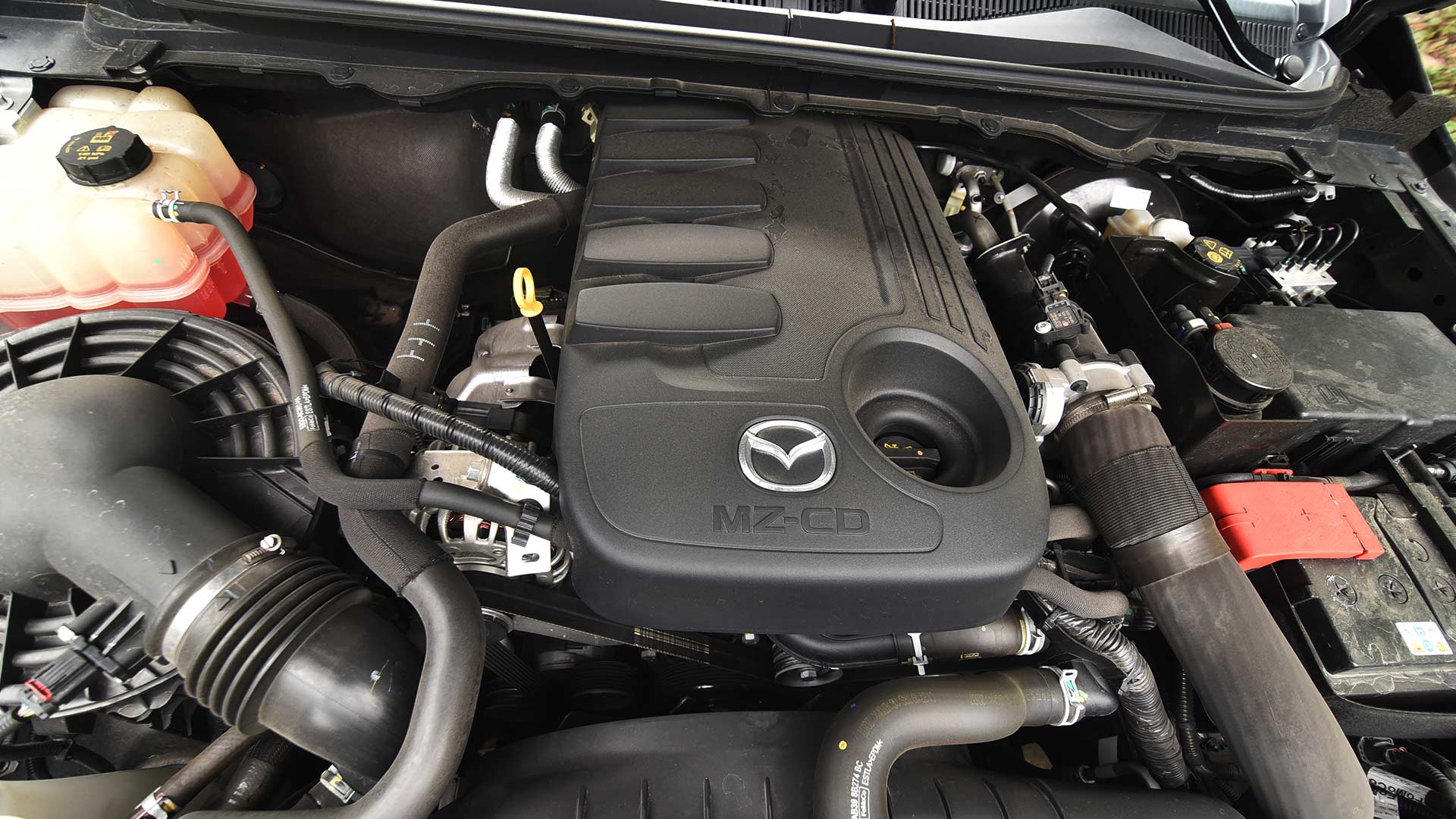 Like I mentioned earlier, I got to try out the 4x4 AT variant. This one gets a familiar 3.2-liter five-cylinder turbodiesel that generates 197hp and 470Nm of torque and is mated to a six-speed automatic gearbox.
On the road, though, I must admit that the engine doesn't feel as refined as that of other pickups in the segment. I find that the acceleration isn't as smooth as the Toyota Hilux, but the BT-50 still has more than enough oomph to get you up to speed in a jiffy.
The 4x2 MT variant, meanwhile, gets a 2.2-liter in-line-four turbodiesel capable of 148hp and 375Nm and is mated to a six-speed manual. It's night and day when you look at these two together, but I have no doubt the smaller engine has enough power for its size. I reckon I'll be able to get much better fuel economy figures than the 11-13km/L that I got with my test-drive unit.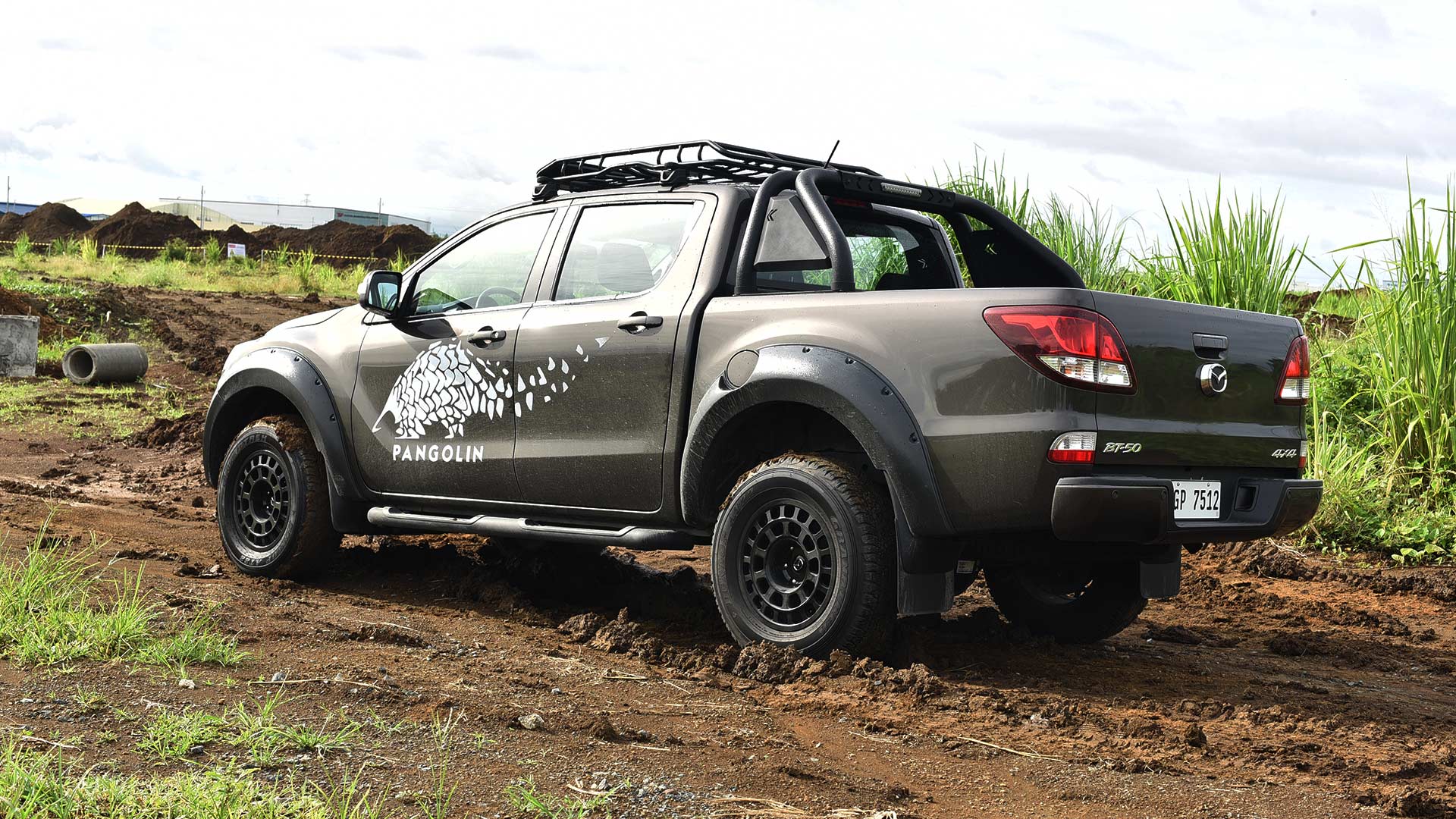 Handling-wise, though, all variants are pretty much identical. They have the same wheels, tires, and ground clearance, after all.
The BT-50 Pangolin is by no means the most agile pickup in the segment, but it still handles quite well for its size. The steering is on the heavy side, and it provides good feedback when tackling tight corners or turning at speed. Unfortunately, that also makes the vehicle a bit of a challenge to park due to its inherent size.
The upside with the BT-50 is that the ride isn't too stiff. It's still a pickup, so it's not that comfortable through Metro Manila's unforgiving roads, but at least you won't be bouncing around through bumpy concrete in the city. What's more, the cabin also suppresses road noise quite well.
What's really worth noting with this pickup is that it's not tiring at all to drive. While I did find the high seating position to be cumbersome, I have to commend how easy the BT-50 is to pilot on long trips through open roads or through short distances around traffic-riddled streets. Of course, opinion on the latter will vary when you're driving a stick shift.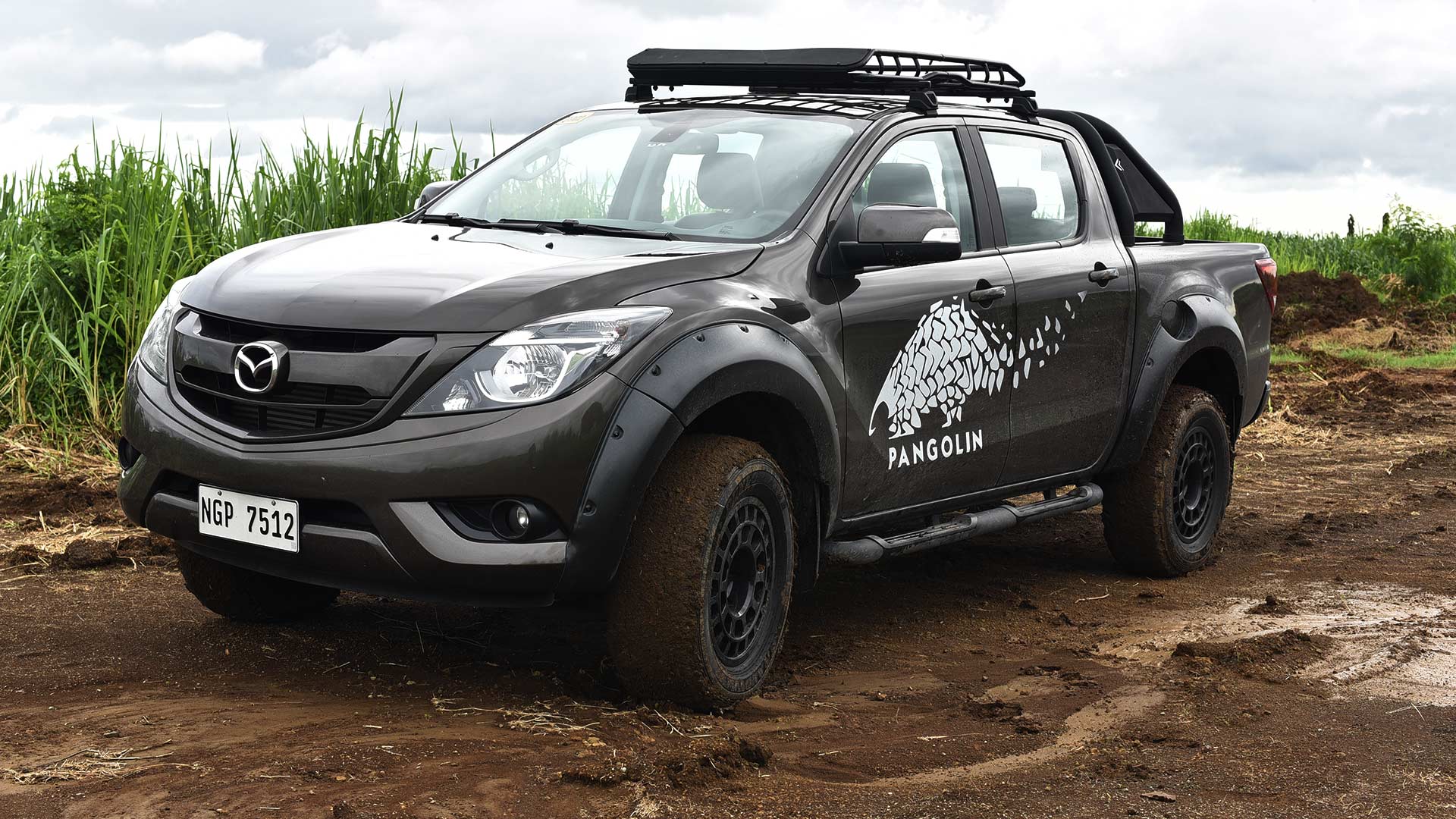 Some might say that Mazda trying to raise awareness about the Philippine Pangolin through this BT-50 might be a stretch, but I'd say it's done quite tastefully. Besides, you need not be an animal rights advocate to appreciate what Mazda has done with its truck.
In itself, the Mazda BT-50 Pangolin Edition is still a very functional pickup that pays enough attention to form. It looks somewhat fresh on the outside while a little long in the tooth on the inside, but at its core it's still got everything you'll need in a pickup. It's definitely not something one would consider premium in this day and age, but it's a truck that can still go toe-to-toe with the youngbloods in more ways than one.
As mentioned, there's already a new BT-50 out in the open, so this special edition may very well be the last hurrah for the current-gen model in our market. If you ask me, it's a proper sendoff. Mazda didn't just fluff up the truck with aesthetic upgrades here and there—it also added a fitting theme and look along the way. That's how you go out with a bang.