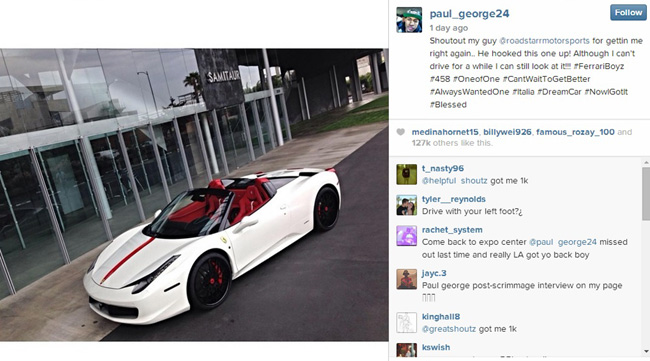 When you've got a severely broken leg, the last thing on your mind would probably be when you can drive a car again. Not for NBA basketball player and Indiana Pacers small forward Paul George, it seems.
Less than a week after George broke his lower right leg during a scrimmage with the United States basketball team, he took delivery of a customized Ferrari 458 Spider and posted a photo of it on his Instagram.
George apparently acquired the 458 Spider from Roadstarr Motorsports in Los Angeles, California, "the premier institution and the leader in refining automotive boutique tuning for European and exotic automobiles." Based on Roadstarr Motorsports' Instagram account, George had asked the shop to customize the 458 Spider just before he broke his leg.
Anyway, this should inspire George to rehabilitate his right leg as soon as possible, don't you think?
ADVERTISEMENT - CONTINUE READING BELOW ↓
ADVERTISEMENT - CONTINUE READING BELOW ↓
Recommended Videos