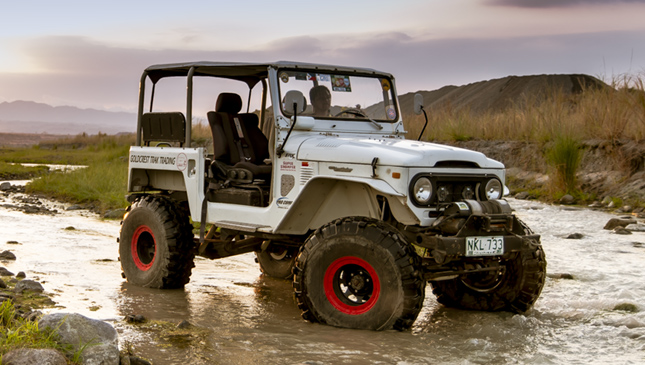 Geo Icmat is a member of the Angeles City Four-Wheel-Drive Club, and is obviously no stranger to tackling the region's challenging ter­rain conditions. Pampanga is known for its beautiful off-road trails and river crossings, but none of these is ever a walk in the park. We first met Geo when the group offered to take us on a tour of the Mancatian River, and we were impressed by his driving skills. Geo was the youngest driver out there, but he could easily keep up with the hardened off-road veterans.
This was no mean feat, especially as off-roading is a way of life in Pam­panga. It's a lot of fun to get down and dirty away from the paved roads, but the foundation of the hobby is deeply rooted in survival and social responsi­bility. After Mount Pinatubo erupted, concerned citizens wanted to have the capability to monitor lahar levels and rescue folks who were stranded in far-flung, inaccessible areas. Today's rec­reational activity is an offshoot of what was once a very serious duty.
ADVERTISEMENT - CONTINUE READING BELOW ↓
Anyway, Geo's rig is pretty tame compared to what the other club mem­bers are driving, but it is a very good example of how to set things up prop­erly. Studying it is also a crash course in why the Toyota Land Cruiser FJ (gasoline) and BJ (diesel) platforms are super popular among diehard off-road enthusiasts. It's a textbook example of what can be done to make a robust plat­form even more hardcore.
"The most extreme location I have brought my rig to is high up in the mountains of Porac and Bamban," Geo tells us. The trails of Mount Arayat have deep ruts filled with knee-deep and sticky mud, and these pose no problem at all.
This 1974 FJ40 has its original 4.2-liter, six-cylinder 2F engine under the hood, with matching numbers. But getting it to ride the way it does took two years of labor, including the wait­ing time for the parts to arrive. It uses Land Cruiser Series 70 hardware for the suspension, with a spring-over-axle configuration to raise the ride height.
ADVERTISEMENT - CONTINUE READING BELOW ↓
Recommended Videos
These modern LC70 parts are quite popular for use in the older FJ, and it makes a lot of sense. Other bits include the LC70 front differential, combined with a more modern Land Cruiser Pra­do rear differential. Both are fitted with LSDs. Keeping things in control are Pro Comp shock absorbers. For unrivaled traction in any off-road condition, huge Super Swamper tires mounted on steel bead-lock rims round off the look. The open-air cockpit adds to the romance, and we like the Celica bucket seats. Very nice.
Geo shares with us that off-road driving thrives in Pampanga because of the landscape. It is blessed with lots of natural outdoor destinations, which of course require 4x4 vehicles. The added treat is that these places are very close to the city.
"That's why it is very easy for us to go and hit the trails, un­like in some other countries," he adds. "Abroad, people have to do long drives to reach off-road parks. Here, we do it for a living, that's why it is so popular."
ADVERTISEMENT - CONTINUE READING BELOW ↓
With a rig like Geo's, we'd be happy to hit the trail every day.
Photos by Ian Magbanua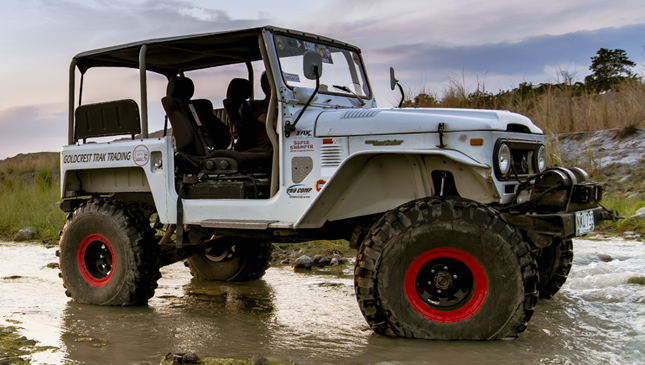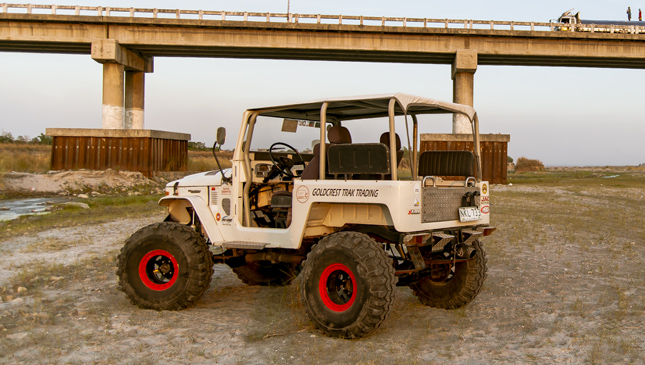 ADVERTISEMENT - CONTINUE READING BELOW ↓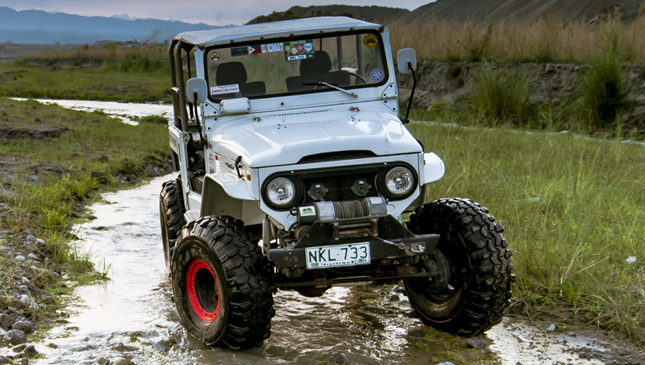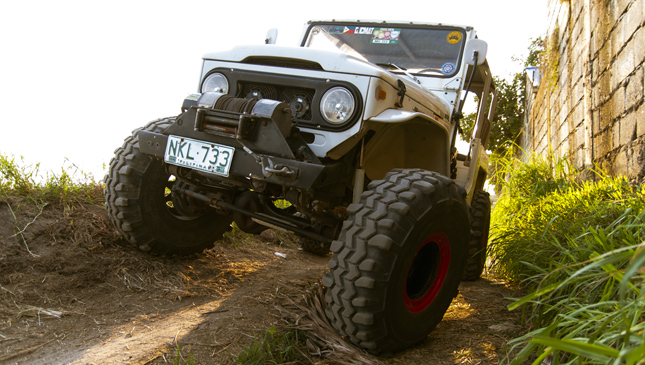 ADVERTISEMENT - CONTINUE READING BELOW ↓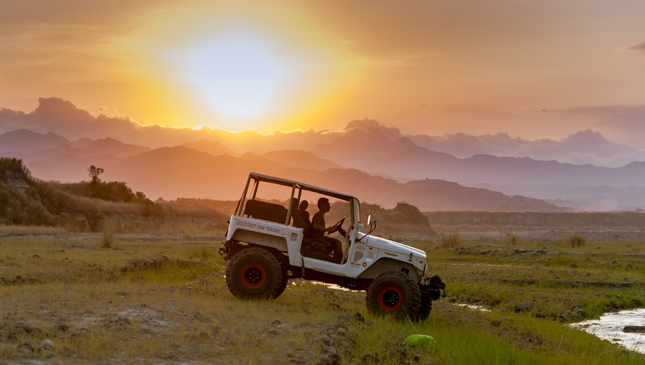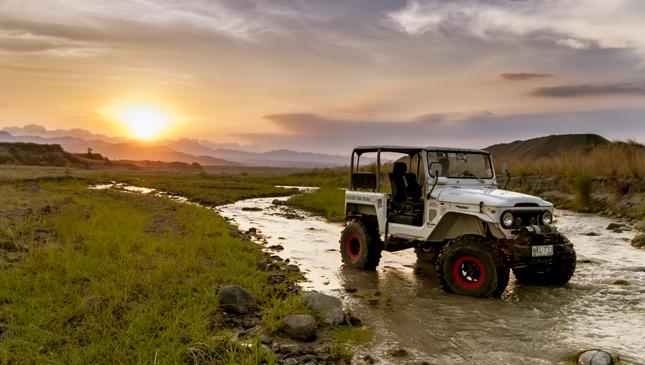 ADVERTISEMENT - CONTINUE READING BELOW ↓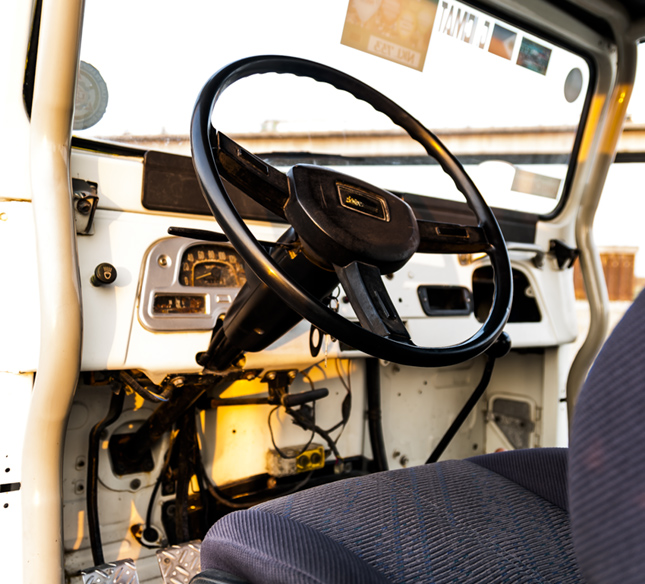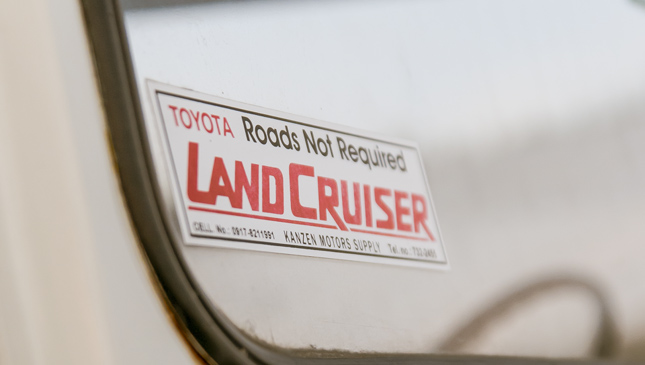 ADVERTISEMENT - CONTINUE READING BELOW ↓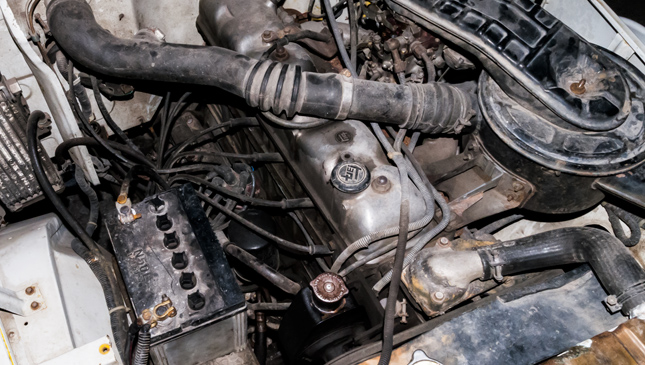 NOTE: This article first appeared in Top Gear Philippines' July 2015 issue.