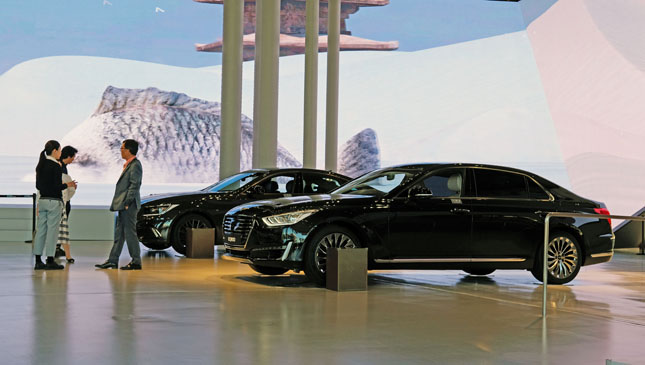 We've always wondered how marques manage to come up with new tech and toys every year, trying to outdo the competition. And it's not like competition and consumer options are whittling down.
In fact, despite urban traffic and the continuous bid to minimize driver input, the time it takes to design a car has gotten shorter and the number of players has been increasing. We even reported a vacuum company joining the foray soon. The comment section of our Facebook page on which we posted the story gave us this story idea: What car brands started out as non-car manufacturers? Here then are some of their humble beginnings.
1) The small construction firm founded by the eldest son of a poor farmer
The largest vehicle manufacturer in South Korea (and the third largest in the world behind Toyota and Volkswagen) started out as a small construction firm called Hyundai Engineering and Construction Company in 1947 before Hyundai Motor Company was founded in 1967. By 1968, the Korean carmaker, in partnership with Ford Motor Company, released its first car, the Cortina. Hyundai's first independently designed and manufactured car Pony was released in 1974.
ADVERTISEMENT - CONTINUE READING BELOW ↓
2) A motorcycle sidecar manufacturing business using a £1,000 bank overdraft
William Lyons and World War I veteran William Walmsley, both motorcycle enthusiasts, created Swallow Sidecar Company in Blackpool, England in 1922. The sidecar manufacturing business grew rapidly and prompted the company to relocate to Coventry, where business further expanded.
Swallow then started to produce coachwork for the chassis of Fiat, Austin, and Alvis. Lyons, not content with providing just bodies to other companies' chassis, then manufactured Swallow's first car, the SS1, which was introduced during the London Motor Show in 1931. Four years later, the company from Blackpool formerly known as Swallow Sidecar Company became Jaguar.
3) A tractor company owned by either a scorned car nut or a brilliant businessman
No decent gearhead would not know the supposed 'history' of Lamborghini. Just to recap, Ferruccio Lamborghini was apparently insulted by Enzo Ferrari after the former approached the latter about a weak clutch in a car he bought. What would a tractor driver know about sports cars?
But in another tamer version (albeit a more boring one), it was said that the tractor entrepreneur simply saw opportunity for profit when he realized how lucrative the business of manufacturing exotic cars is, thanks to the markup on parts like the clutch that he and Ferrari were using. Lamborghini Trattori (tractors) was founded in 1948 and Automobili Lamborghini S.p.A. in 1963. And while the company's first model, the 350 GT, was lauded for its refinement and power, it was the Miura's launch in 1966 that catapulted Lamborghini in the exotic cars arena.
4) A steel trading company from Mumbai
In 1946, Mahindra & Mohammed was established by brothers J C Mahindra and K C Mahindra, along with Ghulam Mohammed as a steel trading company. The company would later change its name to Mahindra & Mahindra (Mohammed left for Pakistan to become that country's first finance minister) and expand into vehicle manufacturing, from assembling Willys Jeep to manufacturing light commercial vehicles and then agricultural tractors.
5) A shipbuilding company that later built airplanes, heavy machinery, and cars
Before Lancers and Eclipses, there was Mitsubishi Model A, a car built by Mitsubishi Shipbuilding Company in 1917. That's correct, the diamond brand we've associated with cars has been in the shipping industry since 1870. The company from the island of Shikoku has then went on to diversify its portfolio from banks and general trading to chemicals and even power generation.
6) A family-run grain mill and later steel foundry
The French carmaker has over two centuries and eight generations worth of history. Before manufacturing RCZs and 308s, Peugeot was a family business that manufactured salt, pepper and coffee grinders (they still do, actually), saws, and umbrellas. It wasn't until 1889 when Armand Peugeot and Leon Serpollet built a steam tricycle, Peugeot's first car.
7) The loom makers and exporters
The son of a cotton farmer born in Shizouka, Japan, Michio Suzuki, founded Suzuki Loom Works in 1909 by inventing a new type of weaving machine, which was then exported overseas. Suzuki later realized the need for a small and affordable car for the people in 1937. Even though World War II halted the R&D for his prototype, by 1955, Suzuki was able to create the Suzulight, the company's first entry into automotive manufacturing.
ADVERTISEMENT - CONTINUE READING BELOW ↓
8) A loom company started by a father then later a car company expanded by his son
Suzuki wasn't the only Japanese car manufacturer that started out as loom manufacturers. In fact, the world's most valuable car company, Toyota (then Toyoda), founded by Sakichi Toyoda, also got into manufacturing looms in 1924. Automobiles came in the picture in 1933 as a division of Toyoda Automatic Loom Works, which was led by Kiichiro Toyoda, Sakichi's son. The company's first passenger car, the Model AA, was completed in 1936.
Yup, these brands existed way before Silicon Valley startups and venture capitals were a thing.