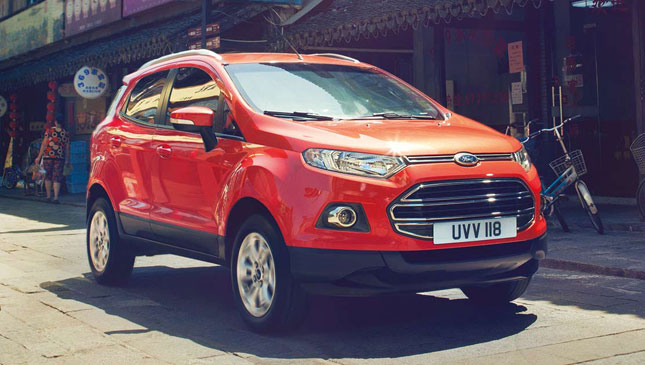 So it's been confirmed that a refreshed Ford EcoSport is headed our way very soon (more info on that here). We don't have all the details yet, so for the sake of speculation and wishful thinking, here are five changes we hope to see in the new crossover:
1) Better dash materials.
The current EcoSport's affordability comes at a price, and that much is evident when you see and feel the interior. It's serviceable, yes, but it's mostly fitted with hard plastics that don't exactly inspire any sense of luxury. Now granted, this is a mass-market crossover, but a touch of faux leather or better plastics wouldn't hurt, right?
Continue reading below ↓
Recommended Videos
2) A bigger display.
The automatic variants of the EcoSport have a small Dot Matrix display in the middle of the dashboard. It's clearly a dated design, and we're hoping the new one comes with a more legible infotainment display. A touchscreen would be a welcome touch, provided it doesn't jack up the price too much.
3) A more modern dash layout.
And while we're still on the subject of the dashboard, those clunky buttons under the screen (in a V-shaped layout, no less) really need to go. The numbers, in particular, remind us of the old payphones from the '90s. Again, a touchscreen would be a great addition.
4) A peppier transmission.
The good news is that the incoming crossover will have a 1.0-liter EcoBoost engine under the hood. That should be a big improvement over the current 1.5-liter in terms of performance--the Vietnam-spec EcoBoost boasts 125hp and 170Nm, a significant bump from the 1.5-liter's 108hp and 142Nm. Along with that, we'd love to see an upgraded transmission fitted on as well. The current EcoSport's six-speed Powershift tranny is sluggish in our experience, so a change in that department would be nice too.
5) A cleaner rear.
Now, this one is a bit subjective. Some people are very fond of spare tire covers on SUVs. For us though, they're better suited for mid- and full-sized SUVs. On small ones like the EcoSport, they take away from the vehicle's compact nature, giving you a few more inches to worry about whenever you back up. The press images that came out from the new EcoSport's European launch were sans spare tire, so we might actually see this improvement here as well.