It's clear that industries have been shaken up by this pandemic, and it'll forever change the way we do business and, ultimately, how we carry out our daily lives.
But of course, the changes that'll result from this crisis aren't all good. Just take a quick look at the current state of public transportation here in the Philippines to get an idea.
At first glance, you might say it's a win that the days of heavily congested trains, jam-packed buses, and overloaded jeepneys in the metro are probably long gone, but that doesn't paint the entire picture. These weren't really the effects of a mass transport system seeing some significant improvements—these were merely what physical distancing under the so-called 'new normal' entailed.
To make matters worse, queues at train stations are expected to take longer than the usual because of these new normal guidelines—as if it didn't take long enough already before all this happened. Plus, PUVs operating at limited capacities can only spell disaster for commuters. We find it hard to believe that the supply in this regard will be able to meet the ever-growing demand given the current situation.
Continue reading below ↓
Recommended Videos
So now, as public transport becomes even less viable than ever, isn't it about time we usher in better alternative mobility solutions here on our side of the globe?
Take electric kick scooters (EKS), for example—they're eco-friendly and highly portable devices that fit perfectly in this day and age where we all need to keep our distance from each other. These have already gained a bit of popularity here in the Philippines, and as a matter of fact, we even found a fellow commuter who recently purchased his own EKS in lieu of traditional public transport.
Junco Balmeo, a guy who lives and works in Makati City, just recently bought a Xiaomi M365 Pro for P23,990 via Facebook. He shared with us that he has already been using the scooter for a week, and it's been a fun experience for him so far.
"It's been fun and it's faster than the regular commute since I get to avoid congested areas. I also don't have to think about parking since I get to carry it with me anytime, so it's convenient," Junco told us.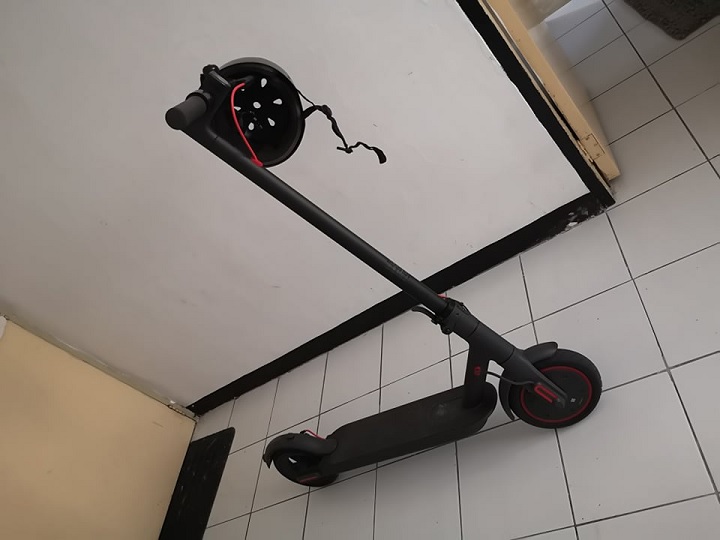 For a bit of context, the distance between Junco's residence in Makati is 3-4km and the regular commute consists of two jeepney rides. He told us that he was already planning to get an EKS even before the pandemic hit.
"I already planned on buying one before the crisis because wasting 40 minutes to an hour just to get to work and back is just too much," he added.
He told us that it can be a chore to ride under the sun, though, and that the scooter isn't really waterproof. These could pose certain problems, sure, but riding an EKS is probably better than using public transport, we'd say.
We asked Junco for advice for fellow commuters who are looking to buy an EKS of their own in the wake of this pandemic. "Research. Know the specs and limitations of the scooter you're eyeing and if it will suit your needs," he said. "Know the best and safest way to get to your destination. And lastly, wear proper safety gear and drive safe."
We understand an EKS is already a luxury even to the average employee in the capital, but it's definitely something worth giving a shot if you have the means to do so. We also know that Metro Manila isn't the most EKS-friendly city in the world, but it's really looking to be a very interesting proposition especially in times like these.
What say you, commuters? If you had the means, would you opt for getting something like an electric kick scooter to do away with your regular commute?
For more of our stories on the ongoing crisis, click here. For the latest news and updates on COVID-19, check out reportr.world/covid-19.