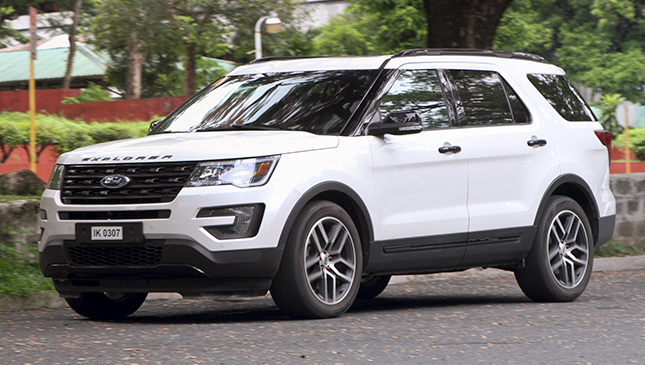 The Ford Explorer started life as a rugged pickup-based SUV with a traditional body-on-frame construction. While it was rugged, this architecture also added some unwanted weight. After almost two decades and four generations of refining the old formula, Ford decided it was time to reinvent its popular SUV.

In an effort to make the fifth-generation Explorer roomier, lighter, and more fuel-efficient, Ford gave it a unibody construction. While some people initially didn't like the softening up of their beloved SUV, this move has proven to be successful. Now, after more than six years in the local market, the Explorer continues to be as popular as ever. Let's take a look at some of its strengths.

1) Style.
Continue reading below ↓
Recommended Videos
The Explorer's exterior styling is a nice balance between timeless British elegance and the unmistakable bold American truck flavor. The result is a distinctive premium and sporty design that looks much more expensive than it really is. A mid-cycle facelift keeps it looking sharp and fresh.

2) Turbocharged power.
It's offered with two turbocharged engines: a 2.3-liter inline-4 EcoBoost mill that makes 270hp and 408Nm; and a 3.5-liter V6 producing 365hp and 475Nm. The idea behind this is having smaller displacement boosted motors that can rival larger naturally aspirated engines while sipping less fuel. All variants come standard with a six-speed automatic transmission. All-wheel drive is standard on the more powerful six-cylinder turbo.
3) Space. Lots of it.
The Explorer is one of the roomiest SUVs in its segment. Extra space means extra comfort for its occupants. Fold down the rear seats and you end up with a cavernous cargo hauler.

4) Luxury.
The Explorer not only does a convincing job of looking like a premium SUV, but it actually has premium features. It's got perforated leather trim, 10-way power adjustable front seats, power-fold third-row seats, a dual moonroof, and a power liftgate.

5) Value for money.
Priced at P2,748,000 for the 2.3 EcoBoost Limited and P3,118,000 for the all-wheel drive 3.5 EcoBoost V6 Sport in 2018, you probably won't find another SUV that offers the same amount of space, style, and features.

It isn't perfect, but it's easy to see why it's still a favorite among executive SUV buyers here despite not having a diesel option.