1) It's a titchy version of the most iconic Porsche ever.
Let's not beat around the bush: The Porsche 917 is one of the coolest, quickest racing cars ever made. If you're too lost in the TikTok sauce to remember it (or not beardy enough to know), the 917 won Le Mans in 1970, and again in 1971—the same year it was immortalized in Steve McQueen's film about the race.
But the 917 didn't just win—lots of cars have done that. It was the way it did it. In 1971, it set a record 222kph (138mph) lap, which no car has ever beaten since the organizers plonked a chicane on the Mulsanne straight. And talking of the Mulsanne, Vic Elford drove his 917 to 386kph (240mph) along the 5.6km straight in 1970, in the rain, at night, which pretty much blew the opposition far into the French countryside.
ADVERTISEMENT - CONTINUE READING BELOW ↓
Now, thanks to halfscalecars, you can replicate that in diddy form, down your driveway. Which makes it look even cooler. As shrunken cars are cool. Just ask Wayne Szalinski.
2) It's got a proper engine.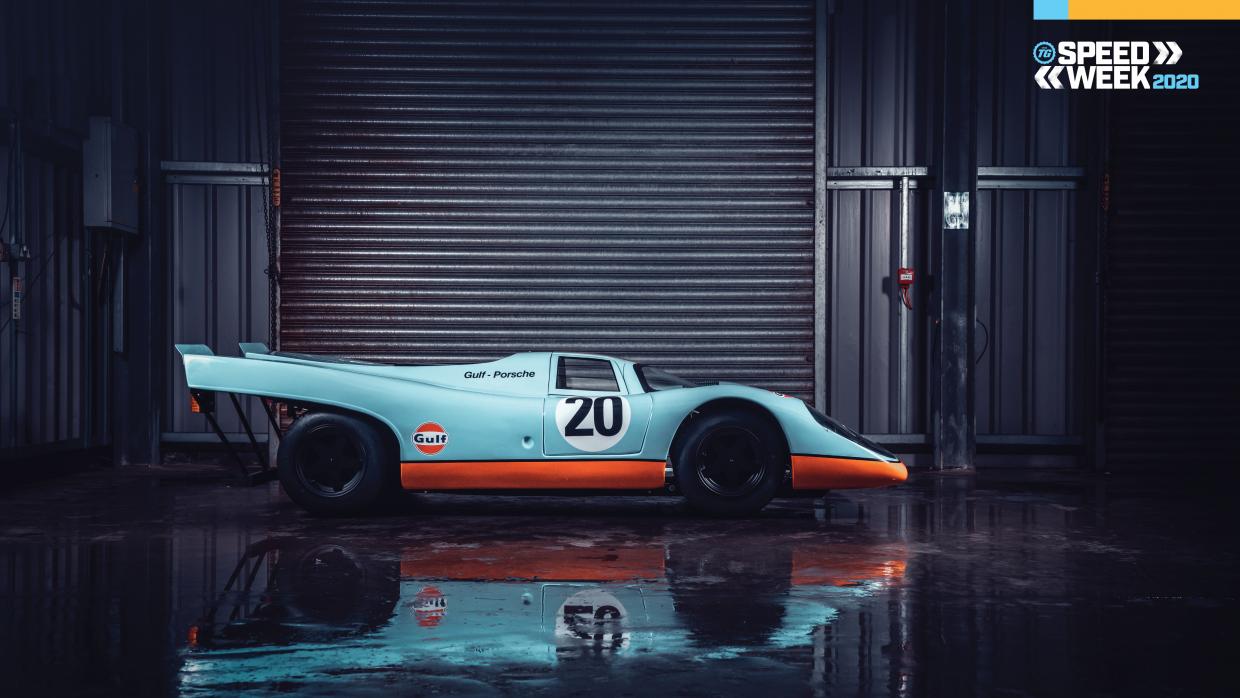 The 917 was given an unusual 4.5-liter, flat 12-cylinder engine, good for about 520hp, 0-60mph (97kph) in around 2.5sec, and a top speed of roughly 400kph. In 1970. Gulp. The engine was sunk into a chassis made from tubular aluminum (magnesium on later cars), and everything was wrapped up in lightweight glass fiber. This stays true in the miniature version. Kinda. There's a 4.8hp carburetor-fed 163cc pro-kart Honda engine in the back, a lightweight tubular chassis (definitely not made of magnesium), and—just like the OG—glass-fiber bodywork.
ADVERTISEMENT - CONTINUE READING BELOW ↓
Recommended Videos
3) It's the 'cool' one.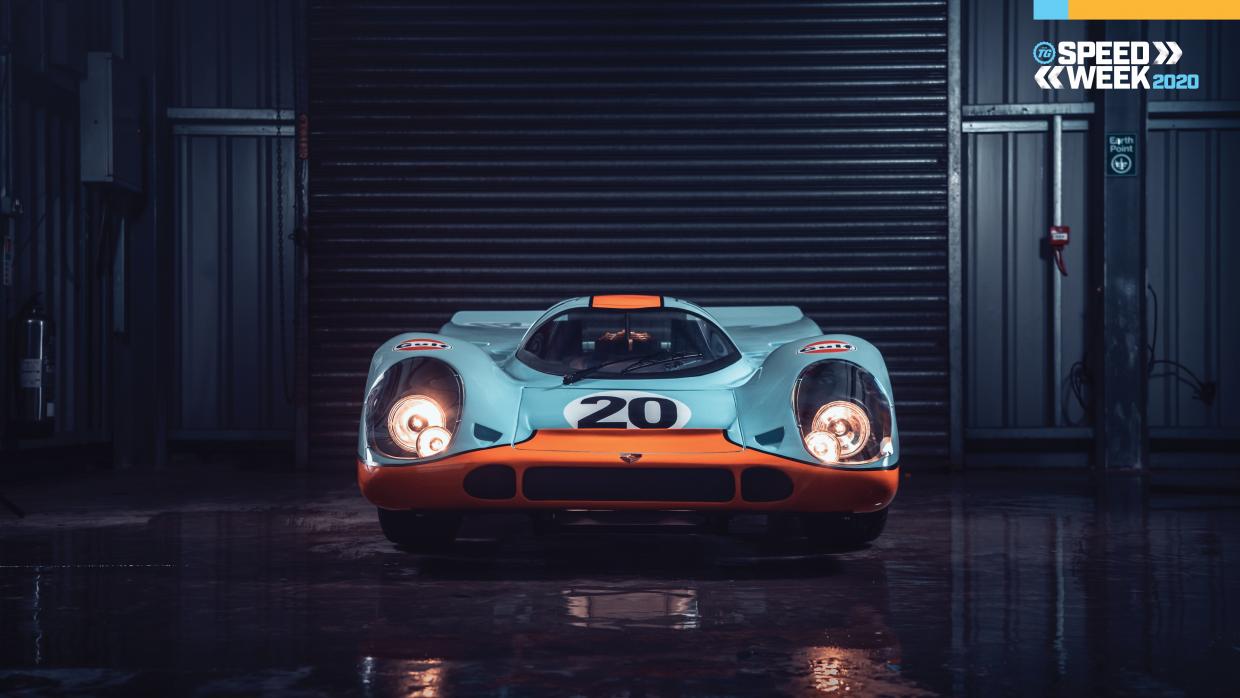 Over the years, the 917 morphed with a few different shapes and styles. Short- and long-tail versions of the car were developed, but while the 917 long-tail is an elongated thing of beauty, the shape made famous by a flurry of victories is the short version, better known as the 917K, for 'Kurtz.' On its public debut at the 1970 Daytona 24 Hours, John Wyer's Gulf-sponsored team finished one-two in the race, with the winning car breaking the distance record by 306km. This victory effectively began the 917K's domination of the World Sportscar Championship for the next two seasons. This is that car...in miniature.
ADVERTISEMENT - CONTINUE READING BELOW ↓
4) It's not just for kids.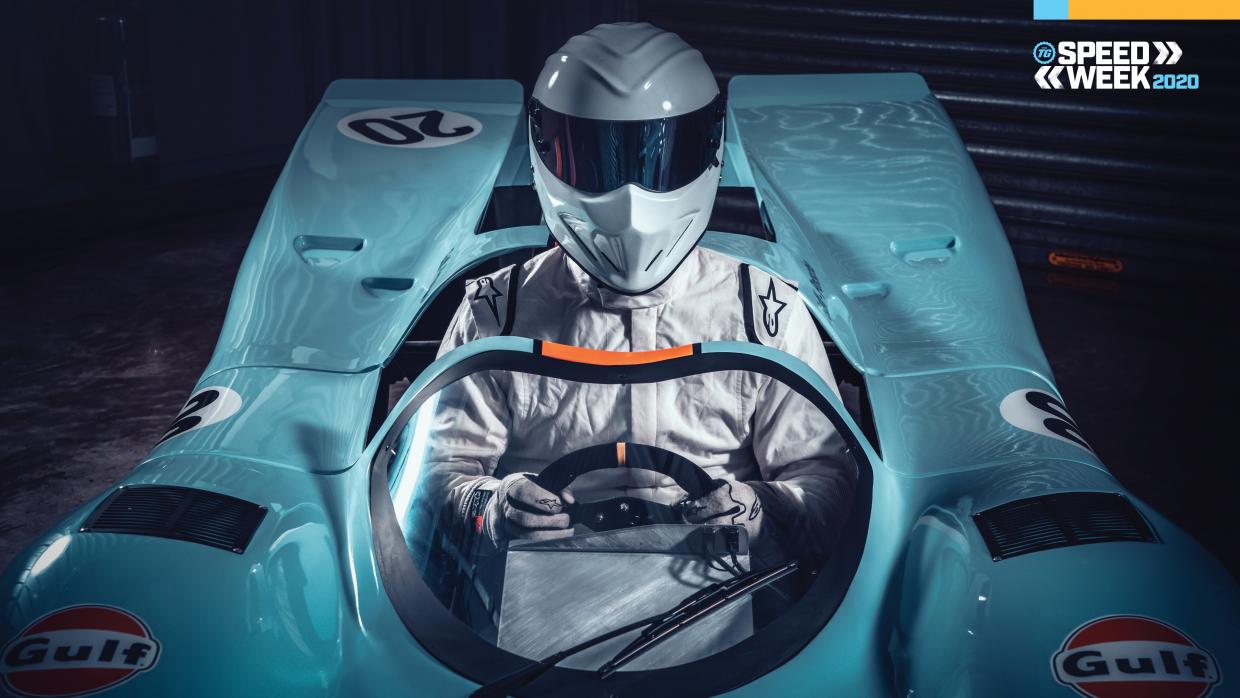 You may think that a tiny car is made for people with tiny legs, malleable cartilage, and weirdly double-jointed arms: kids. But this 917K is also adult-friendly. If you're a little nipper, you can make use of the proper 917's gullwing doors and sit in just like Richard Attwood. But just because you've successfully made it through puberty and got a mortgage doesn't mean you can't.
ADVERTISEMENT - CONTINUE READING BELOW ↓
You just pop the top off, remove the steering wheel, and slither in (we found taking our shoes off helps) while making all kinds of guttural grumbling, achy noises. Eventually, your bum will hit the floor as your nipples rest above the windshield. Then you simply reapply the wheel and grip it like Bowser, press the throttle, and pop-pop your away around wherever you want to go. We can't do anything about the odd looks from your neighbors, though.
5) It's built properly.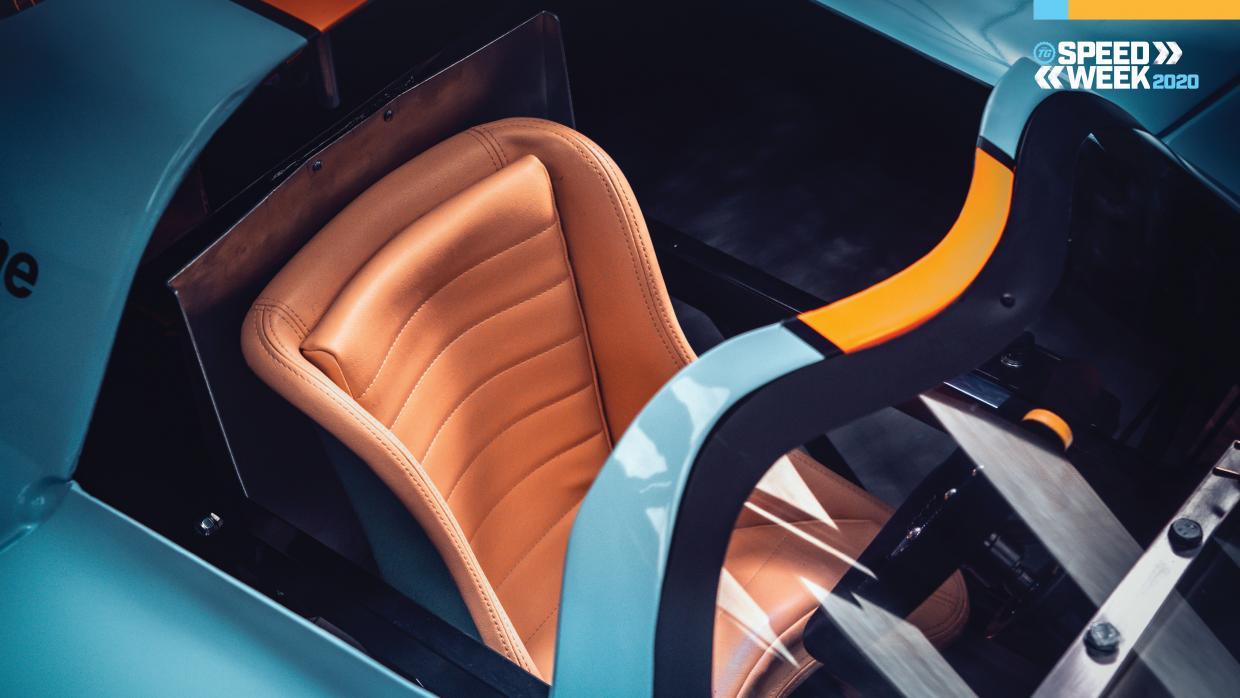 ADVERTISEMENT - CONTINUE READING BELOW ↓
Unlike those scratchy plastic-wheeled Safari Barbie ride-ons, this isn't some kid's toy to crash repeatedly into the door of the garage. The 917's cockpit is finished with bare aluminum panels, and there is a single leather mini bucket seat for the driver located centrally—just like in a McLaren F1. It's even got working lights, a horn, and a fan. So, all the boxes to make it a daily driver are ticked.
6) You can get it in any livery you like.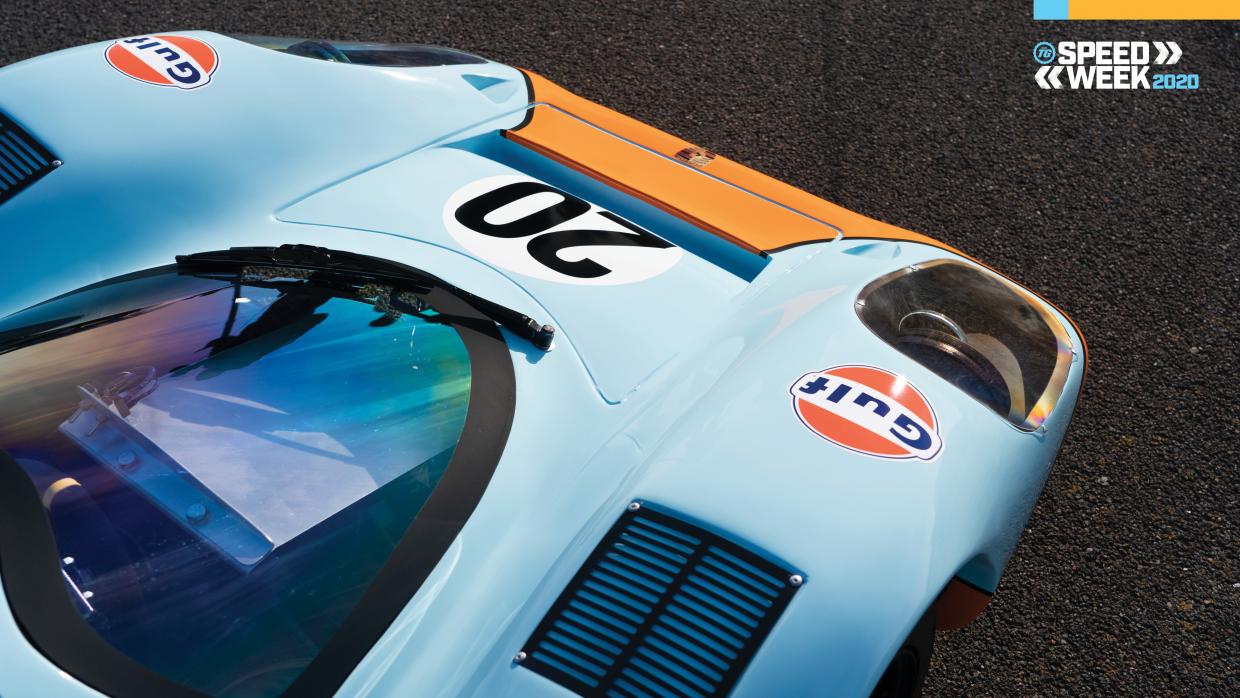 ADVERTISEMENT - CONTINUE READING BELOW ↓
Aside from competition-crushing performance, what made the 917 stick in the mind was its crazy array of paint jobs. You can't help but think of one in classic Gulf colors, like the example pictured here. But there were others, including a mad, psychedelic 'hippie car' (designed by the guys at Martini Racing who were clearly on something), and a fetching pink car nicknamed the 'pig.' But if you buy one of these pocket-size racers (we're assuming you have Michael Jordan suit-in-the-'90s-size pockets), you can have it in whatever retro scheme you like.
7) It's easy to drive.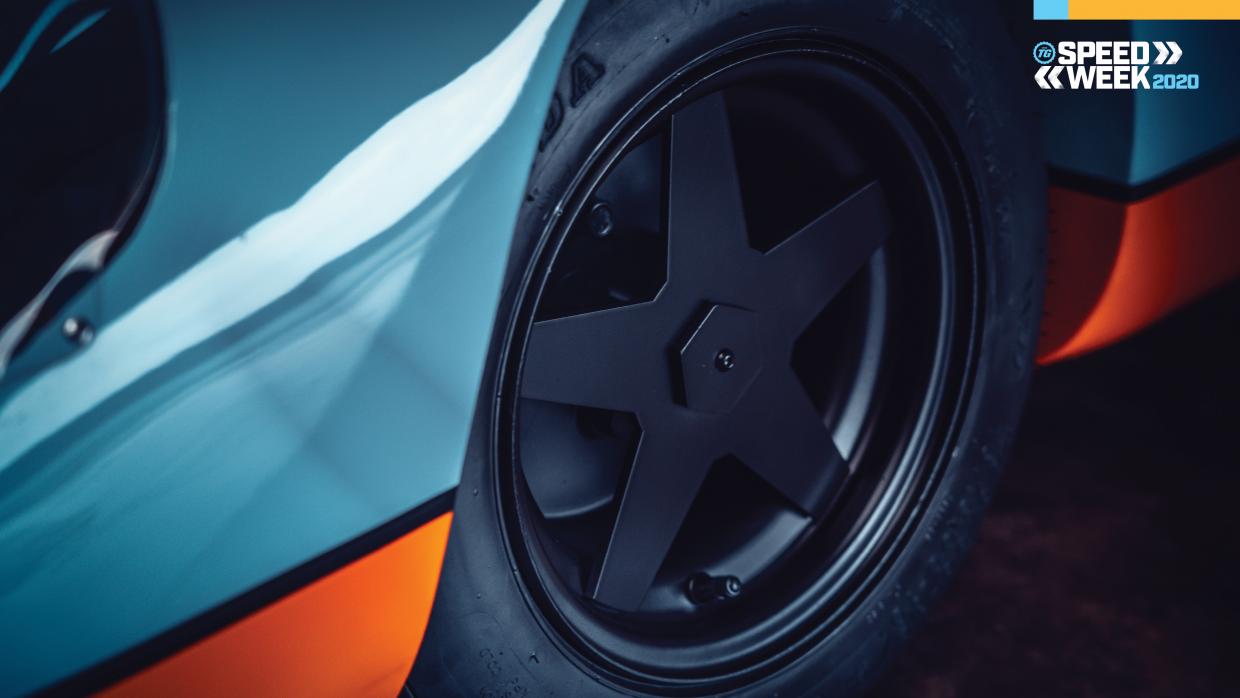 ADVERTISEMENT - CONTINUE READING BELOW ↓
The 917's almighty engine was an immediate success—a stroke of genius. However, all 917s are famed for rather sketchy handling. Their unique aerodynamic profile, blistering speed, and lack of development meant they were quite flighty and more than a handful. Drivers state that the car wandered heavily under braking and was diabolical in high-speed turns—so much so that none of the regular Porsche drivers wanted to race it. But the engineers at Porsche soldiered on, eventually adding wider rear wheels and a few other changes that made the 917 into a more controllable machine.
Thankfully, you don't have to worry about that with this one. With a max speed of 45kph, it's a lot more controllable. There are just two pedals and a centrifugal clutch you don't need to worry about, and it's got a solid rear axle and disc brakes so it's as simple as things can get. However, the bodywork does start to flap around at higher speeds, just like the in the original—and you'll probably break your legs, too, if you shunt it straight into a wall at Vmax. Thinking about it, it's really amazing how far they went to give you a miniature yet authentic experience.
ADVERTISEMENT - CONTINUE READING BELOW ↓
8) It's a lot cheaper than the real thing.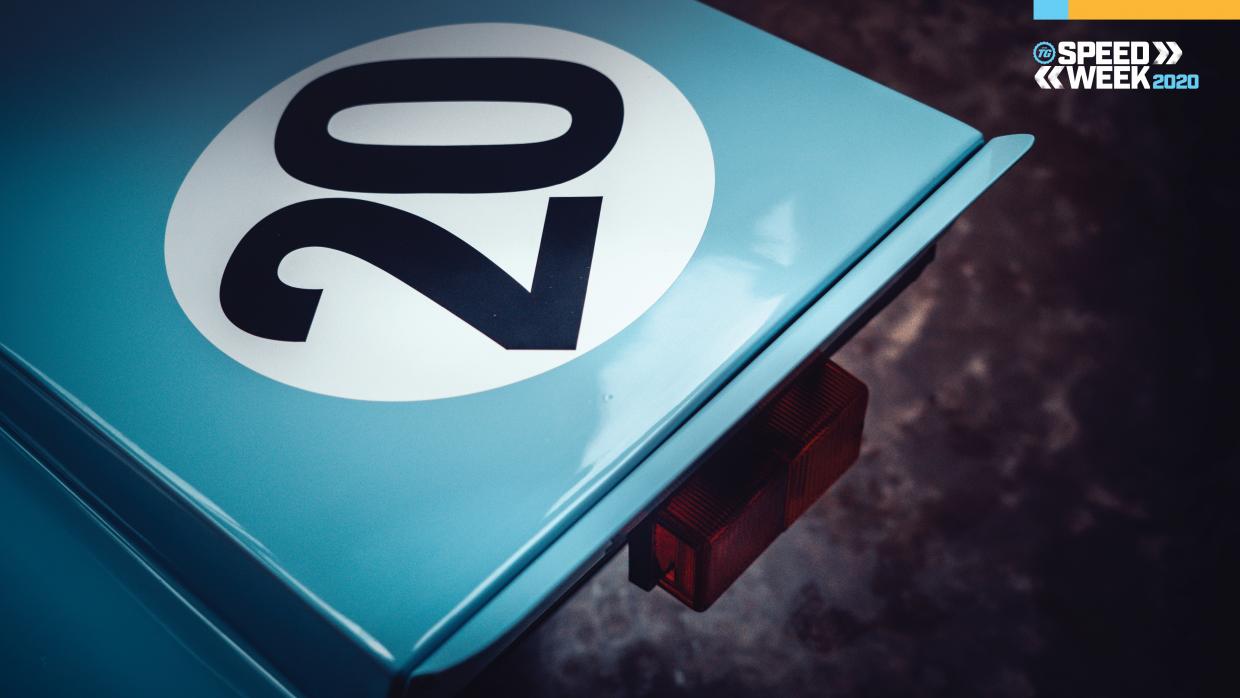 Recently, a 1:8 model of a 917K sold for £10,350 (P647,530). And this is a lot bigger than that and costs £15,000 (P938,450). Yes, that is a lot of money for what you could argue is a glorified go-kart, but if you do some Top Gear maths and work it out by cost per square inch, this is a bargain. Especially as a real, full-size Porsche 917K will cost you over £10 million (P625.6 million). So, get it on your Christmas list now. Then build a bigger chimney for Santa to drop it down.
ADVERTISEMENT - CONTINUE READING BELOW ↓
9) It's Stig-approved.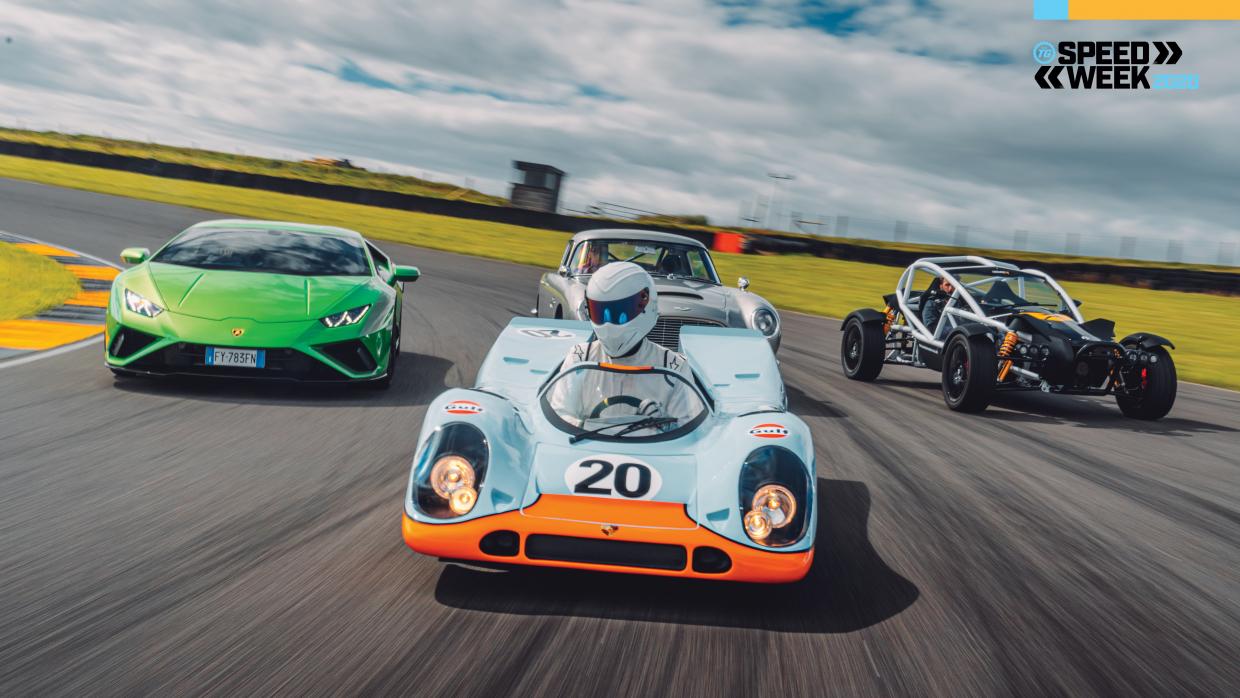 At this year's Top Gear Speed Week, The Stig was seen endlessly lapping the little Porsche around Anglesey circuit. Apparently, he was trying to get the lap record. We didn't have the heart to tell him that with less than 10hp, he probably wasn't going to get it. But that didn't stop him from trying. So much so, we couldn't get him out of the thing. Mainly because we didn't have any laundry detergent with which to grease him up and get him out. Rumor has it he's still stuck in this thing to this day. If you see him, please point him back to our office's address.
ADVERTISEMENT - CONTINUE READING BELOW ↓
NOTE: This article first appeared on TopGear.com. Minor edits have been made.