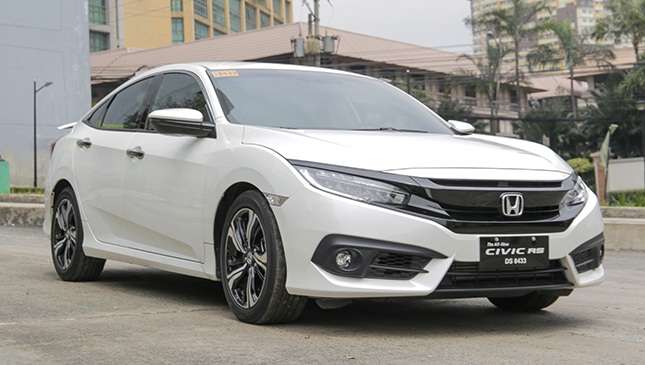 For a while, the Honda Civic had lost its way. After gaining iconic status in the '90s, the early '00s saw a slight departure from its boy-racer roots. Thankfully, the eighth-generation FD saw a return to form and popularity for the compact sedan.
After that? Well, it strayed from the path once again. Thankfully, when the much-anticipated tenth generation debuted here in 2016, all doubts were erased in fans' minds. This is, for all intents and purposes, a modern car, but it's a worthy successor to the Civics of old.
Even now in 2018, it's still one of the most sought-after sedans in the market. It has a low stance akin to a coupe, an aggressive front fascia with swooping LED headlights, and sharp lines running along the sides. The top-of-the-line RS also gets a wing-type spoiler for good measure. The design captures a good mix of classy and sporty, and even hardened tuners will find it hard to mess with the look.
Continue reading below ↓
Recommended Videos
Inside, those who expect to find a bare-bones interior will be pleasantly surprised to find an ergonomic and comfortable cabin. The RS variant in particular features finely stitched leather on the seats and trim. The driver's seat sits low and at angle, making it easier for you to secure the proper driving position.
Powertrains for the Civic include a 1.8-liter i-VTEC with 139hp and 174Nm, and a 1.5-liter VTEC turbo capable of 171hp and 220Nm in the RS. The latter engine represents Honda's efforts to bring its iconic car to the modern era. It's economical at low revs, and nimble once you hit the power band. And despite the car's considerable dimensions for its segment, it hardly feels that way when you're maneuvering through sharp corners.
Prices for the Civic start at P1,138,000. As great as Honda's CVT is, we'd love to see a manual version of the RS on our shores for a more hands-on driving experience. Granted, the Type R comes with a stick shift, but it'd be nice to have it on the consumer versions as well. A hatchback variant would be great, too.