What's this?
Oh, hello there. You've clicked on a link because you saw a cool-looking Land Rover and likely thought, 'Yeah, that's worth a few minutes of my time to check out.' But think about what you're actually doing—you're trading a fraction of your finite life to see, know, and understand this bewitchingly utilitarian object. And that makes you our kind of person.
And quite clearly, the good people at Oliver & Dobson are our kind of people, too. To build their very first creation, this very Series 2A Land Rover was bought, sight-unseen, from a farm out in the New South Wales southern tablelands. If you're not up on Antipodean geography, that's one of the really cold bits of Australia that tends to catch unsuspecting not-locals out. And the life that this particular Series 2A had lived in that particular part of the world had not been a gentle one.
ADVERTISEMENT - CONTINUE READING BELOW ↓
Dented panels are par for the course for a farm truck, but no one on the receiving end of the deal was expecting just about every panel bar the hood to be entirely banjaxed. Even the floors were buckled, which proves that someone drove the farm truck exceptionally unsympathetically at some point.
ADVERTISEMENT - CONTINUE READING BELOW ↓
Recommended Videos
As these pictures likely illustrate, it took a whole heap of sympathy—and replacement panels—to get this 2A back to the shape you see here.
No doubt. But it looks a bit fancy for a Series 2A, no?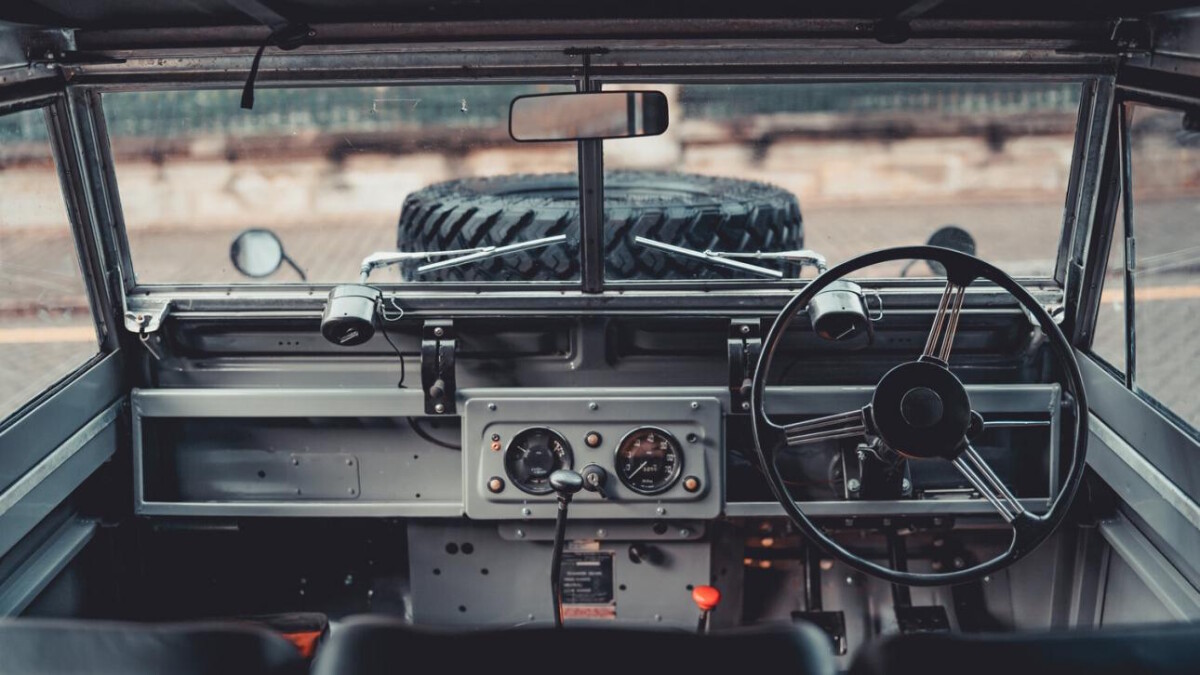 ADVERTISEMENT - CONTINUE READING BELOW ↓
It does indeed. A lot of that's down to the paint—Audi's Nardo Gray, while never a color one would associate with Land Rovers or off-roading in general, works magnificently here. In our not-often-humble opinion, it perfectly complements the pared-back, utilitarian form. It's not just an aesthetic, either—there's really nothing here that absolutely doesn't have to be for the 2A to do what it needs to. Barring the hand-stitched leather seats, of course.
But we'll give them a pass on that one, too, given: a) the incredible amount of work that goes into hand-stitching anything; b) the fact that hand-stitched leather is one of life's little joys; and c) the wonderfully reserved result. You, like us, could just about manage the mental gymnastics required to call them utilitarian, if you dragged out some arguments about longevity, the best material for the job, and so on.
ADVERTISEMENT - CONTINUE READING BELOW ↓
Honestly, you lot are the Simone Biles of mental gymnastics.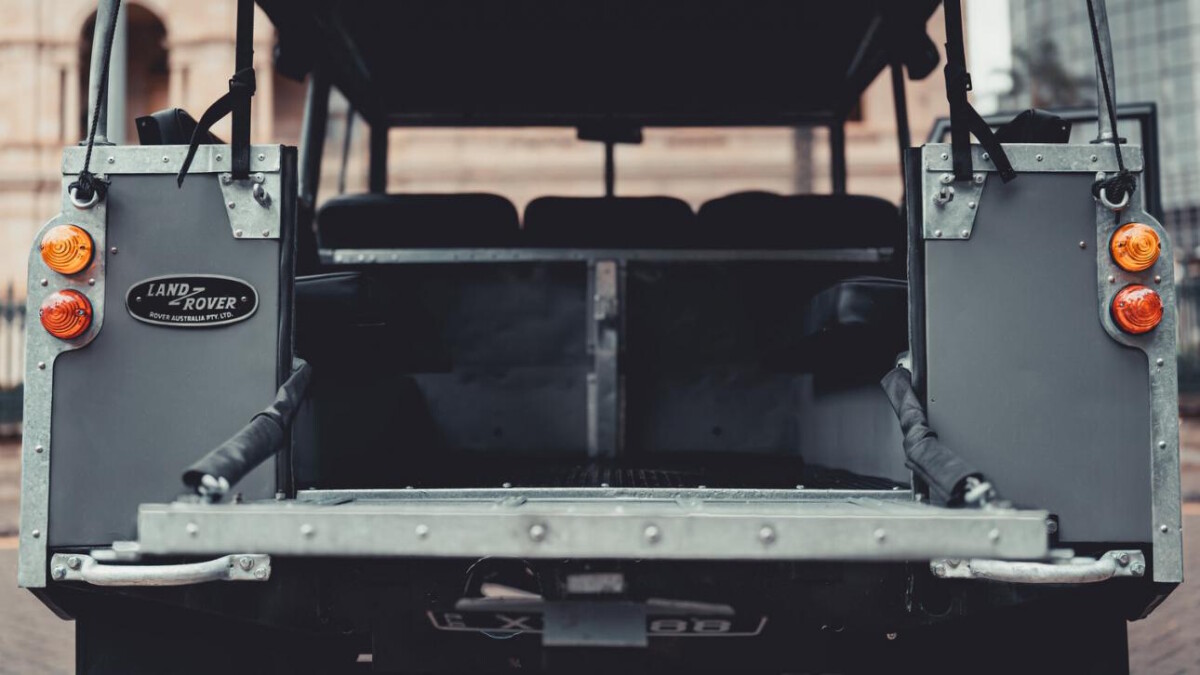 Thanks, but our mental gymnastics are unlikely to win us any medals and make anyone question if physics applies to all humans equally.
Quite so. How about some insight into the oily bits?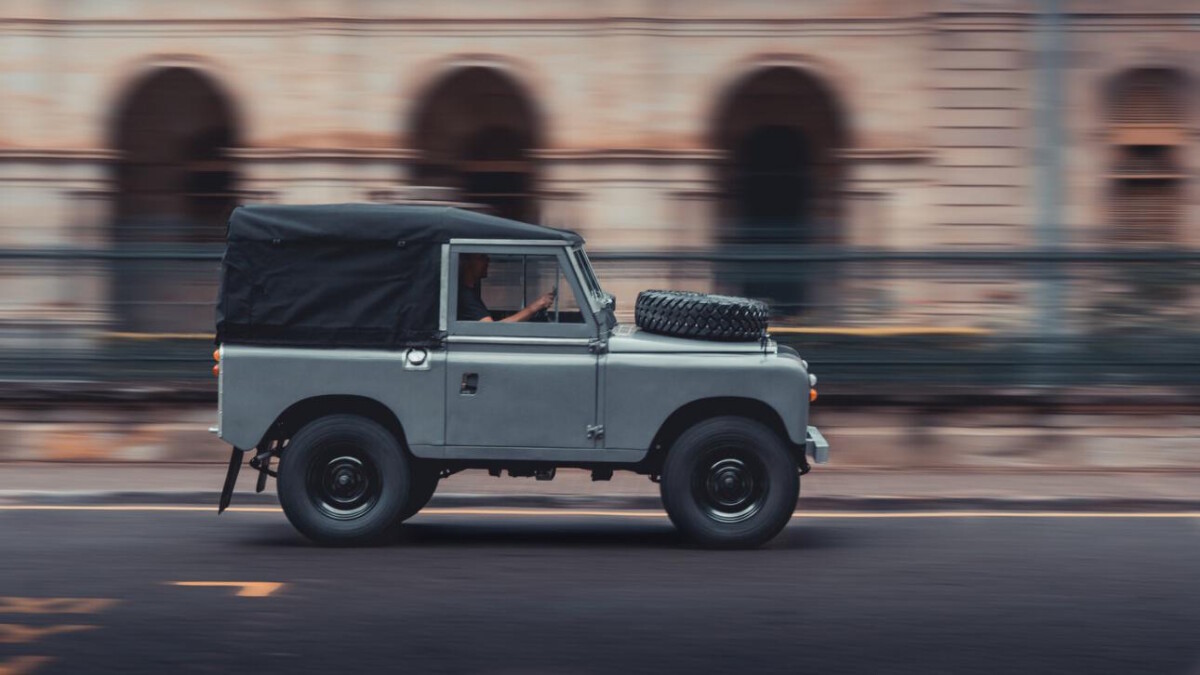 ADVERTISEMENT - CONTINUE READING BELOW ↓
Well, every single bit that could be restored, was. And every bit that couldn't was replaced. It's a restoration in every sense of the word. Well, maybe not that sense where it refers to putting the monarchy back on the throne. So...uh, most senses of the word, then.
As a small example of O&D's dedication to restoration, the original in-line-four was rebuilt from top to bottom. Or bottom to top, to be more accurate about the chronology of things. It had lasted for 50 years by this point, so why not bring it back to brand-new condition for another 50?
But isn't restomodding the big thing these days?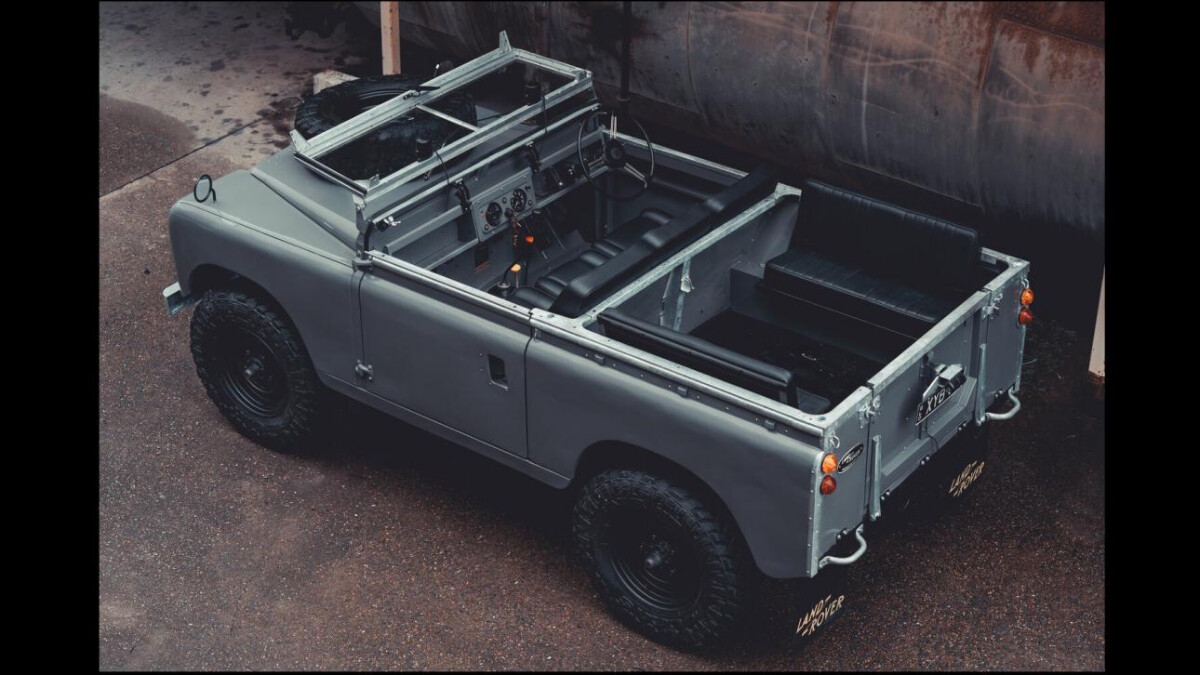 ADVERTISEMENT - CONTINUE READING BELOW ↓
Indeed it is. And you could argue that this restored 2A, dubbed the Beachrunner, could be considered a restomod. But there are degrees of restomodding, from a narrow focus on a few complementary mods for the sake of modern use, all the way to broad strokes, keep-the-aesthetic-and-forget-the-rest engineering.
Our riposte, then, would be that Army-issue steelies wrapped in modern mud-terrain tires not only look the part, but suit the ethos of the original article.
It's a similar story with the electricals. The original sealed-beam headlights were tremendous at looking very much like headlights, but struggled somewhat with the whole 'behaving like headlights' portion of the task. So, modern halogens took over illumination duties, with LEDs handling indicator lights and so on.
The seating arrangement was modified from stock, too—the Beachrunner started as a farm truck, with a bench in the front and a tub out the back. The three-across front seats are now bolstered by a pair of two-seat benches in the rear, in proper troop-carrier style. Yep, just like a can of soft drink on a hill, this Landy can now roll seven-up.
ADVERTISEMENT - CONTINUE READING BELOW ↓
But is it still an authentic Land Rover with those mods?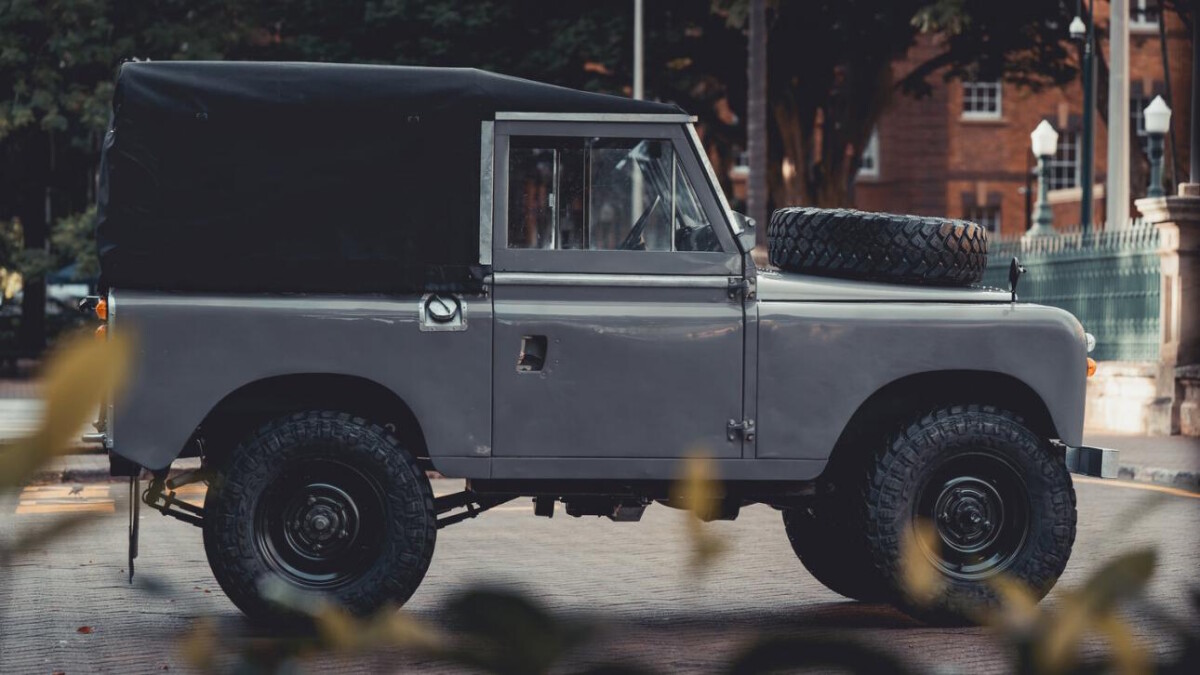 You had better believe it. On Oliver & Dobson's own site, there's a page dedicated to what it's actually like to own a classic Land Rover. Consider it a primer for the uninitiated, who might not be expecting just how drafty, temperamental, and leaky an old Series Landy is. Or how that didn't really get much better with the early 90s and 110s. Or later ones, if we're being entirely honest.
ADVERTISEMENT - CONTINUE READING BELOW ↓
Our favorite part of their disclaimer is the part on gear changes: "Try to execute a swift gear change in a Series and it will result in crunching... a more delicate approach is needed. Same with steering and brakes—neither happens rapidly in a Land Rover."
Even though O&D's Landies are restored, refined, and revitalised, they're still Land Rovers through and through—Tonka-tough trucks that are equal parts recalcitrant and uncompromising. An old Landy does what it's meant to—and how—but it won't hold your hand like a modern off-roader. It takes time, patience, and finesse to get the most out of them. But get it right and, as Oliver & Dobson says, "every trip is an adventure."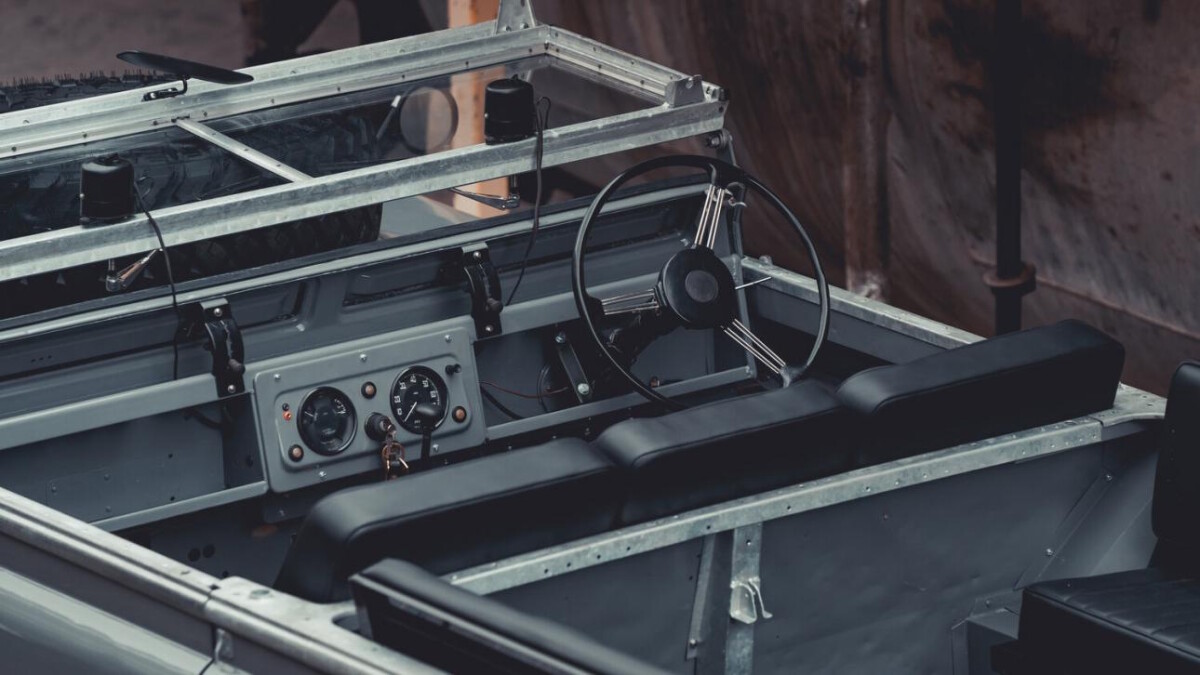 ADVERTISEMENT - CONTINUE READING BELOW ↓
NOTE: This article first appeared on TopGear.com. Minor edits have been made.
Top Gear Philippines is now on Quento! Click here to download the app and enjoy more articles and videos from Top Gear Philippines and your favorite websites.