1) 996 Porsche 911 GT3
The 911 GT3 arrived in 1999. One of the first production cars to lap the 'Ring in under eight minutes (says Porsche), it got a 3.6-liter N/A six-cylinder engine that made just 360hp. By today's standards, not very much at all. It did rev to 7,800rpm though, and was paired with a most excellent six-speed manual gearbox carried over from the 993-generation 911 GT2. All-in, it weighed 1,350kg. This is nothing.
2) 996.2 Porsche 911 GT3
ADVERTISEMENT - CONTINUE READING BELOW ↓
Four years later the GT3 was updated, and offered in the US for the first time. Now with more power—381hp—and an even higher redline (8,200rpm), it was still based on the 996-shape 911, but was more serious an item than ever. 0-60mph was dealt with in 4.3 seconds, and you'd see 306kph. This GT3 also marked the arrival of carbon-ceramic brakes—they were a rather pricey option.
3) 997 Porsche 911 GT3
The 997-era GT3 was revealed in 2006. Though it was still powered by an N/A 3.6, power was increased to over 400hp, and the redline to 8,400rpm. Porsche 'Active Suspension Management' was now fitted as standard, and the chassis honed to near-perfection.
4) 997.2 Porsche 911 GT3
ADVERTISEMENT - CONTINUE READING BELOW ↓
Recommended Videos
The 997 was updated in 2010, so the GT3 was too. Now 3.8 liters in capacity, the flat-six gave 435hp and 429Nm of torque, meaning 0 to 60 mph was dealt with in 4.0 seconds flat, and you could run on to a top track speed of 312kph. The redline, meanwhile, climbed yet higher to an ear-damaging 8,500rpm. 'Ring time? You're looking at 7 minutes and 40 seconds. Serious stuff.
5) 991 Porsche 911 GT3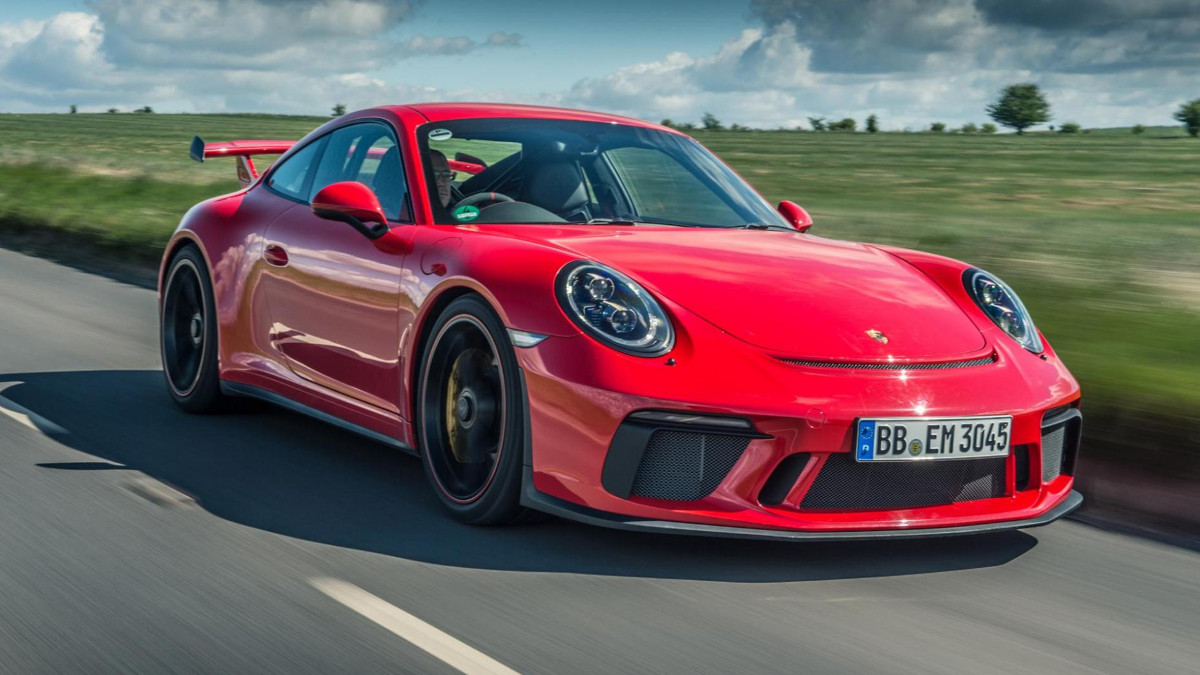 Things changed for the 991. We waved goodbye to the manual gearbox and hello to Porsche's admittedly excellent PDK dual-clutch auto, which was fitted as standard. There wasn't even the option of a manual (at first…). But no matter—this was a tremendous car. As, indeed, all GT3s are. 475hp, 9,000rpm redline, 0-60mph in 3.3 seconds (thanks PDK) and all-wheel steering meant the 'Ring time fell to 7 minutes and 25 seconds.
ADVERTISEMENT - CONTINUE READING BELOW ↓
6) 991.2 Porsche 911 GT3
Today's GT3 does it in 7 minutes, 12.7 seconds. Around 45 seconds quicker than the first-ever GT3. Progress. Its 4.0-liter engine, still N/A, makes 500hp and allows for a 319kph top speed. The manual gearbox is back, too, and for the first time there's a 'Touring' version that does without the massive wing. Looks ace, doesn't it?
NOTE: This article first appeared on TopGear.com. Minor edits have been made.