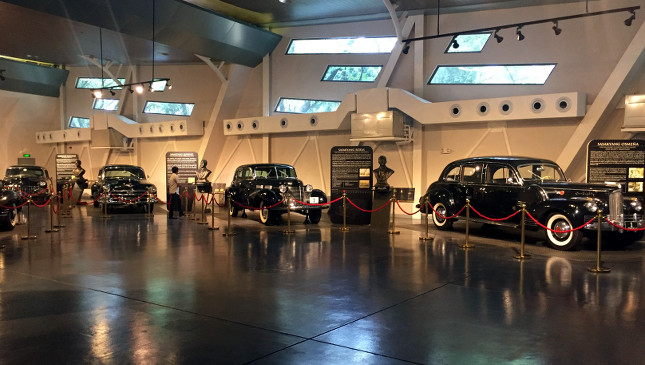 If our cars are extensions of who we are, then our country's past presidential cars reflect not just their users' personalities and preferences—these people, after all, were once our heads of state. Each state car thus also represents the political, economic, and social climate during a president's term, the global trends and the key developments in the automotive industry at the time, and even the threats to the president's security.

These vehicles are important historical artifacts that could give you new insights on our history and former leaders, and you can now see them all in one place—at the Presidential Car Museum (Museo ng Pampangulong Sasakyan) at the Quezon Memorial Circle in Quezon City.

Spearheaded by the National Historic Commission of the Philippines (NHCP) and inaugurated on August 19, the museum is now home to presidential and historic cars that have been restored and maintained by the NHCP since 2008.

Four cars in the collection are classified as "other vehicles of historic value": a 1934 Cadillac V-16 Transformable Town Cabriolet assigned to General Douglas MacArthur; a kalesa belonging to the family of Leon Apacible, one of the authors and signatories of the 1899 Malolos Constitution; a 1943 Willys Jeep that served as the service vehicle of Ramon Magsaysay when he was Elpidio Quirino's Secretary of National Defense; and a 1960 Rolls-Royce Phantom V used by former First Lady Imelda Marcos.

The collection currently comprises 12 presidential cars used by 13 presidents (Sergio Osmeña opted to use the Packard of his predecessor, Jose P. Laurel). The presidential cars of Carlos P. Garcia and Benigno Aquino III are not included; the former was never recovered, while the latter is still in use. Also, the Cadillac DeVille on display is not the actual unit used by Diosdado Macapagal.

Each display includes the car's history and specs, as well as a profile of its user. Here's the full list of presidential cars, with excerpts from the descriptions:

*1924 Packard Single 6 233 Series (Emilio Aguinaldo)
"With wood and vinyl interiors, it was one of the earliest American vehicles to be exported and a popular choice for state vehicles. The Russian imperial family once owned a similar model."

*1937 Chrysler Airflow Custom Imperial CW (Manuel L. Quezon)
"The Airflow was a rare sight on the road during its time because only 30,000 units were sold throughout the four years it was in production."

*1942 Packard Custom Super Eight One-Eighty Limousine (Jose P. Laurel and Sergio Osmeña)
"A glass partition is also featured which could be lowered if the president liked to drive the car himself."

*1947 Cadillac Series 75 Limousine (Manuel Roxas)
"This model could be acquired with body made by either Fisher or Fleetwood. The government chose the Fleetwood body, which could be customized according to the buyer's specifications."

*1953 Chrysler Crown Imperial Limousine (Elpidio Quirino)
"It was one of the first vehicles to offer power-assisted disc brakes and a 12-volt electrical system."

*1955 Cadillac Series 75-23 (Ramon Magsaysay)
"President Magsaysay still used Quirino's Crown Imperial. However, the government purchased a Cadillac Series 75-23. It was a supplementary vehicle until the first term of President Ferdinand Marcos."

*1959 Cadillac DeVille (Diosdado Macapagal)
"There are just around 20,000 of these cars worldwide and less than 100 units were officially earmarked for export."

*1980 Lincoln Continental Mark VI Signature Series (Ferdinand E. Marcos)
"Even in the 1980s, this vehicle had high-tech features such as keyless entry, and a digital gauge cluster with a trip computer that indicated 'miles to empty' and 'estimated time of arrival.'"

*1986 Mercedes-Benz 500EL (Corazon C. Aquino)
"It is the first state car to feature bulletproof panels and glass windows measuring two inches in thickness."

*1986 Mercedes-Benz 500SEL Guard (Fidel V. Ramos)
"It has exclusive features like a special switchboard that houses controls for lights and sirens, as well as a button for control modules and fuses, and thinner bulletproof panels."

*1993 Mercedes-Benz S600 (Joseph Ejercito Estrada)
"It features protection from explosives, a self-sealing fuel tank, and an alarm system. At the back, a television and telephone are installed."

*1993 Mercedes-Benz S600 Limousine V140 (Gloria Macapagal Arroyo)
"Made by O'Gara and Hess, the limousine is heavily armored. It also has run-flat tires and engine block protection against sniper fire."

And here are some photos from our visit to the museum, but we highly recommend that you see these cars for yourself. The Presidential Car Museum is open from Tuesdays to Sundays, 8am to 4pm. Admission is free.
Continue reading below ↓
Recommended Videos