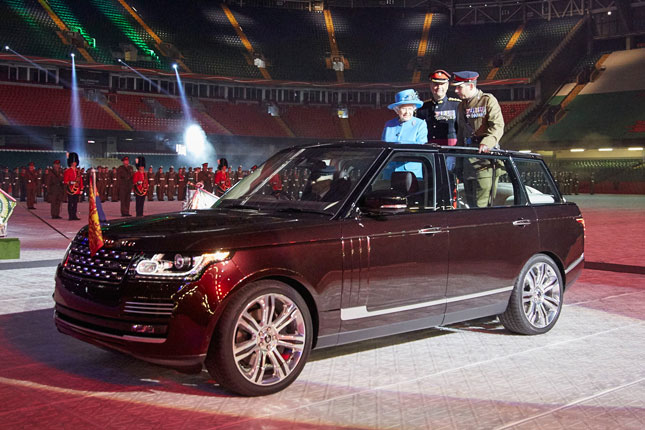 Range Rover has a certain aura that makes people believe that only the upper crust of society is worthy of riding in such vehicles. The iconic off-roader uses the finest materials and the most advanced engineering that make it fit for a king. Literally.
Apparently, this notion isn't far off. That's because Land Rover has recently rolled out its newest Range Rover for no less than Her Majesty, Queen Elizabeth. Dubbed the "State Review," this Range Rover is a one-off long-wheelbase hybrid SUV that was built specifically to ferry the Queen of England.
The State Review Range Rover made its royal debut as Her Majesty presented New Colors to the Royal Welsh Regiment in Cardiff, United Kingdom. The Queen is Colonel-in-Chief of the regiment. What makes this Range Rover special is that it packs even more upscale touches built into the vehicle. The rear quarters also lack a roof over the passenger compartment, allowing the Queen to stand and wave at her subjects while on the road.
To make the vehicle more politically correct, this Range Rover is a diesel hybrid variant. It's powered by a 3.0-liter SDV6 turbodiesel engine and an electric motor. This combo gives it a total system output of 335hp and a stump-pulling 700Nm of torque. With this powerplant, the large SUV accelerates from rest to 100kph in just 6.9 seconds, before going all the way to a 218kph top speed. Being a hybrid, it can likewise run on pure electric mode, making it a clean and green SUV.
Continue reading below ↓
Recommended Videos
If you know your royal cars, you're probably aware that this isn't the first State Review Range Rover. In fact, this is the fourth model developed by Land Rover Design, with engineering input from Jaguar Land Rover's Special Vehicle Operations division. The first State Review vehicle dates back to 1953--a Series I Land Rover. Moreover, the British automaker is the only one to serve all three Royal Warrants: The Queen of England, His Royal Highness The Duke of Edinburgh, and His Royal Highness The Prince of Wales. As for this latest Range Rover, it replaces the current State Review Range Rover, which has been in service since 2002.
This is one vehicle that's truly fit for royalty.