Singer has pulled the wraps off its third car. Yes, after reimagining the classic Porsche 911, then revealing the results of the Dynamics and Lightweighting Study, Singer is now tackling arguably the greatest icon in Porsche's entire archive, the mighty 911 Turbo.
We sat down with Singer's founder and CEO Rob Dickinson, to talk Turbo.
Top Gear: How long have you been working on the Turbo Study?
Dickinson: Two years. Although it's always been in my mind to do this since we started, to be honest. But yeah, it's been me with Florian Flatau, my lead designer. We did a full-size clay model and lots of consideration on what is clearly an icon—and really far more iconic, you can argue, than the early 911s, which were these delicate things. This is more of an obvious icon to celebrate. This was the poster 911. And if you're touching something that is very familiar and dear to millions of people...you approach it with a certain amount of caution. It has to feel authentic, it has to feel like a sincere reimagination.
How much has been changed?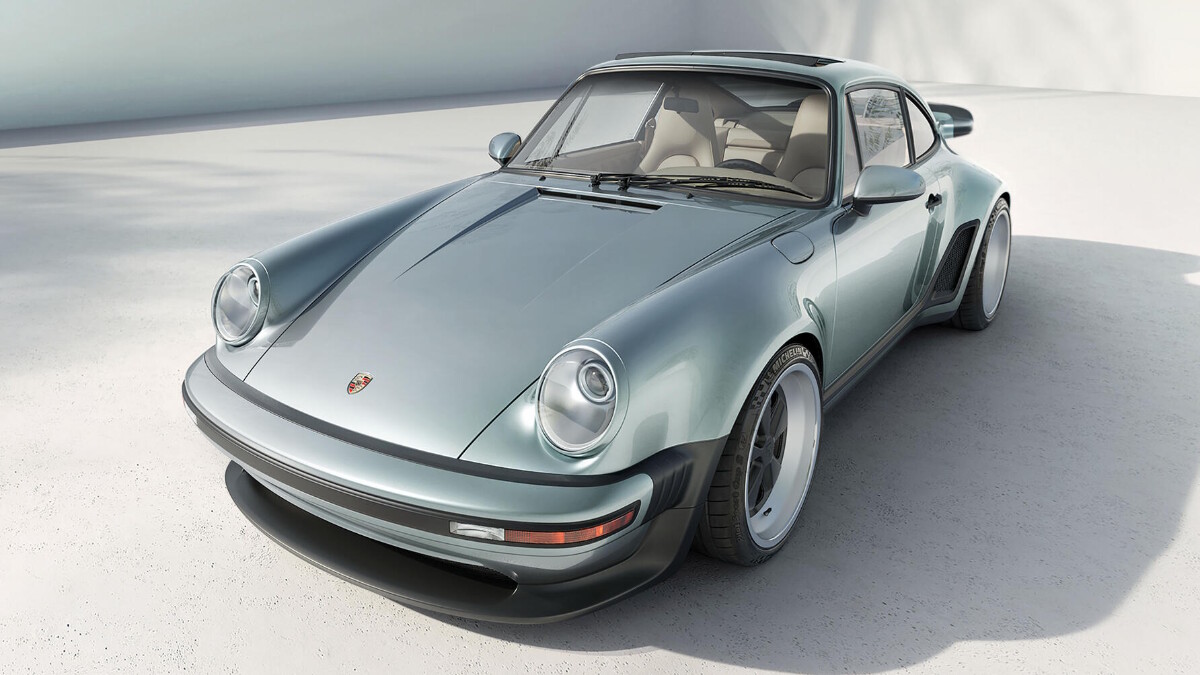 ADVERTISEMENT - CONTINUE READING BELOW ↓
If you sat an original 1975 930 Turbo next to next to our car, it's quite clear what we've done. It's considerably wider than the original, and getting the stance right was crucial. We've touched every single millimeter of the car—apart from the doors. Part of the issue with the original Turbo was that the wheel arches were making promises that the wheels couldn't keep. You had these fabulous, big muscular surfaces over wheels that were struggling to fill those arches. We've tried to cure that—we're on 18-inch wheels using the same tire specs as the DLS, which allows us to offer Michelin Cup2 tires as an option—and Michelin PS4s will be standard.
With the DLS you had to reimagine the ducktail spoiler. Now you're taking on the whale tail...
It's a little bit longer and a little bit higher. We've used our learnings from DLS on the aero, and we've also balanced it at the front with a lower splitter. The car will be rock-solid and very stable, which is all we're really looking for in terms of the aero for this. It isn't really intended to be a track car.
It's getting the stance right, getting the muscularity right, getting the conservatism right, because I think it has to look like it came from Stuttgart. And some people might go, 'Well, that doesn't look very different,' and for me, that might be victory. I think people need to walk past this and go, 'Wow, I've never seen a Turbo look that good.'
ADVERTISEMENT - CONTINUE READING BELOW ↓
Recommended Videos
The original Turbo had an intercooler under the spoiler. Where's it gone?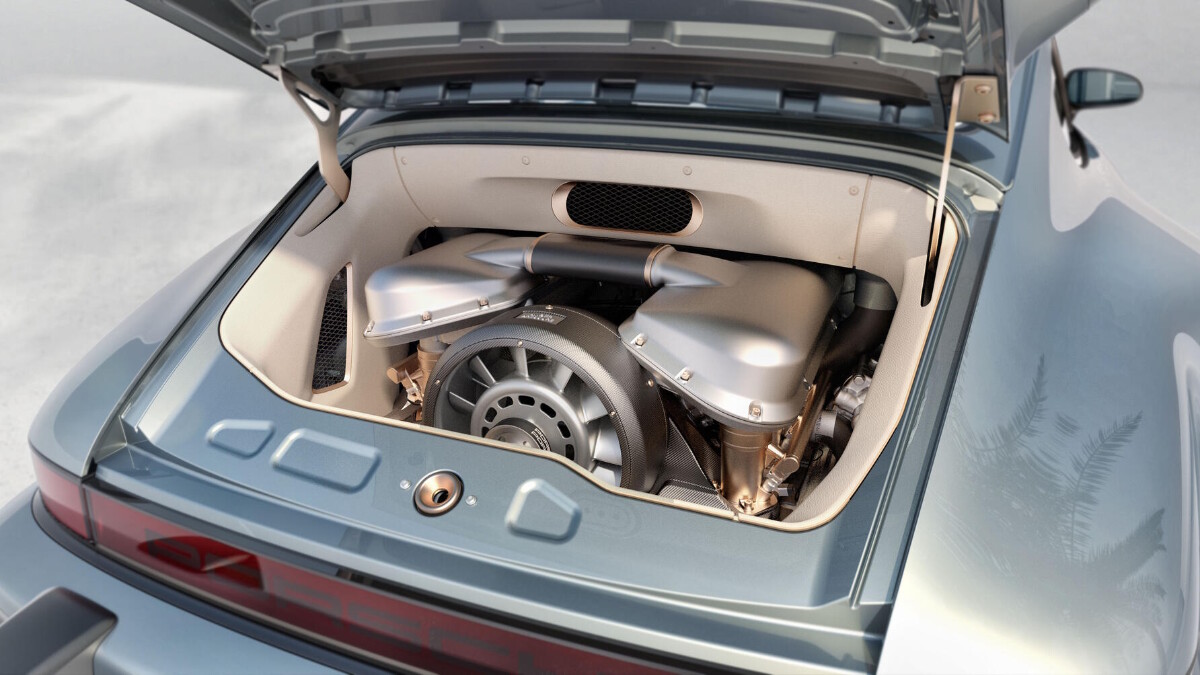 Yeah, that's what Porsche did on the 3.3 Turbo when they went to a bigger engine—you just open up the engine bay and you're faced with this ugly great intercooler. I always hated it, so—somewhat inspired by Alois Ruf—we wanted to rethink how the intercoolers worked.
So we've got bespoke air-to-water units inside the intake plenums, supplied with cold water from a low temperature radiator at the front of the car that's mounted behind the grille.
And this is a 3.8 Mezger flat-six, not a 4.0. Why not use the bigger motor?
It's the Mezger 3.6 that we start with, bored out to 3.8. Yeah, there was lots of discussion whether we should turbocharge the 4.0-liter, and John (Magee, engine designer) didn't want to do that. The 3.8 seems to be the sweet spot for compression and heat management. The turbos are so efficient and the power is easier to manage in the 3.8.
ADVERTISEMENT - CONTINUE READING BELOW ↓
And how much power are we talking?
We're being rather cautious with power at the moment. The standard car will have 450hp, but we're looking north of 500 as an option. It's also going to be over 540Nm. We're still on the dyno at the moment, but it'll be a monster.
What about turbo lag? Have you engineered it in?
Ha! It's been an internal debate, and we've talked to our clients about this and some of them have been, 'Will it have turbo lag? Can I get some turbo lag?' But you know we need to shoot for the best. So no, we're not. It's not a chase for some kind of optimized old-school turbo. It's a chase to optimize turbocharging with some fresh perspectives and some modern kit.
But I think we have absolute control over how much turbo lag we have, so if somebody wants it, I think we can probably dial some in to get that authentic 'wait-four-seconds-before-the-rush' sensation.
Where are the turbos from?
From the latest 992-generation 911. They're BorgWarner units with an electric wastegate. They're quite forward, modern units.
What sort of car is it going to be?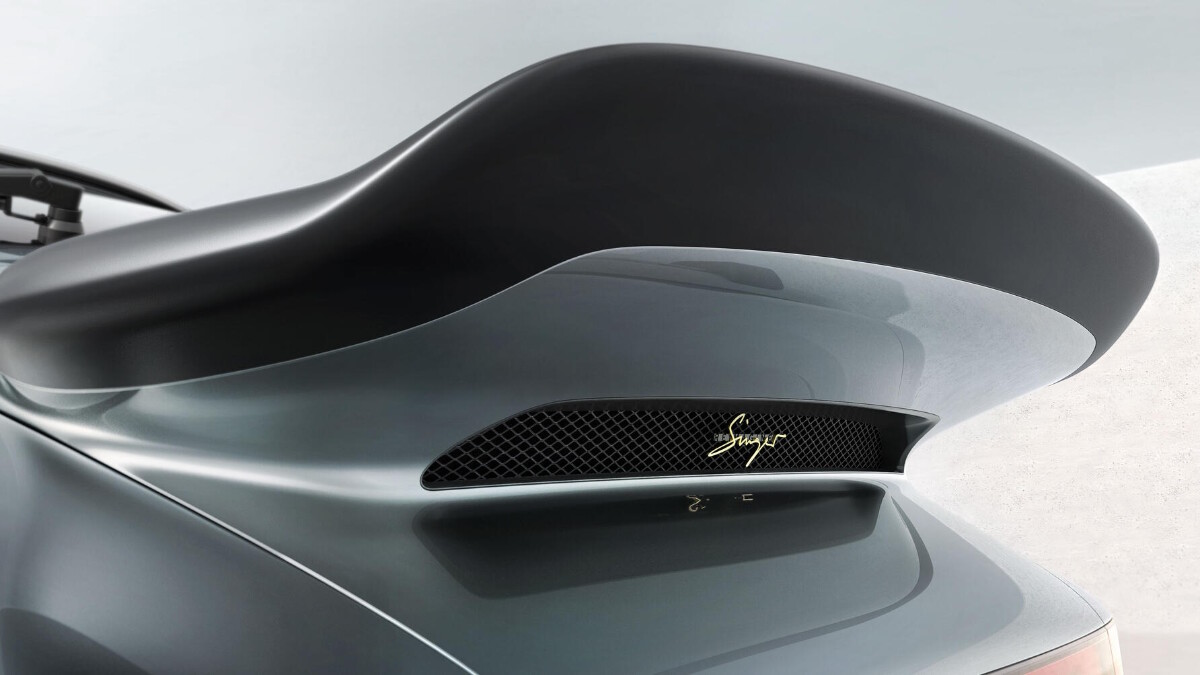 Well, we're going to offer the car with all-wheel drive as well—the 993 all-wheel-drive system, which we got to know very well on the Classic—and part of that endeavor is to make it a real proper daily prospect for someone. In my emotionally charged fantasy world of living in Switzerland, it becomes a real monster of a year-round car, which, for me, is what the Turbo was always about—that kind of talent and refinement and luxury. Which of course distances the car quite a bit from everything else we've done so far. And that's part of the story for us. It echoes what Porsche did when it launched the car in 1975—it was their GT luxury, thick-pile-carpeted supercar, wasn't it?
It was also my first ever 911 experience. I got introduced to the car in 1976 as an 11-year-old, a black 930 Turbo 3.0 with red tartan interior. Bloody mind-blowing it was, l was literally speechless when I got out of it. My dad was crammed in the back, I was in the passenger seat—it was awe-inspiring. It was in Wisbech, actually, right in the fenlands these long straight roads with 90-degree turns. I remember the ride was terrible because the roads were awful; we were bouncing around and this thing was horrifically fast. It's seared into my brain. Quite a baptism of fire.
ADVERTISEMENT - CONTINUE READING BELOW ↓
It won't be that much heavier than a Classic, will it?
It should be very close to what the original 930 Turbo weighed back in 1975, which is quite a light car. Because it still didn't have some of the accoutrements of the later G-model cars. So we're thinking about 1,270kg. So heavily equipped, probably still well under 1,360kg. We'll be offering some lightweight optionality. If someone deleted air-conditioning and the sunroof, and had the new one-piece carbon seats, I would say maybe down toward 1,180kg, actually.
Does the Turbo restoration need to start with a particular version of the 964?
No, any 964 works. That's a car we know extremely well. But here we're celebrating a model of Porsche's rather than an era. The Classic celebrates the era of the early 911, where we're clearly homing in on a particular icon of Porsche's past with the Turbo, which I guess a little bit different for us. And quite exciting.
NOTE: This article first appeared on TopGear.com. Minor edits have been made.