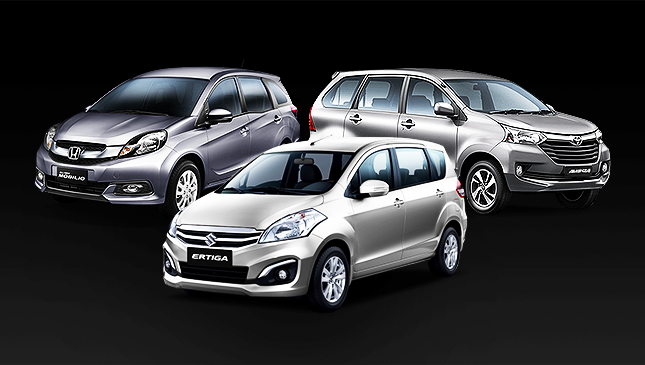 There was a time when the humble AUV was the default choice when it came to affordable people movers. These were rugged and utilitarian, and oftentimes lacked modern safety features like airbags. Over the years consumer needs and tastes changed and a new breed of people mover was born.
Welcome to the age of the small multi-purpose vehicle. It combines the attributes of a subcompact car like affordable price, relatively small footprint, and fuel efficiency, with the cargo and passenger carrying capability of a bigger MPV. Going out every weekend with family and friends has been ingrained in our culture, and with the worsening traffic around the metro, the small MPV has become even more relevant. It's no wonder more people are choosing this type of vehicle over a traditional car.
For this comparison, we've gathered the three small MPVs that define the segment: the Toyota Avanza, Suzuki Ertiga, and the Honda Mobilio. Although all three vehicles have unibody construction, each was executed differently. The Avanza is unique since it's not based on a car platform. It's also the only rear-wheel drive model in its segment. The Ertiga, on the other hand, is built on an expanded version of the subcompact Swift's platform. Then we have the Mobilio. Not only is it based on Honda's little Brio city car, it even shares the same front half. At the end, all of them have the same goal.
So which small MPV is the best for you? Take a look at the infographic we prepared below.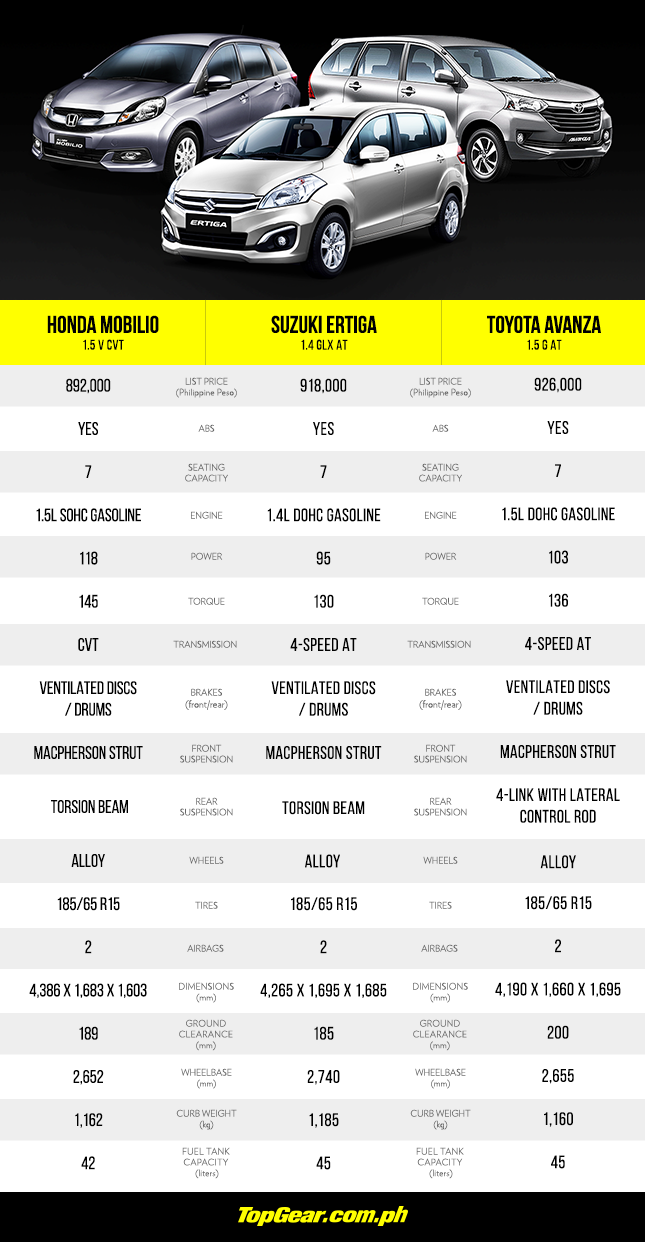 UPDATE as of May 7, 2018: Late last year, President Duterte signed the Tax Reform for Acceleration and Inclusion (TRAIN) package into law, so the much-feared increase in vehicle excise tax thus became official. If you've been wondering how much you'll need to pay this year for a new Toyota, have a look at the figures here. As expected, higher excise taxes mean higher car prices. Almost every model in Honda's Philippine lineup saw a jump in price. See the update here. When we last shared the post-revised excise tax prices of the Suzuki lineup in February, the prices of the Alto, Celerio, Ciaz, Swift, and Ertiga were still unchanged from last year. Here now are the adjusted prices.