When you imagine Toyota's legendary Supra—particularly the last JZA80 or MKIV generation—what pops to mind? The infamous orange Supra from The Fast And The Furious racing the Ferrari and the Dodge Challenger at the end of the movie? How about making insanely quick, multiple and repeated single-digit passes down the quarter-mile? Or flames popping out of its fart-cannon exhaust (anti-lag, or doing a two-step launch on the strip). Indeed, it is all this and more

Having owned a JZA80 Toyota Supra myself for the last 11 years, it's been one hell of a ride! So, when news of a new Toyota Supra was in development, I knew I just had to try it. Thankfully, God and the great ladies and gents of Toyota Motor Philippines knew how much I desired such a drive, so they booked me on a trip to Madrid to try the all-new--but still-prototype-form--Supra (code-name A90).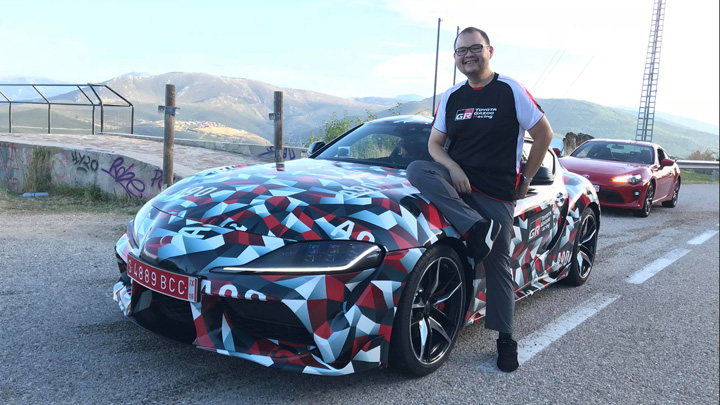 Continue reading below ↓
Recommended Videos

A little refresher: Toyota has a gloried past building rear-wheel-drive sportscars with exotic looks (the 2000GT from 1965 is a more compact Jaguar E-Type), to exotic-beating performance (the JZA80 powered by the now legendary 2JZGTE engine has been modified to deliver 2,500hp with exotic fuels and massive boost from just six cylinders). After the 2000GT came the A40 Celica (the names means Celestial or from the stars in Latin), to the A60 Celica-Supra or Celica XX, to the A70 Supra. When the Celica and Supra model names were split up, the Supra became the big brother sports car, and the Celica became the little brother sports car of the Toyota brand. And finally, the A80 MKIV which I own. Production started in 1993 and continued on in Japan until 2002. So, it's been a long 16 years before Toyota got its flagship RWD sports car back on the road.