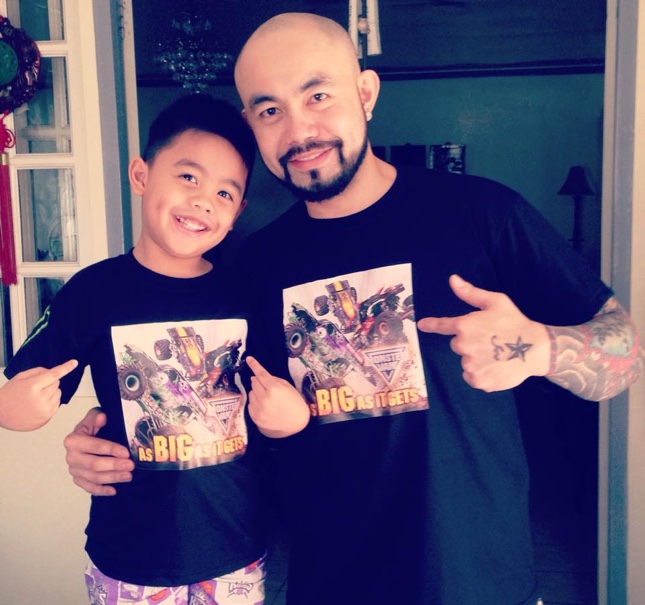 This past weekend was particularly special to us for two reasons: First was Father's Day, and second was Monster Jam. Say what you will about the "smallness" of the venue (Mall of Asia Arena), the fact is that families had a great time. More so the kids, admittedly. We were there and we saw countless fathers high-fiving their sons after every highlight.
Among those father-and-son tandems were Winter Regino and five-year-old son Calvin Marcus. These two are hardcore truck enthusiasts, and Calvin is a huge fan of Grave Digger, the most popular of the Monster Jam trucks. In fact, prior to the event, Winter had sent us a photo of Calvin holding up a placard that professed his being the truck's "#1 fan."
Calvin's obsession with Grave Digger started when they were still living in Toronto, Canada. His dad was into 4x4 vehicles, and always brought him along to off-road driving activities. At that time, Winter worked as a pastry chef on a cruise ship. He quit this job when he got into a work-related accident.
They moved back to the Philippines, and Winter is now into the construction business with his father. But his and Calvin's love affair with off-road trucks has never waned. They regularly go trailing in Pinatubo, Jungle Base and other places that suit go-anywhere trucks.
Continue reading below ↓
Recommended Videos
And when news broke that Monster Jam was coming to Manila, father and son made sure they weren't going to miss it.
At the show, Winter and Calvin happened to be seated very close to the Top Gear Philippines staff in one lower-box section. We personally witnessed how both of them were ecstatic at the mere sight of the monster trucks. The highlight for Calvin, we suppose, was when Grave Digger's driver climbed up the stands to give him the plaque Grave Digger won in one of the contests.
Many guys whined about the Monster Jam venue being too small or the tickets being too pricey. One father, on the other hand, simply had a good time with his son. Anything to make his little boy happy. Which, if you think about it, is what every father should be doing.
Photos from Winter Regino