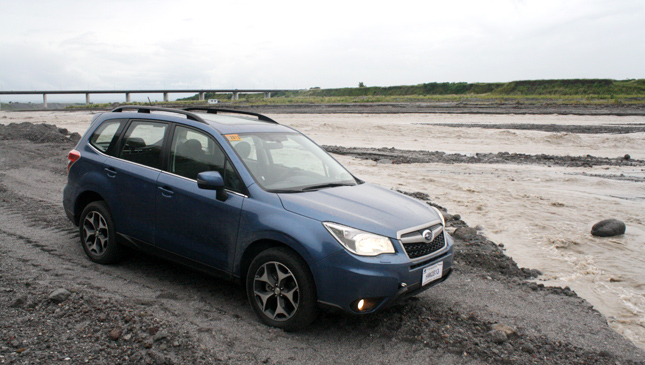 Off-roaders are somewhat of a special breed. If you're a regular car guy, you'll be hard-pressed to find a logical reason to own an all-wheel-drive vehicle, because really, just how versatile does your SUV need to be to conquer a few rough patches every now and then? You'd be paying a premium for a vehicle you would, in all honesty, just underutilize. If you're the adventurous type, on the other hand, you are missing out big time if your ride isn't AWD. Throw away all doubts and push logic aside, because owning an AWD car is going to be worth every single centavo of your hard-earned money.
We recently joined Subaru distributor Motor Image Pilipinas for a little off-road adventure around the outskirts of Clark in Pampanga, and found out for ourselves just what exactly it is that makes owning a Subie so special. There's a different kind of satisfaction you get from being behind the wheel of one. To put it simply, you feel like you and your vehicle can do anything and go anywhere.
We set off on the trail in a group of more or less a dozen vehicles, mostly Foresters and XVs. Yes, we know that they're not the first vehicles that pop into your mind when someone brings up the idea of an off-road adventure, but Subaru's all-wheel drive system and X-Mode capability make them more than capable of dealing with mud and flood, and the inclement weather made sure that our path would make for a worthy adversary.
Continue reading below ↓
Recommended Videos
The Forester we were manning plowed straight through the inundated route, absorbing every bump the latter had to offer. The real danger, though, lay in the soft sand hiding underneath. According to our guide (and associate off-road editor) Beeboy Bargas, once you stop moving, it becomes extremely easy for the vehicle to sink deeper into the hazardous muck. This was something no one was looking to experience that day, especially in an area known to be prone to flash floods. We arrived at our photo-ops destination to the sight of a raging force of nature made more dramatic by the nonstop flow of mud.
One can't help but feel a sense of dread seeing a vehicle compete against nature's devastating side. It's an overwhelming feeling, to say the least. But we saw firsthand just what the Forester and the XV were made of. (Watch a short video here so you can have a clearer picture.) The two crossovers made easy work of the treacherous path--one we wouldn't dare tread with our cars.
When we got out of the vehicles and marveled at the breathtaking scenery before us, that was when it really sank in: This is what you buy an AWD car for. Yes, crossovers are mostly used in and around the city. But in those rare moments when you just want to live life to the fullest and take the road less traveled, you'll thank yourself you purchased a ride blessed with all-wheel drive.
Are you in the market for a new vehicle? Check out these photos before making a decision.
Photos by Drei Laurel