It's a fine, sunny day here in Puerto Princesa, and Toyota Motor Philippines (TMP) is presenting us with a handful of choices after having won the privilege of choosing our first ride for Road Trek 2019, arguably TMP's premier annual driving event.
Obviously, there's the 2019 Avanza—the company's just launched the refreshed MPV and it'd make sense to go with the newest offering in its stable. The RAV4 is relatively new, too, and probably among the sportier options available, as the rest of the lineup is composed of the Fortuner, FJ Cruiser, Vios, Camry, and Hilux.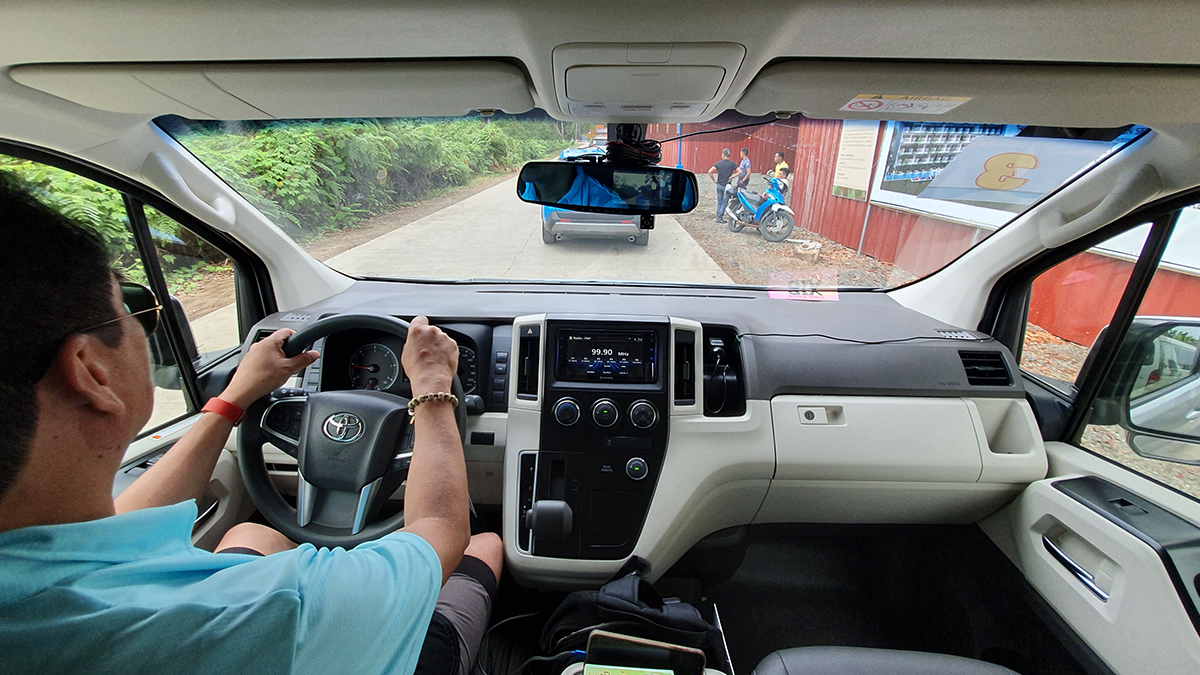 Continue reading below ↓
Recommended Videos
They're all nice choices for the next couple hours of driving, but we're going with what we know you guys want to read about: the all-new Toyota Hiace.
Now, before anything, we're going to go about this story from a passenger's point of view. We'll have a separate story on driving impressions, so look out for that. Anyway, let's get into this thing.
First impressions? This is massive. We're with the GL Grandia Tourer, and while it doesn't pack the most headroom in its class (though it's still pretty damn tall), there's plenty of space for a vehicle that seats up to 14 individuals.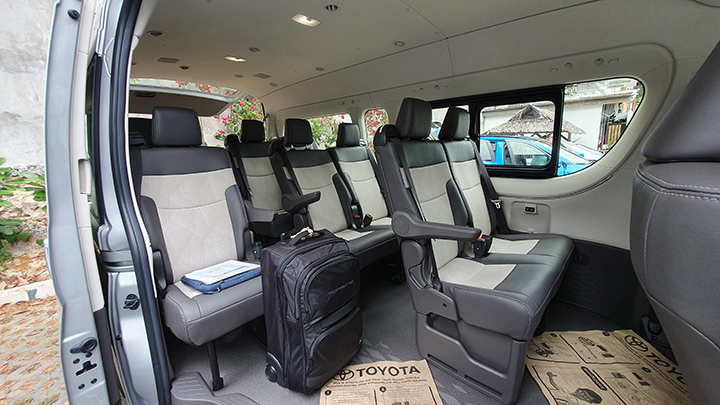 Ingress and egress are very easy, too, thanks to the well-placed handles and a generous amount of open area around the lone sliding door on the right side of the van. Like us, you can use this as extra cargo space for things you need to reach for during the drive, like a cooler.
Legroom in the first few rows is good, with just enough space for average-size passengers to cross their legs (or, like us, work on a laptop). Would be nice if the second row featured drop-down tables like the Innova, though. Seats also boast folding armrests.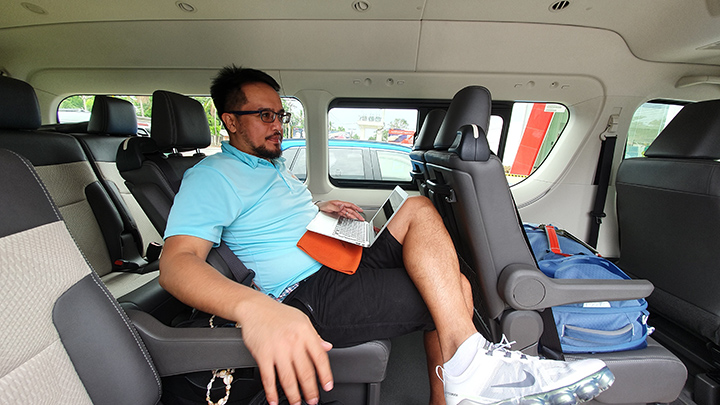 The front end of the cabin deserves special mention. The new dashboard design is a big ergonomic improvement over the last one, if you ask us, and the way the dash and the door panels surround you really gives you a sense that you're riding in a secure vehicle. There's noticeably less vibration, too, owing to the decision to move the engine up front.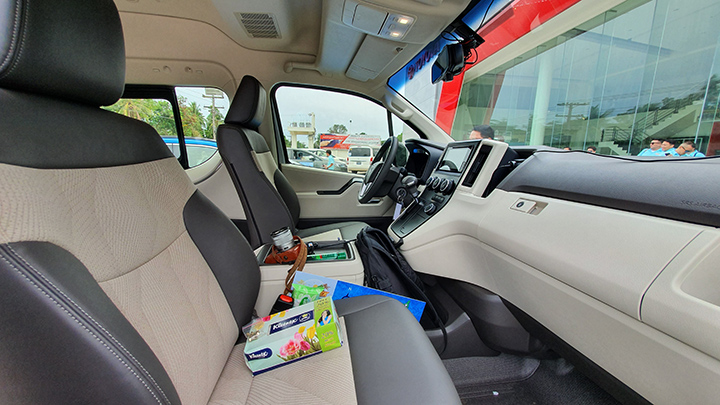 Convenience is the cherry on top of the GL Grandia Tourer's cabin space and atmosphere. There's an abundance of USB charging ports in the passenger areas, and plenty of minimalist A/C vents scattered throughout the interior. Storage areas are neatly concealed on the sides, and there's a large overhead compartment up front. Windows provide a generous view of your surroundings from front to back, which is good news for those who'll need time adjusting the Hiace's larger dimensions.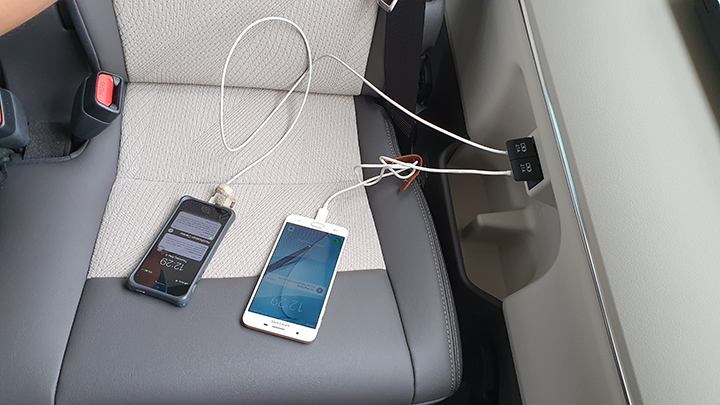 The interior is, overall, a cozy place to be in. We're definitely digging the nice use of light-colored materials all throughout as it evokes a sense of spaciousness, and the plastic surfaces feel pretty sturdy.
Finally, the ride. The route Toyota has chosen for this drive is one full of twisties and wide corners, and the Hiace feels surprisingly planted tackling these for a vehicle of its size. It's relatively smooth and quiet, too, save for the roar of the turbodiesel mill during overtakes. We'd delve into this further, though we ended up falling fast asleep just 30 minutes into our journey.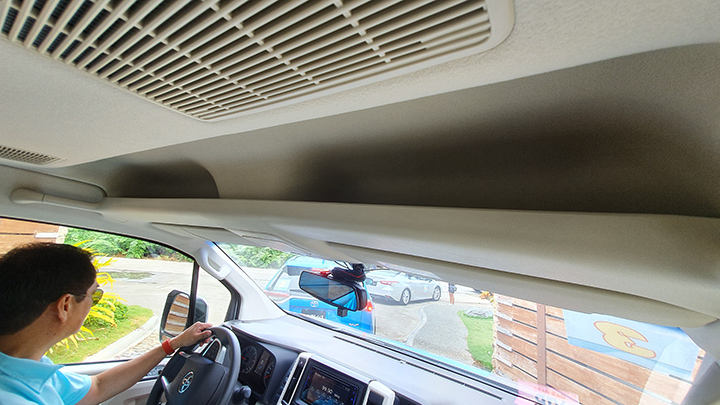 Downsides? Just one, so far: The infotainment system still feels slightly outdated. Hopefully, Toyota remedies this by equipping future setups with Android Auto or Apple CarPlay, but you can always go the aftermarket route.
As far as first impressions go, the 2019 Toyota Hiace GL Grandia Tourer is, well, impressive. It's cozy, spacious, and convenient—a dependable ride for big groups embarking on long trips.
Of course, we'll have to wait for a test unit to do a proper review under a wider variety of settings. In the meantime, check out these images of the interior and keep your eyes peeled for our initial driving impressions.