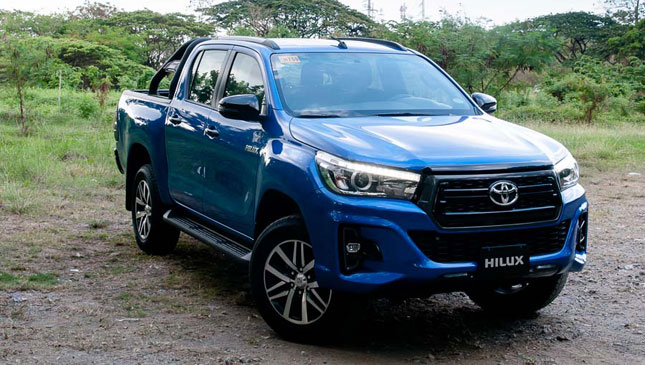 The great pickup wars of 2018 is upon us, and everybody's getting ready for a showdown. Toyota is in it to win it, and its beefing up its defense and offense to protect the Hilux line from the likes of Ford, Isuzu, and Nissan. After the limited-edition Hilux TRD, it introduced the handsome and brutish Hilux Conquest. Does this bad boy have the grunt and manners to win over this family man? After five days with this macho machine, here are my thoughts.
The new truck's visual upgrades are minimal, but effective. It features a new face that reshapes the front profile, dropping what a lot of people call the 'boat front' and replacing it with a more squarish and well-defined lower jaw. The massive front grille is taller, and the wider, flatter shape is a welcome change compared to the pointy nose of its predecessor. It cuts in far lower than the old grille, and helps define the new gaping maw and vertical foglamp bezels on the now squared-off bumper.
Continue reading below ↓
Recommended Videos
The Conquest variant is also the only one in the Hilux range that features LED headlamps and foglamps, while the LED daytime running lamps serve as mean eyebrows that add to the truck's aggressive demeanor. Another obvious change is the absence of external chrome parts, replaced instead with black plastic bits. The only shiny things on the outside, aside from the Nebula Blue Metallic paint, are the 18-inch wheels, which sadly sport the same six-spoke design from 2016.
There is also a gigantic Conquest decal on the rear gate, just to let everybody know what you're driving. Inside the truck, what once were brushed aluminum surfaces are now coated black, and in my opinion look much better, despite being dust and fingerprint magnets. There's a redesigned gauge cluster that's much easier on the eyes, and most of the innards are standard G-variant fare.
The mechanicals are the same as well, featuring the 2.8-liter 1GD-FTV hooked up to the 4x4 drivetrain with the rear locking diff, with a choice of a six-speed stick or 'matic. But finally, the Conquest gets back-up sensors. It's no rear camera, but hey, I'll take it!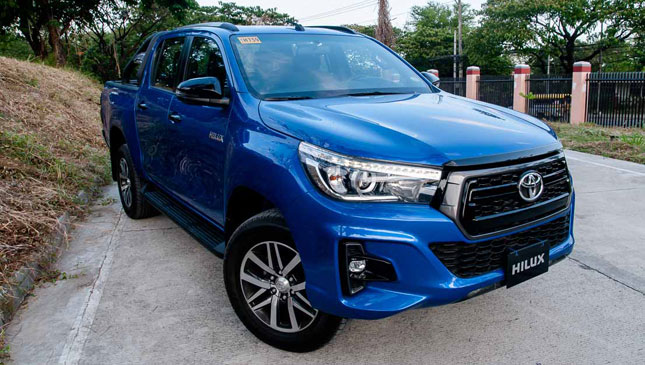 All the upgrades to this eight-generation Hilux scream 21st century modernity, and with that modernity comes a certain level of finesse. Almost ironic for a vehicle designed primarily for wrestling with Mother Nature. Most of the truck's characteristics are creamy smooth, except for one thing: the ride.
Two weeks prior to this blue Conquest, I was test driving a not-so-fresh demo unit of the Hilux TRD, and in my review I talked about the overly-firm ride that the truck had. So here I was, half hoping that a brand-new Conquest with just 1,000km on the odometer would ride differently. Alas, the ride is only slightly better, and that's most probably due to the fact that it's a fresh unit. It also seems that in 2018, a leaf-sprung system is still the rear suspension of choice.
The Hilux is generally known to have one of the stiffest rides in its class. A compromise of sorts for a life on- and off-road. But any merits or demerits are relative to what you and the truck are actually doing at any given point in time. Are you hauling a 500kg object over loose, rough terrain? Then a bumpy ride would really be the least of your concerns. Are you driving alone, and with the truck unladen on EDSA? Then say hello to all your jiggly bits.
I do have one major issue with pickup trucks in general, and that is cargo security. In an ideal world, you could throw most of your stuff into the rear bed and just go about your merry way. But let's face it, we live in a world where anything that isn't bolted down will most likely be swiped away, and even then bolt cutters and wrenches are just a hardware store away. It's this aspect of pickup ownership that I find bothersome. It's almost like paying for the P1,745,000 sticker price doesn't get you a full family vehicle, and that you'd have to add extra just to get complete and secure usability out of it. Otherwise, good luck with the open parking at the mall!
So here are my two major (and one minor) considerations for my family and I:
1) Do we do enough off-road driving to warrant the stiff on-road ride?
2) Can we make full use of the hauling capabilities of the truck most of the time (thereby justifying the extra length and space, the additional cost of rear bed security, and a better ride)?
3) Do I really need to feel that macho by driving a beast (and will my wife concur)?
The answer? NO.
None of those considerations apply to me and my family. They are however, legitimate concerns for a lot of other people. If they apply to you, then the Hilux Conquest makes complete sense. It is a true modern, macho pickup truck for the Filipino and one that will reward you with tons of usability, aggression, and durability. Not to mention 10,000 pogi points for the missus to swoon over (maybe not, don't take my word for it).
The bottom line being, you have to know if your family can make good use of all that this truck has to offer, and be accepting of all that it can't. If you're good to go with all of that then the Conquest 4x4 is THE big, bad-boy brute you'll want and need.