There's a low-key truck war brewing in the US market, and it's all thanks to the recent introduction of the all-new Toyota Tundra. After teasing its overhauled full-size pickup for months, the Japanese carmaker finally pulled the wraps off the truck that's going to give the Ford F-150 a run for its money.
Since we're not betting on seeing either of these pickups in our market soon—Ford Philippines did just launch the previous-gen F-150 last year—we've decided to make a quick comparo of these two burly trucks using all photos and specs we have so far. Just take note that we're doing away with the TRD Pro and Raptor variants for now.
We'd normally start with the dimensions, but seeing as there are just too many configurations available, we'll lay those down for you instead. The Tundra's bed is available in three different lengths: 5.5ft (1.67m), 6.5ft (1.98), and 8.1ft (2.47m). The F-150's bed also comes in the same length, only the largest bed available is slightly shorter at 8.0ft (2.43m).
ADVERTISEMENT - CONTINUE READING BELOW ↓
Style-wise, the Tundra arguably looks fresher. Ford didn't change much with the all-new F-150's look, after all. Both look macho, but admittedly, the Tundra has the beefier stance thanks to the larger grille up front.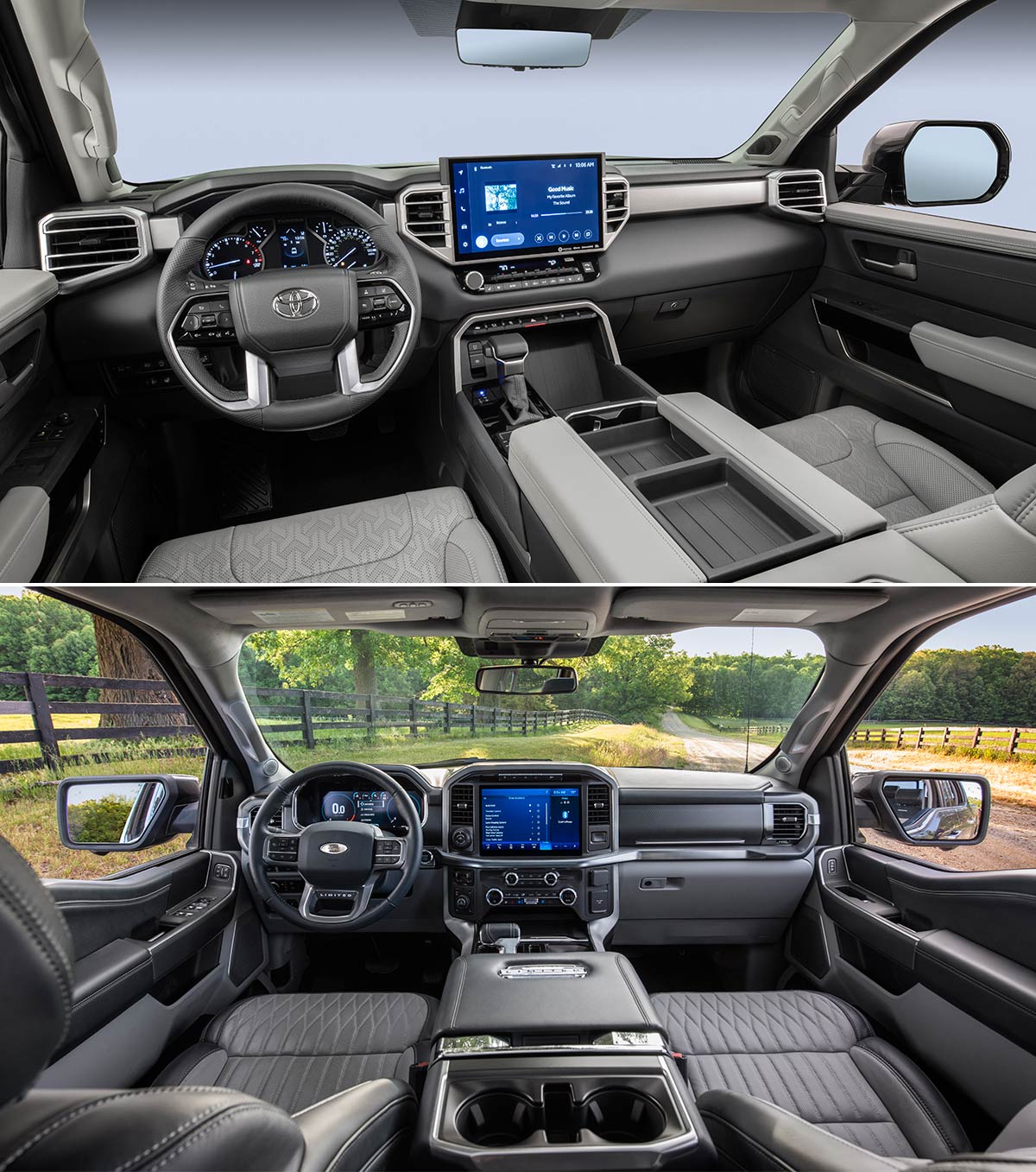 Inside the cabin, it's a bit of a tie. Both trucks have classy interiors smothered in premium materials. The two have similar-looking steering wheels as well, and they both have large center consoles for storage.
ADVERTISEMENT - CONTINUE READING BELOW ↓
Recommended Videos
You'll also see large A/C vents and massive windows in either truck. Frankly, in this department, it'll just boil down to personal preference on which is the better pick.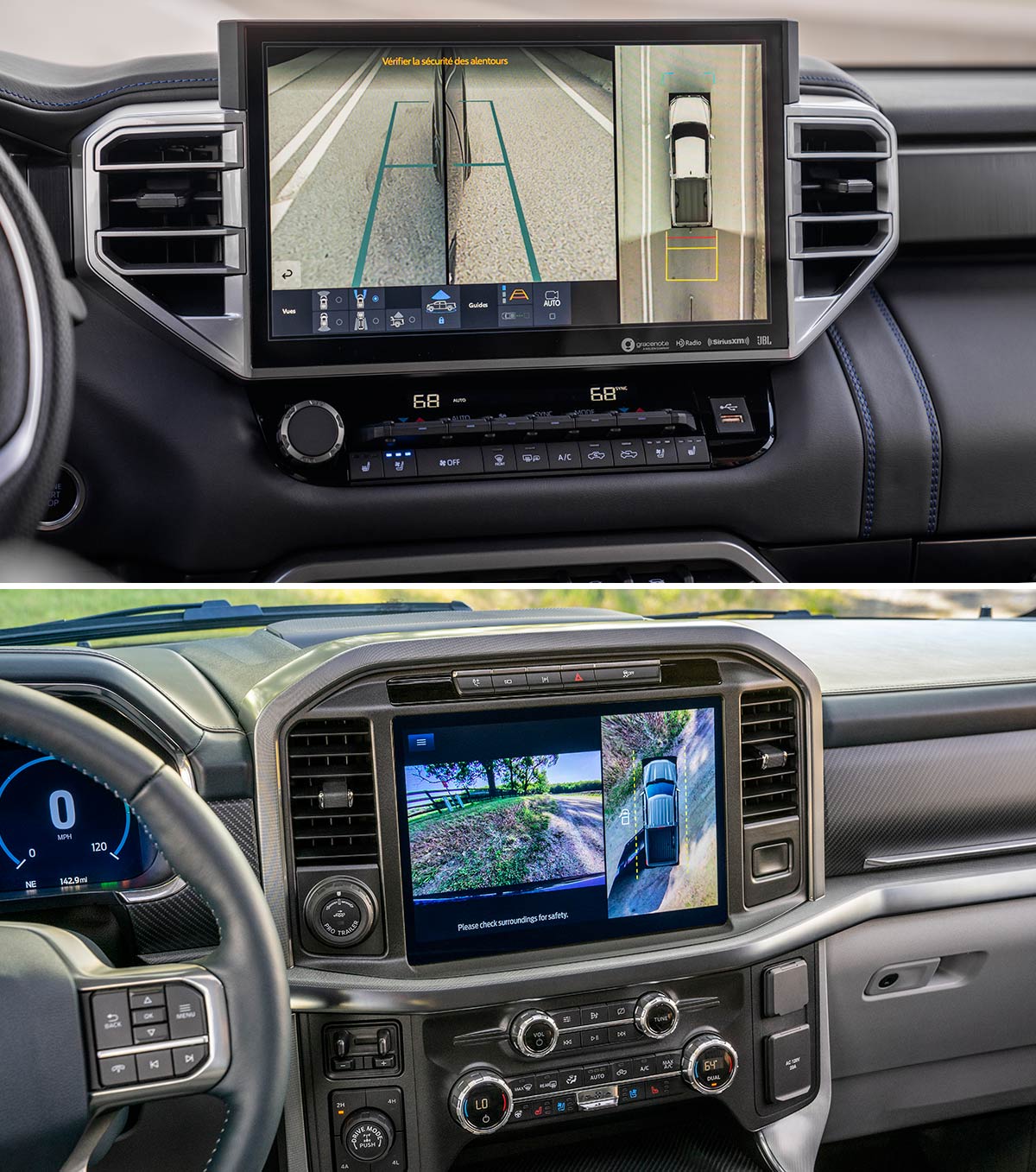 In terms of extra features, both trucks have a host of tech to offer. The F-150 gets a 12-inch touchscreen display paired with a 12-inch instrument cluster. The Tundra, meanwhile, is equipped with an even more gargantuan 14-inch infotainment system complemented by a 12.3-inch instrument cluster.
ADVERTISEMENT - CONTINUE READING BELOW ↓
You can't go wrong with either of these when it comes to safety and driver-assist tech, too, because there's plenty to go around here. The Tundra gets the Toyota Safety Sense 2.5 package, while the F-150 comes with Ford Co-Pilot360 technologies. Both of these include features like adaptive cruise control, a pre-collision system, and lane-keep assist.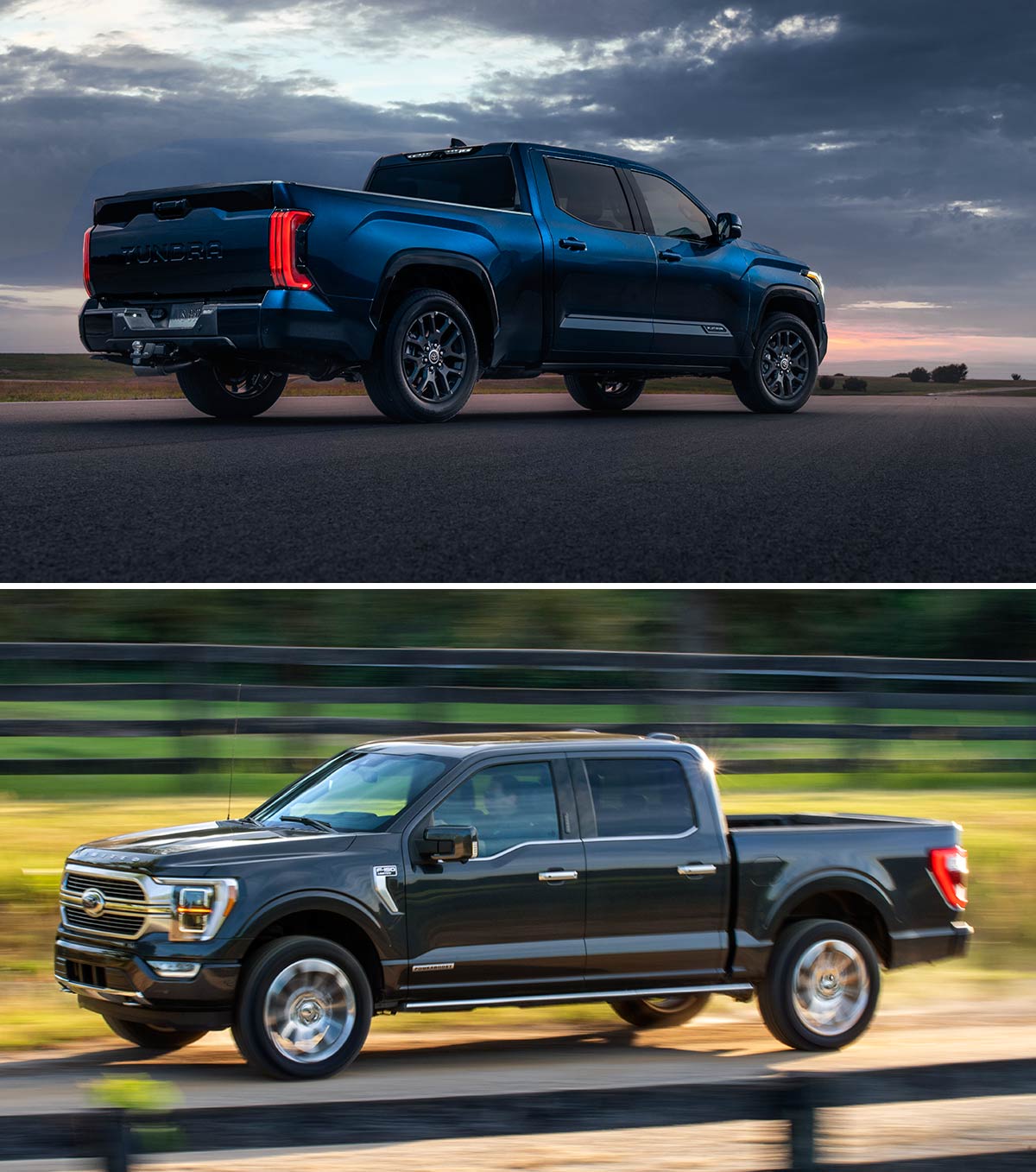 ADVERTISEMENT - CONTINUE READING BELOW ↓
Performance-wise, Tundra trumps the F-150 with its 3.5-liter V6 that generates 437hp and 790Nm of torque. Toyota, however, doesn't have much variety in its lineup, as the only other unit available is also a 3.5-liter V6 with a slightly lower maximum output at 389hp and 649Nm.
The F-150 may have slightly less power, but it provides customers with more options. The lineup consists of mix of diesel, gasoline, and hybrid powertrains, namely: a 3.3-liter V6, a 2.7-liter EcoBoost V6, a 5.0-liter V8, a 3.5-liter EcoBoost V6, a 3.0-liter Power Stroke V6, and a hybrid powertrain featuring a 3.5-liter EcoBoost V6 engine paired with a 47hp electric motor. The most powerful of the bunch here is the hybrid, capable of churning out a total of 430hp and 772Nm of torque.
Now that we've seen some of the numbers and pictures, tell us your pick. Do you think the Tundra can dethrone the F-150?
ADVERTISEMENT - CONTINUE READING BELOW ↓