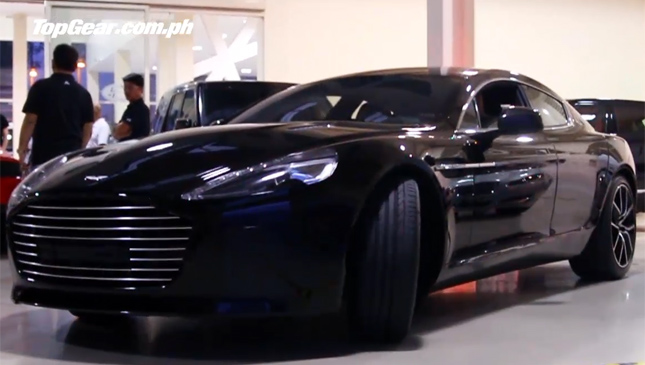 Traffic Stopper and Aston Martin Manila marketing manager Louis Karl Castillo asked me: What was I more excited about, driving a Rapide S or ferrying celebrities Iza Calzado and Isabelle Daza using it? At this point, I want to say I've always been an admirer of Ms. Calzado's beauty, and I even follow her Instagram account. But there's no contest--the car wins.
When Aston Martin Manila managing director Nicky Mariano handed me the Rapide's key fob, I realized this would be one of those moments I could look back on and say: "There was that time I drove an Aston Martin." Having never been behind the wheel of a moving Ferrari or Lamborghini, this was officially my very first supercar drive.
Inevitably, I asked Nicky how much this thing cost. The figure he told me sent a shiver down my back. I'd owe the Aston dealership money for the next decade if a jeepney so much as scraped the Rapide's sexy fenders. But when Nicky oriented me on the supercar's functions and operation, the four-door sedan's (technically, it's a hatchback) charm overrode my concerns.
ADVERTISEMENT - CONTINUE READING BELOW ↓
Driving a Rapide is different from the everyday cars we operate (obviously). The key fob is inserted directly into the center console, until it sits flush with the surface. This also starts the engine, and the 552hp V12 will roar to life. There's no shift knob or that wussy transmission stalk to operate the gears. Instead there are P, R, N and D buttons set directly onto the dashboard. You press these buttons to access the Rapide's gearbox.
As I sat in the cabin for the first time, the impression I got was a feeling of tightness. Maybe the Aston market was fit men who wore bespoke Brioni suits. But once I adjusted, the leather-covered driver seat was a comfortable cocoon from which to operate an exotic car that costs as much as a sizable Uber fleet of Toyota Vios units.
Our videographer took the front seat, and Nicky waved us off as we prepared to head to the Peninsula Manila where we'd pick up our two beautiful passengers. My task was to bring them in ultimate luxury to another hotel for the Star Magic Ball. We arrived at the posh hotel's driveway, and it was a piece of cake to ask permission from the valets if we could park our "humble ride" there while we waited.
ADVERTISEMENT - CONTINUE READING BELOW ↓
Recommended Videos
And we waited. And waited. I wanted to sit inside the car with the A/C on.
After more waiting, the two celebrities came down. Ms. Daza apologized for their tardiness. She didn't really have to--seeing them in gorgeous gowns made the wait worthwhile.
On our way to the ball, Isabelle decided to do a costume change in her van that was following us. Meanwhile, I made small talk with Iza (I just delude myself into thinking we're on a first-name basis). All in all, it was an evening I wouldn't mind repeating. Although next time, I'd bring a portable chair and a good book.
Watch the video of my memorable evening with super hot women the Aston Martin Rapide S.
If you're viewing this on a mobile device and can't see the video, please click here.