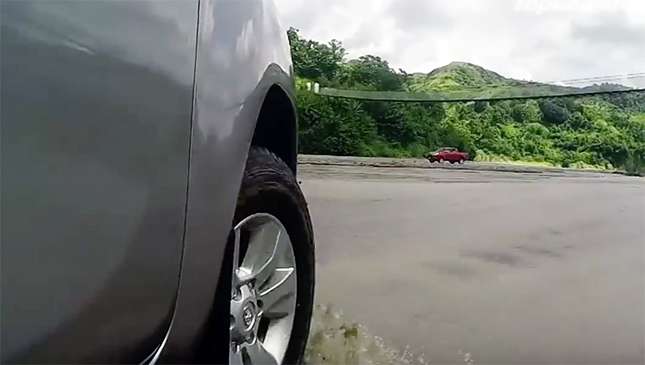 On the night of the Toyota Hilux launch in Clark, Pampanga, our print associate editor Paulo Subido called for a team huddle to discuss the test-drive strategy for the next day. It was a control freak's nightmare: We had ironed out driving assignments weeks ago and now we were having a quick meeting while True Faith was performing beside the all-new pickup truck.
Thankfully, we were open to some plan changes. And what a delightful surprise!
"We're going to a secret off-road destination tomorrow, so I might need to borrow our videographer," Paulo announced. "But be quiet--not everybody's going." Ah, the perks of being pogi advantages of being a proactive journalist.
So the following day, some of our team members got to sample the 4x4 Hilux's rear differential lock on the way to Mount Pinatubo. And we have this video to share with you to show you how the new pickup truck tackled the road less traveled and how it played with the waters of the Sacobia River.
Enjoy the video!
If you're viewing this on a mobile device and can't see the video, please click here.
Continue reading below ↓
Recommended Videos