Flowers and tie-dyes were all the rage in the '60s, '70s, and even the '80s. And for some people who grew up in that era, it wasn't just a trend that eventually faded over the years.
Take Tasha Lacks, for example. At the age of 16—about the same time she became a tie-dye enthusiast—she had already decided that she was going to own a Volkswagen one day. It was the car brand that "made her eyes twinkle" as she listened to music in the backseat of her parents' car in the '80s.
Fast-forward two and half decades later, and she is now the proud owner of a Volkswagen Beetle with no less than a tie-dye, flower-themed finish. The Bug was a birthday gift from her husband Jessie, who also went through the trouble of giving her tie-dye presents for 40 days before her 40th birthday.
"I went through the process of thinking and asking myself, 'What does she like?' and 'What does she need that she doesn't already have?'" Jessie recalls. "Once I eventually got a list of 40 things, I had to also lead up to something truly groundbreaking. And that's when I went on the journey of looking for the Volkswagen."
ADVERTISEMENT - CONTINUE READING BELOW ↓
Jessie found the Beetle in October 2020, and managed to hide the project from his wife for the next seven months. He enlisted the help of a local shop, his father, and his 11-year-old son to customize the car with a tie-dye, flowery design. The vehicle was also repaired while hidden inside his old man's garage.
"Do you know how many times we visited there between October and May?" asks Tasha. "I don't know what would've happened if I had decided to go into the garage while we were visiting, but it's just amazing that I never saw it at all."
The big reveal happened on May 22 this year, where Tasha was led out from their house—blindfolded—during her birthday celebration.
"I was just so shocked. I didn't know what it was or where it was from. I honestly didn't realize it was going to be my car," shares Tasha. "But when they said, 'It's yours to keep,' I lost it and started jumping up and down and screaming."
ADVERTISEMENT - CONTINUE READING BELOW ↓
Recommended Videos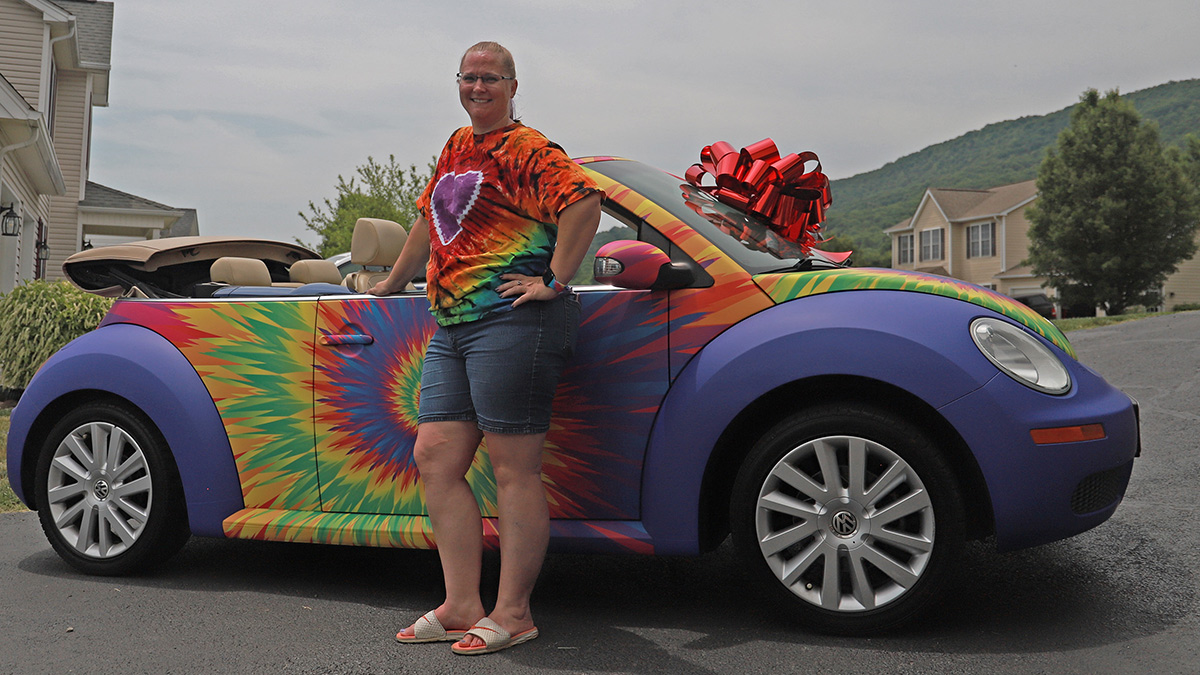 Tasha shares that the vehicle—which Jessie and their son call a 'chick magnet'—has been a hit in the neighborhood and with the entire family.
"If I'm having a bad day, I get in my car and I take a drive with the top down and it just makes me feel better. The fact that it's a Bug makes me feel happy when I'm in it," says Tasha. "My son will also actually go places with me now because he likes to ride around in this car, and that makes me happy."
ADVERTISEMENT - CONTINUE READING BELOW ↓
"[The Beetle] symbolizes to me a time when the world was in chaos and there were certain groups of people trying to bring peace and happiness to the world," adds Jessie. "And I think that's a feeling that resonates with a lot of people when they see a Volkswagen that stands out. It makes people happy and it's an iconic car."