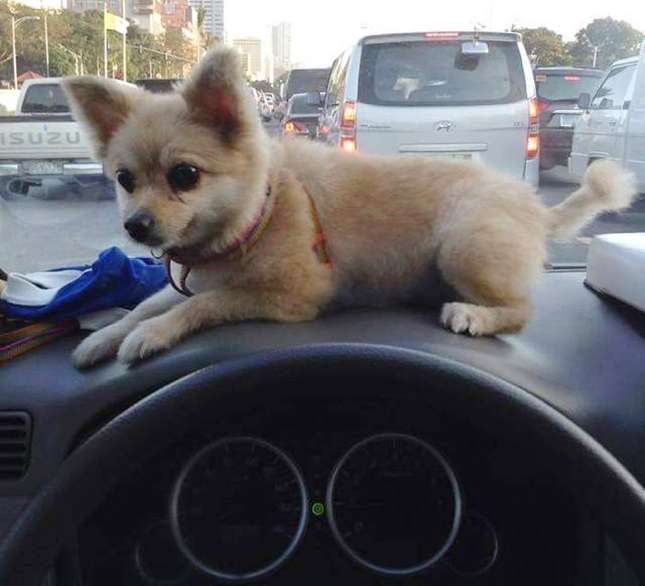 Last month, the Bow & Wow all-natural pet store hosted a benefit dinner together with CARA Welfare Philippines, a non-profit organization committed to spreading awareness on the ethical treatment of animals, to celebrate National Pet Parent's Day.
CARA volunteers shared their experiences about rescuing dogs and cats, as well as the benefits of adoption. Some of these rescued animals were present that evening in search of a nurturing home. The volunteers also talked about how to take care of them, particularly in the climate we have.
Speaking of taking care of our canine friends, here are seven useful tips we practice on how to keep them cool and comfortable when going on a road trip. Summer may be at the tail end now, and the rainy season is upon us, but it's still generally hot.
* Always make sure your pet has enough food and lots of water for proper hydration. Kibble in a container is very handy, along with a portable water container. These essentials will make the trip so much easier.
* To help cool your pet down, take along spray mist or bottle. You know the feeling when you spray this on your face on a scorchingly hot day? Well, it's the same for your furry friend. Spray evenly all around. It's also good to have a towel to keep things comfortable and tidy.
Continue reading below ↓
Recommended Videos
* Be mindful of your pet's breed. Dogs with flat noses or short snouts, such as Pekingese and Pug, have more difficulty breathing compared to dogs with longer snouts, particularly when it's hot. That means they're more susceptible to heatstroke. Dogs with longer and thicker coats will also feel more discomfort, so make sure they don't have dry skin, allergies or rashes. Trimming their coat during the summer is highly advised. The same goes for cats. Also bear in mind the level of activity they can take, such as walking distance. Balance exercise with breaks. It's best to plan your activity with your four-legged friend.
* While you'd be tempted to open the window for your dog to enjoy the wind, it's much safer to keep your pet within the confines of your car. Never do this especially on the highway, or when you're traveling at higher speeds. It's best to do this on smaller roads, while you're traveling at slower speeds and if you have a companion in the car to keep an eye on your dog. Remember, eyes on the road at all times! Safety always comes first for you and your dog.
* If you're traveling a far distance, stop in a safe place once in a while so that you and your dog can stretch those muscles. While your dog may be enjoying the trip, allow him to walk a bit (on a leash for safety) and do his business. Make sure you clean up after.
* Plan your trip when it's cooler for you and your pet. Dogs and cats don't have sweat glands, so the best way to tell when they're feeling the heat is when they pant more than usual. If you're heading out somewhere with your pet, it's best to travel early in the morning (that way, you can also make the most of your day with him), or late afternoon or early evening. The sun is at its harshest between 10am and 2pm, and your pet can feel that.
* Never leave your pet inside your car (even with the windows slightly open). Fifteen minutes is all it takes for your dog or cat to pass out when left inside a parked car. It could even be fatal during the intense heat. Never leave your pet inside your vehicle to avoid heatstroke.
Photo from Sean Jerrold Esteban