The Land Transportation Office (LTO) will soon be requiring all vehicles to undergo tests at private motor vehicle inspection centers (PMVIC) prior to registration. Upon securing a copy of the agency's operating guidelines for PMVICs, we released a step-by-step guide on the new Motor Vehicle Inspection System (MVIS) process—check it out if you haven't already.
But there's one part that we'd like to focus on: the LTO's guidelines on headlights.
Passing the new MVIS headlight inspection is not as simple as it sounds. You may recall that Top Bikes Philippines executive editor Aris Ilagan brought his Yamaha MT-09 in for preliminary testing, and the bike, which was otherwise in perfect working condition, failed the test because of its headlight illumination.
ALSO READ:
LTO extends validity of student permits, medical certificates, and conductor's licenses
This is how you restore faded plastic headlight lenses
No more tinted headlights
According to the document we've acquired, all motor vehicles must be equipped with an even number of white or selective-yellow lights in both sides up front, and these must be "capable of adequately illuminating the road at night in clean weather." Say goodbye to your car's tinted headlights, then.
The headlights must also pass the headlight test indicated in the MVIS guidelines.  The  standards are as follows: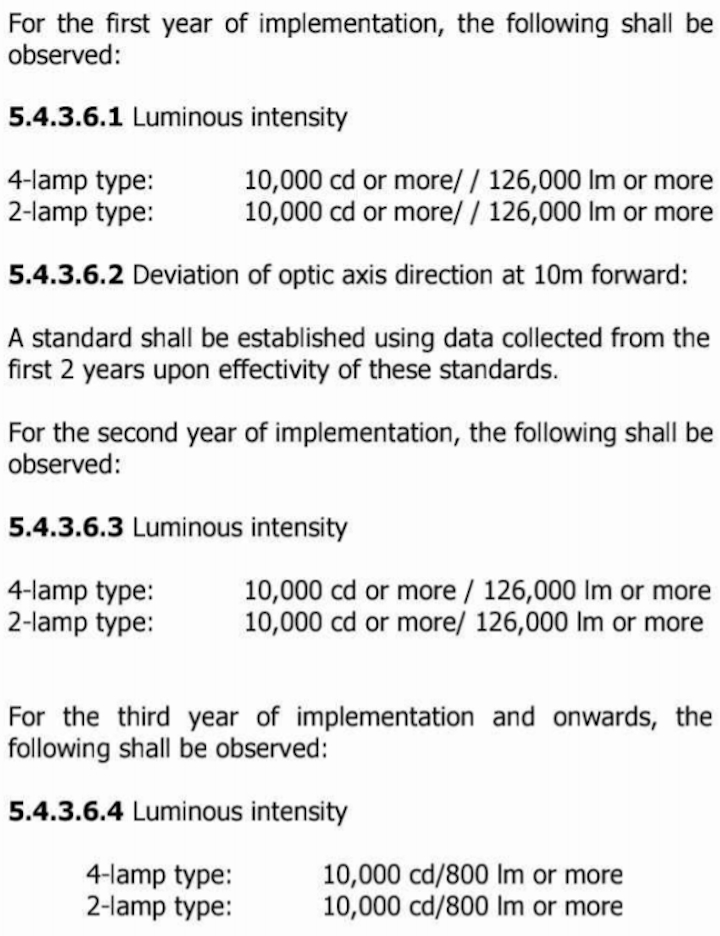 ADVERTISEMENT - CONTINUE READING BELOW ↓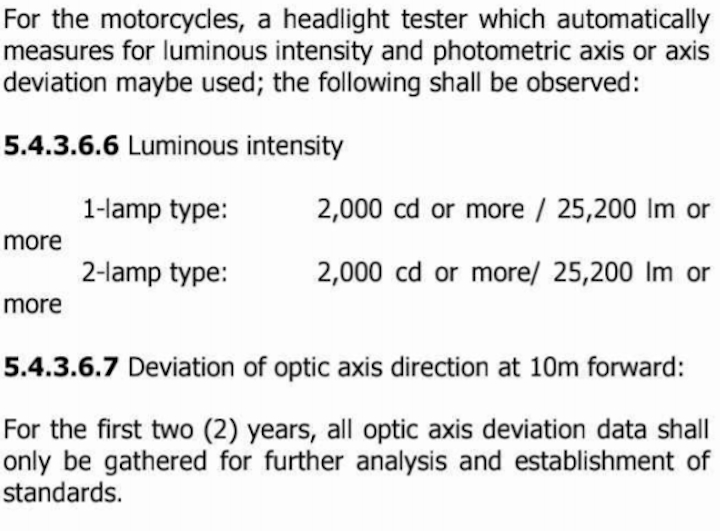 What about the other lights elsewhere on the vehicle?
Now, as for the other lights in the vehicle, there must be park lights equipped on both left and right sides of the vehicle, up front and out back. These park lights must be either white, yellow, or amber. Also, the document states that "the color of the front direction-indicator lamp shall be yellow or amber; rear direction-indicator lamp shall be red yellow or amber when in operation."
Reverse lights, meanwhile, should be white. All vehicles must also have two white lights for the rear plate number, and these should remain illuminated whenever the headlights or the park lights are on.
That's about it, so take note, motorists. If the parts you've fitted on your car don't meet these standards, you might want to get that sorted out soon.
ADVERTISEMENT - CONTINUE READING BELOW ↓
Recommended Videos