The name. Before we get to the looks of Lotus's first hypercar, the power of Lotus's first hypercar, or why indeed Lotus thinks it can blindside Bugatti and company, let's deal with the name. What four-wheeled unobtanium would dare show its angular face in Casino Square or a climate-controlled Abu Dhabi garage without a word jumble branded on its backside?
You've deciphered Huayra, Rimac, and Koenigsegg. Now, limber up your jowls and stretch your lips around this: Evija. No, not 'ee-vee, yahh.' It's 'evv-eye-ah.' Could have sworn she was one of the minor Stark children from Game of Thrones, but apparently, it means 'the first in existence.' Roughly, it translates from Hebrew as 'living, to breathe.' And it begins with the letter E, which ought to keep the Lotus purists happy. Little else about the Evija will.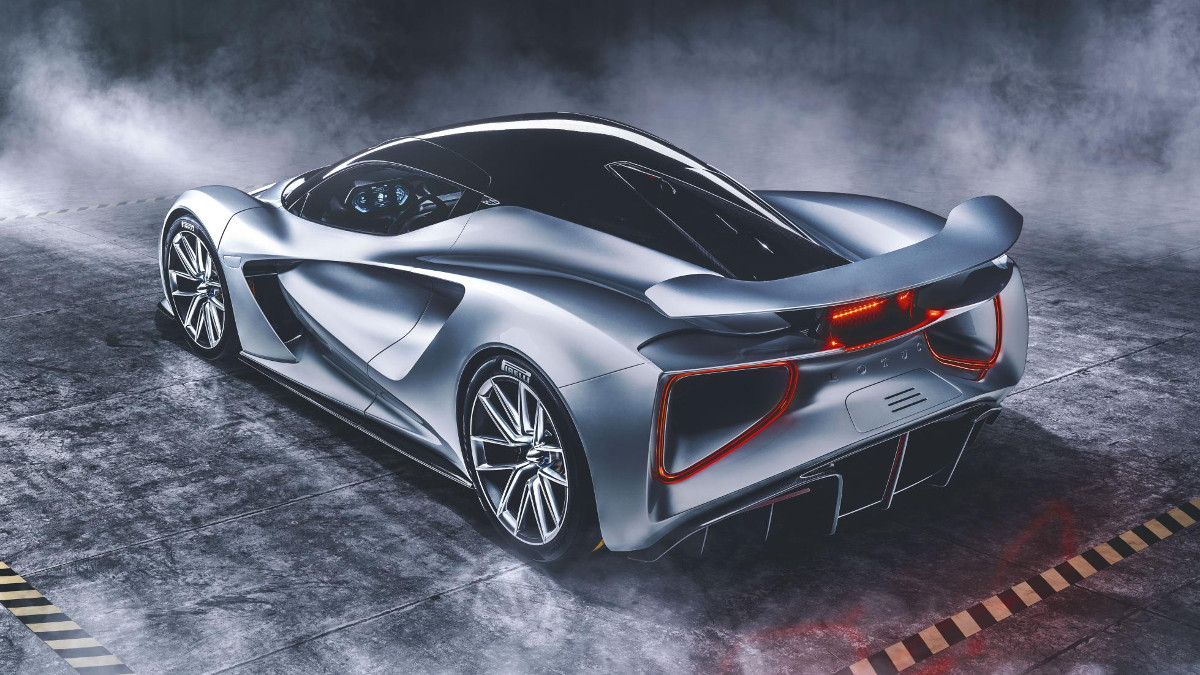 Welcome to the age of the electric hypercar, and Britain's first entrant. Whether or not this will be a long chapter in the history of very fast cars, or a curious cul-de-sac on the way to future forms of power and performance remains to be seen. But Lotus isn't waiting to see which way the tech wind blows, then cash in its Chinese-funded chips.
ADVERTISEMENT - CONTINUE READING BELOW ↓
The latest corporate giant to tee up a Lotus moonshot and propel it into exotica's premier league is Geely, China's third-largest carmaker and backer of a resurgent Volvo, startup carsharers Lynk & Co, and the new London black cab company. And what does the portfolio have in common? A headlong dive into electrification. From Polestar to hybrid cabs and now to rural Norfolk—where all 130 Evijas will be built—Geely wants to conquer the world with belief in batteries. And it's fallen on Lotus to wade into battle against the upstart likes of Rimac, Pininfarina, and, dare we say it, Tesla.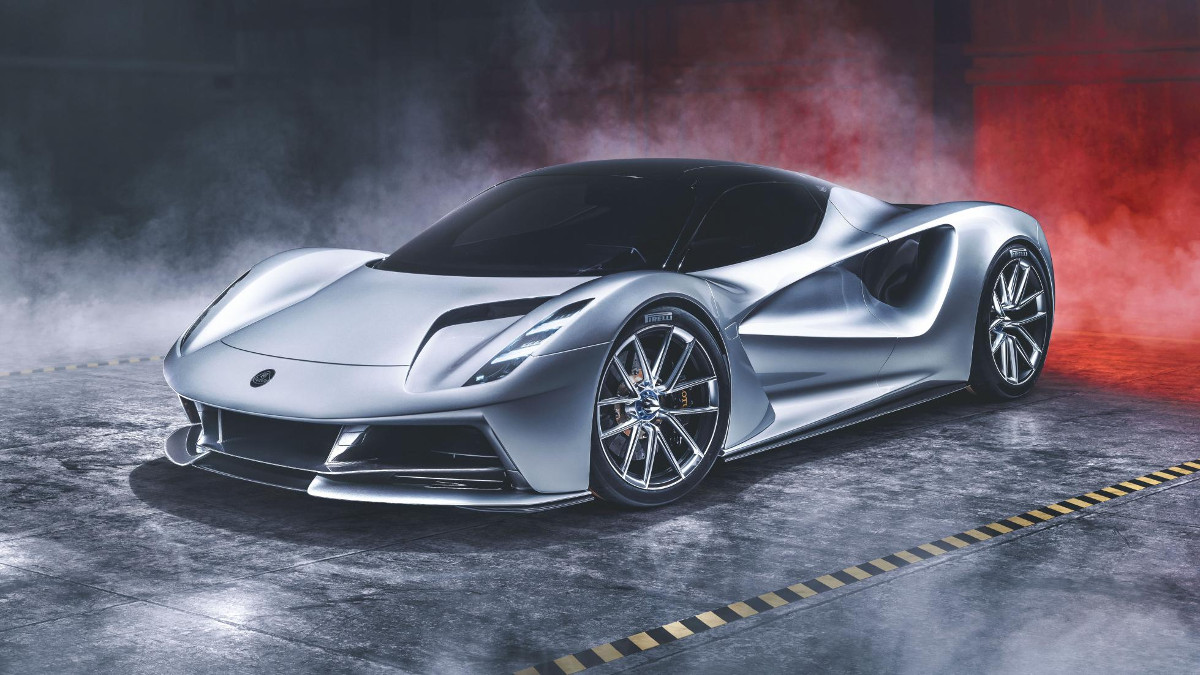 While you're still digesting the looks, I'll divulge what we possibly can about the car. When word first filtered onto the Internet about Lotus's mystical 'Type-130' project, the power figure being mooted was a nice, round 1,000hp+. Four-figure horsepower has quickly gone from being the preserve of Bugatti and Koenigsegg to the minimum requirement for a newbie to be taken seriously.
ADVERTISEMENT - CONTINUE READING BELOW ↓
Recommended Videos
And when it comes to electric hypercars, the numbers really are bananas. The Rimac C_Two promises 1,888hp. Pininfarina's Battista rounds that up to 1,900bhp. It's the end of car tuning as we know it. So long as the processors can handle the maths, you can pretty much name your power output. And to hell with what the tires can manage.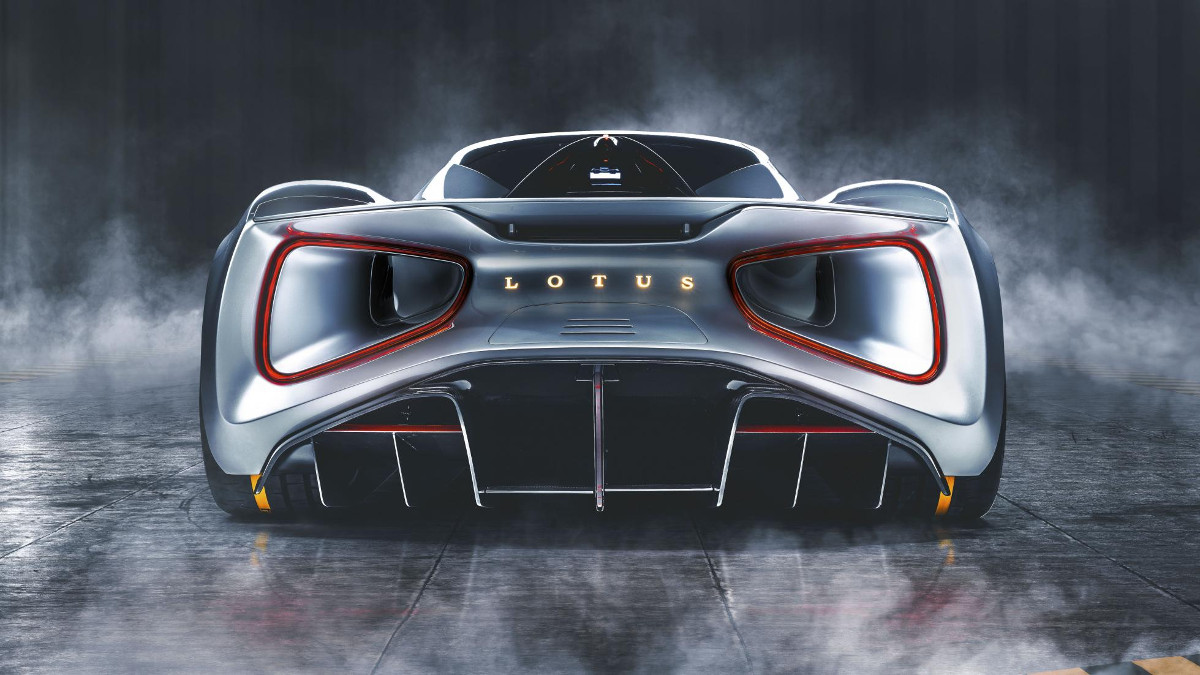 Lotus says its target is to be the world's most powerful production car, with 2,000ps or 1,972hp. Torque, totaling some 1,700Nm (over double what a McLaren Senna churns out), will be vectored between all four wheels, because yep, the Evija is four-wheel drive. Lotus's first road-legal 4x4 isn't the long-mooted SUV, after all.
These power boasts are nigh-on impossible to get your head around. And that's unusual for a Lotus, because instead of asking 'how have you made it so light,' we're left wondering 'why is it so powerful.' But Louis Kerr, the chief Evija platform engineer, insists Lotus isn't switching focus from weight-saving to power-craving. "Light weight and efficient, elegant engineering have always been at the heart of the Lotus DNA. That will not change," he promises Top Gear.
ADVERTISEMENT - CONTINUE READING BELOW ↓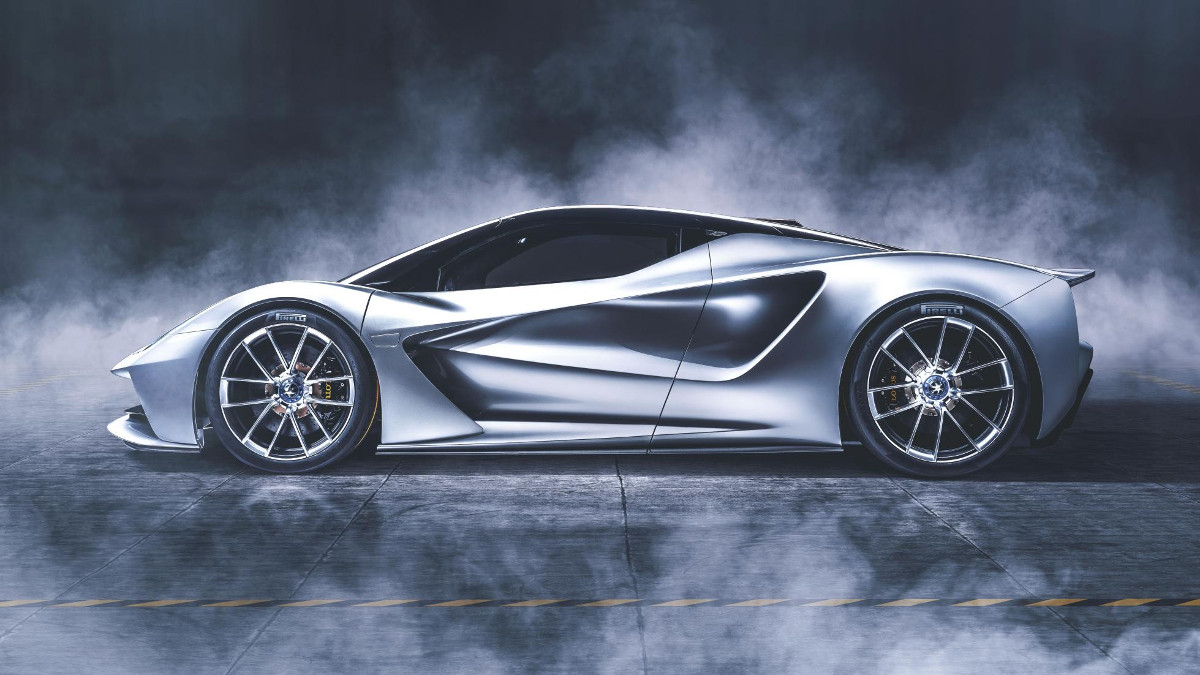 So, the weight. Again, we're only being fed preliminary figures, but the target spec is 1,680kg 'in lightest specification.' Hypercar buyers will pay through the nose and back again to cut kilos, as evidenced by the unpainted, trim-shorn Porsche 918 Spyder mit Weissach Pack. Still, with a driver on board, no amount of carbon trim is going to get the Evija under 1.7 tons. Hefty for a Lotus. And massive—it's Aventador-big. Two meters wide. Is this really the right direction for supercars to plunge in?
The good news is it's a third of ton lighter than the 1,950kg Rimac, so while it's not a feather per se, it's the least leaden of the new e-hypercar breed. And the balance, despite the batteries being heaped up under the Not-Engine-Bay window, is spread 50:50 between the axles.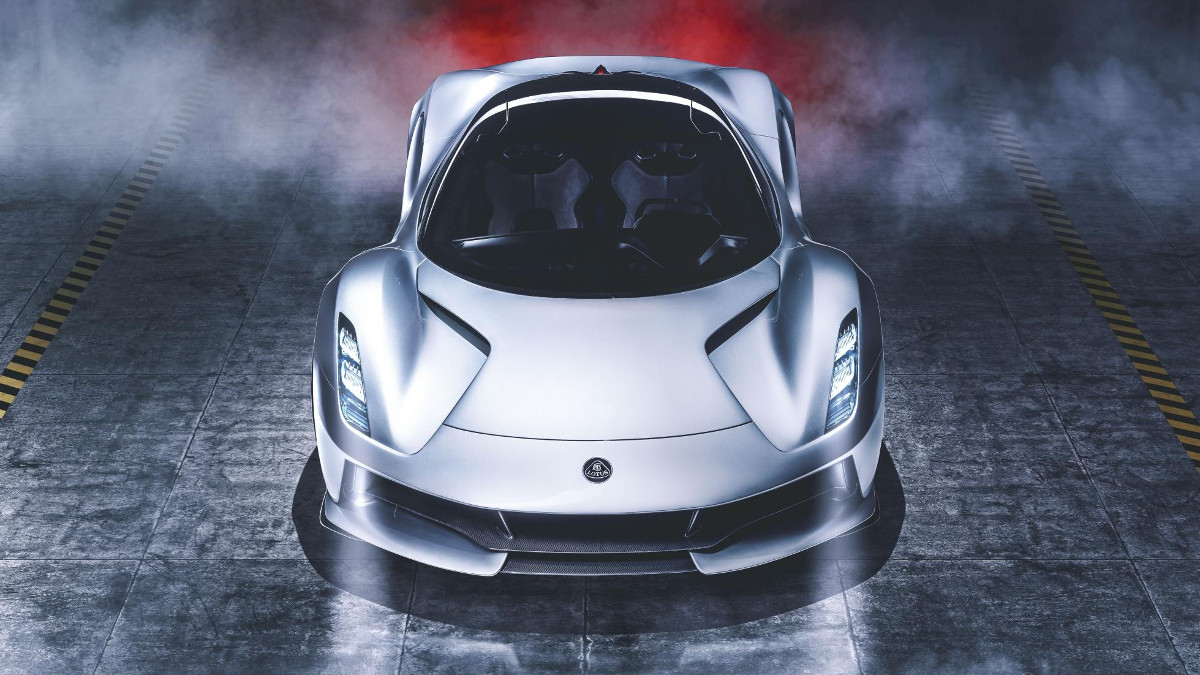 The performance claims sound coy for something that weighs the same as a 5-Series diesel but has more power than three M5s. Right now the targets are 0-100kph in sub-3sec, 0-300kph in sub-9sec (a Chiron takes 13.6sec), and a top speed north of 320kph. Once it's off the line and the torque-vectoring is doing its thing, acceleration should be savage. And silent. Louis makes no mention at all of any attempt to give the Evija a soundtrack, beyond the "digitally created sound required by regulations to alert pedestrians to its presence."
Surely, the looks will have alerted folk to the spaceship whispering past their navel? You've never seen a vehicle like this. Norfolk residents who spot one undergoing shakedown will feel like those old Navy pilots who caught glimpses of the secret SR-71 Blackbird. What the heck was tha—oh, it's gone.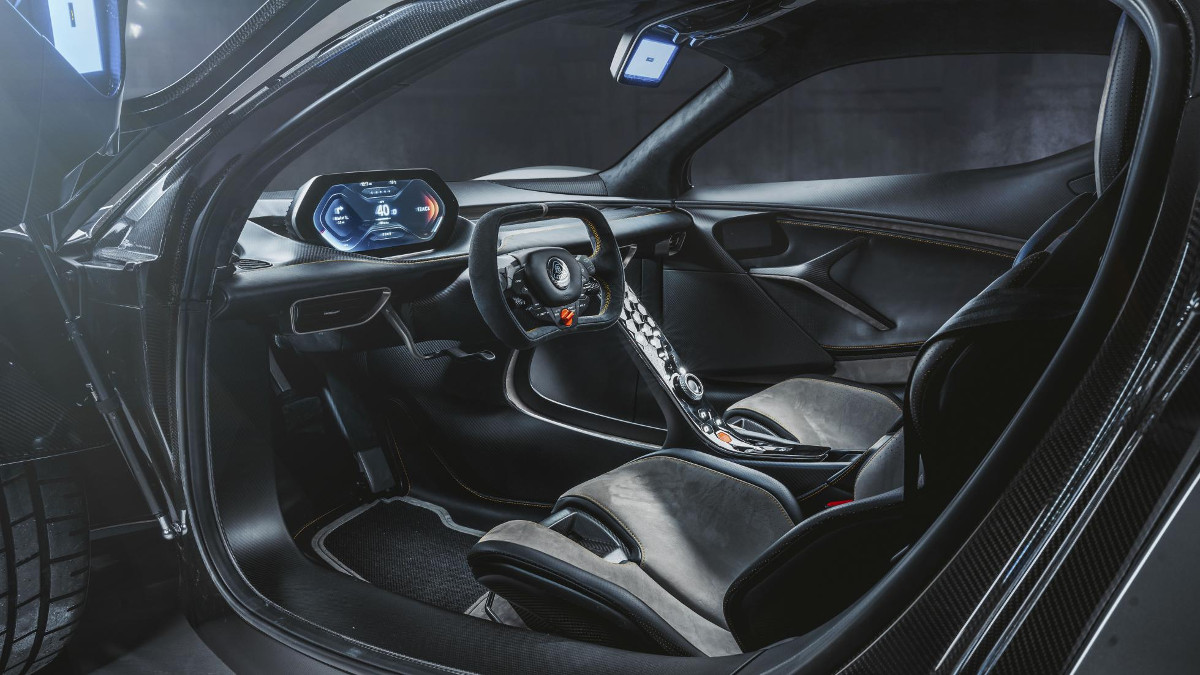 ADVERTISEMENT - CONTINUE READING BELOW ↓
All 130 individuals who spend £1.5-2 million to (P95-126 million) on an Evija (plus taxes, thank you very much) are getting a whole lot of nothing for their money. Or as designers prefer to call it, 'negative space.'
Lotus's deign boss Russell Carr explains that EVs give him a whole new toybox to unlock: "The packaging of the battery pack and rear motors offers some flexibility when designing the rear bodywork and diffuser. This has helped us create the distinctive Venturi tunnels. Cooling requirements are less aggressive than on a 1,000hp+ combustion powertrain, and this has allowed us this 'porous' quality, with air going through the car."
It's incredible, but what exactly makes this a Lotus, looks-wise?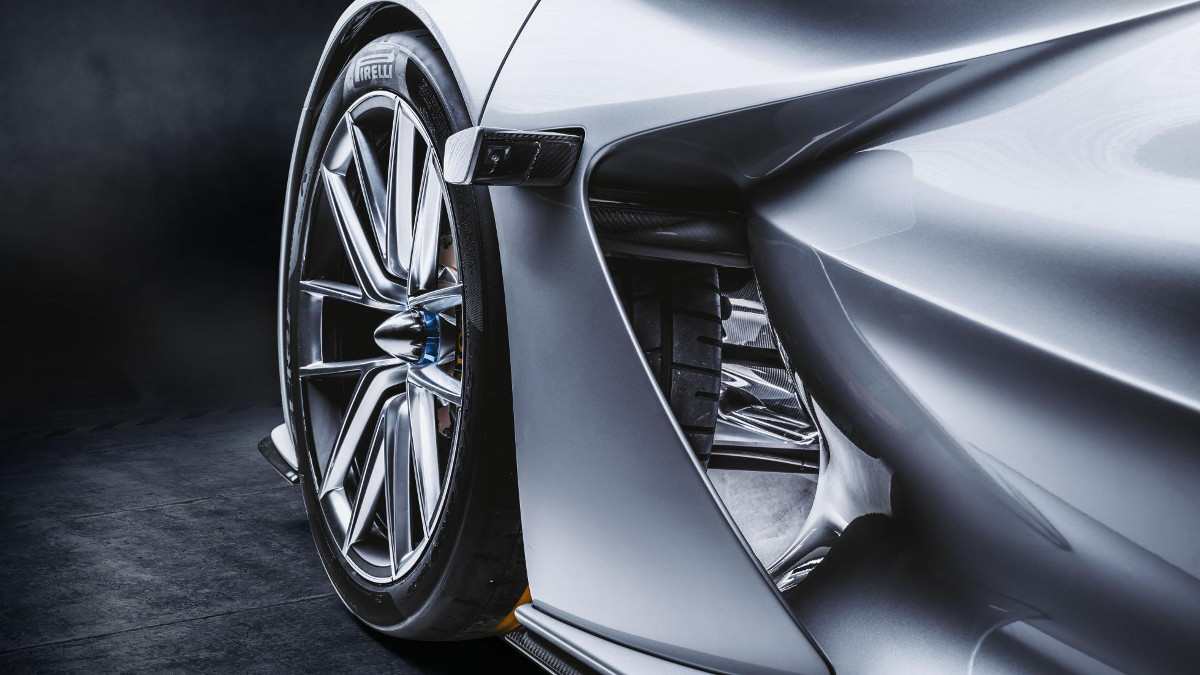 "The prominent muscular haunches and low-mounted cabin has been a feature of Elise and Exige, as well as sports racing cars like Type 11 and Type 40," says Russell. "The side profile line for the intake of the rear quarter panel Venturi tunnels is reminiscent of that used on the more traditional intakes in the Elise and Exige."
Lotus's design boss is adamant that a deliberately retro-inspired-design, like that of the latest Ford GT, was never on the table. Neither, says engineering, was a hybrid drivetrain. The Evija is a virtuous circle. No engine means less cooling, means neater packaging, means slicker aerodynamics. Those rear tunnels are outrageous, aren't they? What's fascinating is how the car seems to shapeshift as you walk around it, like a piece of perspective art hung in a gallery.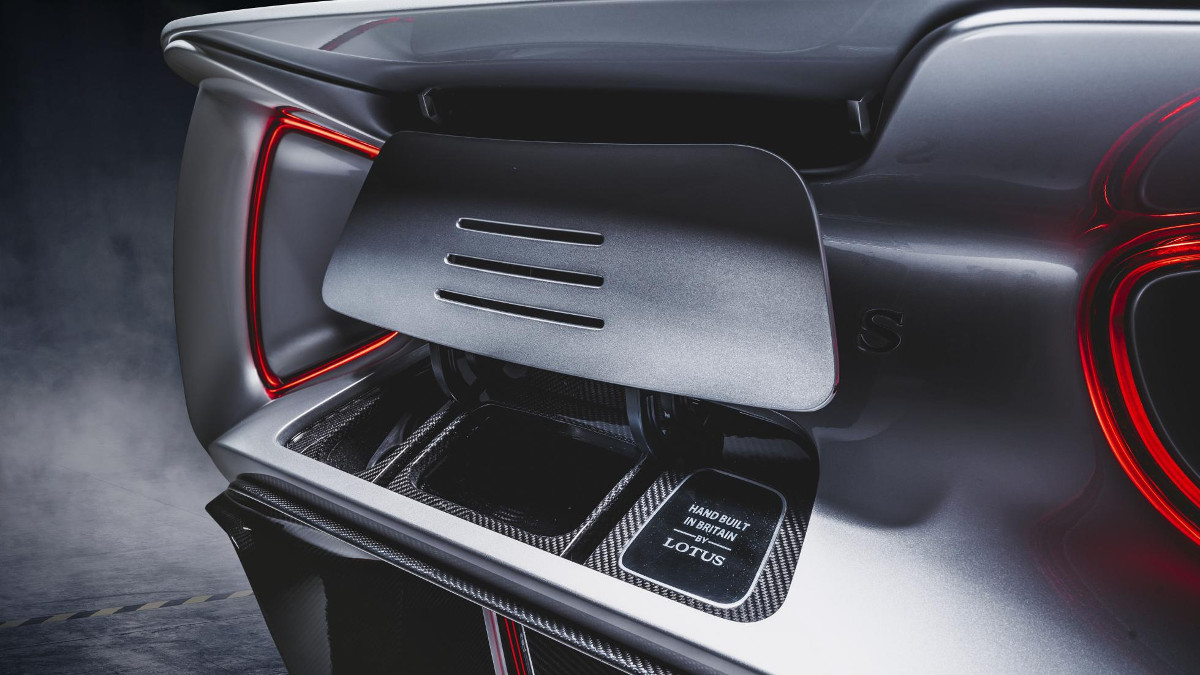 From the front-three quarter, it's a solid object, of punchy stance and brooding haunches. Take a broad step to your left or right. Suddenly, voids open before your very eyes. Light pours through gaping chasms in the car's shoulders. Shadows are cast beneath the twin-skinned hood. The tires peek through Le Mans racer-like vents ahead of the doors. Supercars always aim to look fast when they're standing still. This thing looks like it's coming apart at the seams.
ADVERTISEMENT - CONTINUE READING BELOW ↓
Up until now, Lotus and Williams Advanced Engineering (who also have Singer's F1-spec Porsche flat-six and the Dendrobium electric hypercar on its books) have been collaborating in simulator testing, but by the time you read this, Lotus will have put the finishing touches to its first rolling prototype.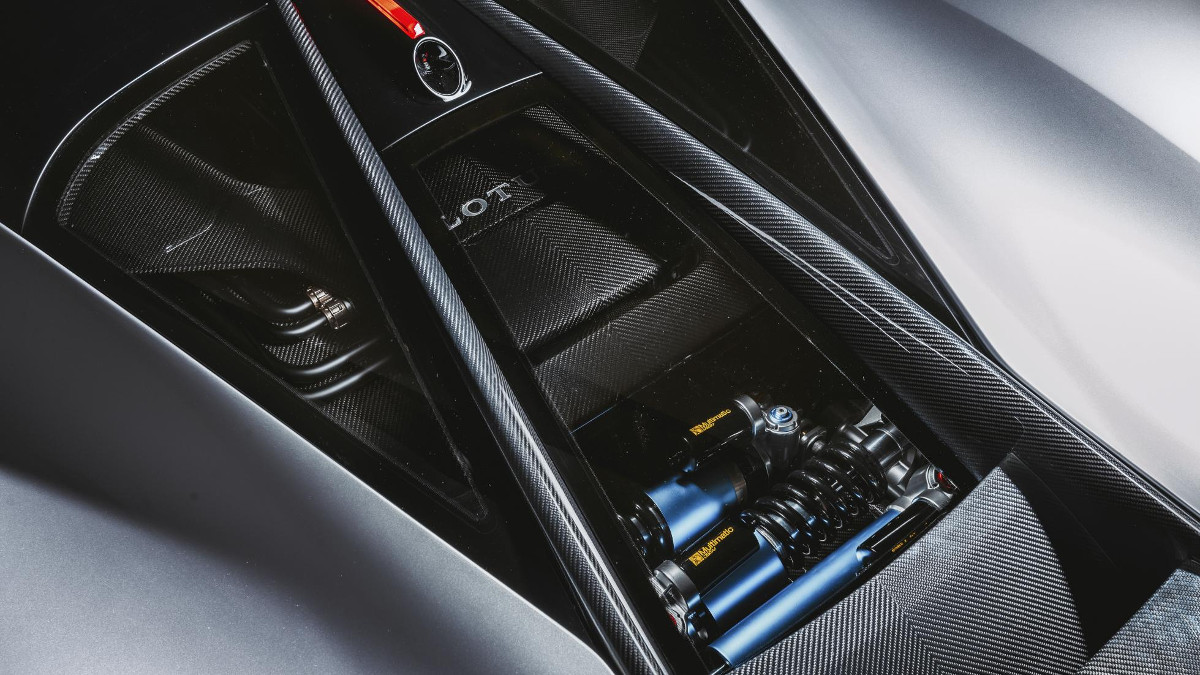 We're confidently told that the look won't change from what you see before you. From the pop-out cameras for door mirrors to the inboard suspension visible at the nape of the rear window, it's all approved. Hopefully, the Huracan-esque interior, with its driver-selfish digi-screen and birthday-card-sized steering wheel, will be left untouched, too. Because you've never sat in a better put-together Lotus than this. It doesn't even smell of fiberglass and panic.
Where, how, or even why the Evija's owners will deploy their new toy is a big conundrum to ponder, but Lotus is making nods to usability. The cabin controls are a very simple to suss out. Maximum cruising range is 402km—about what you'd get from a big V12 Lambo or Pagani, if you're careful. Which you won't be. Not with this much insta-poke. And it'll fully recharge in 18min—if you've got access to a 350kW charger. In the UK, at least, 40 such chargers are planned for when Lotus begins production in 2020; right now, the lone one is in Kent.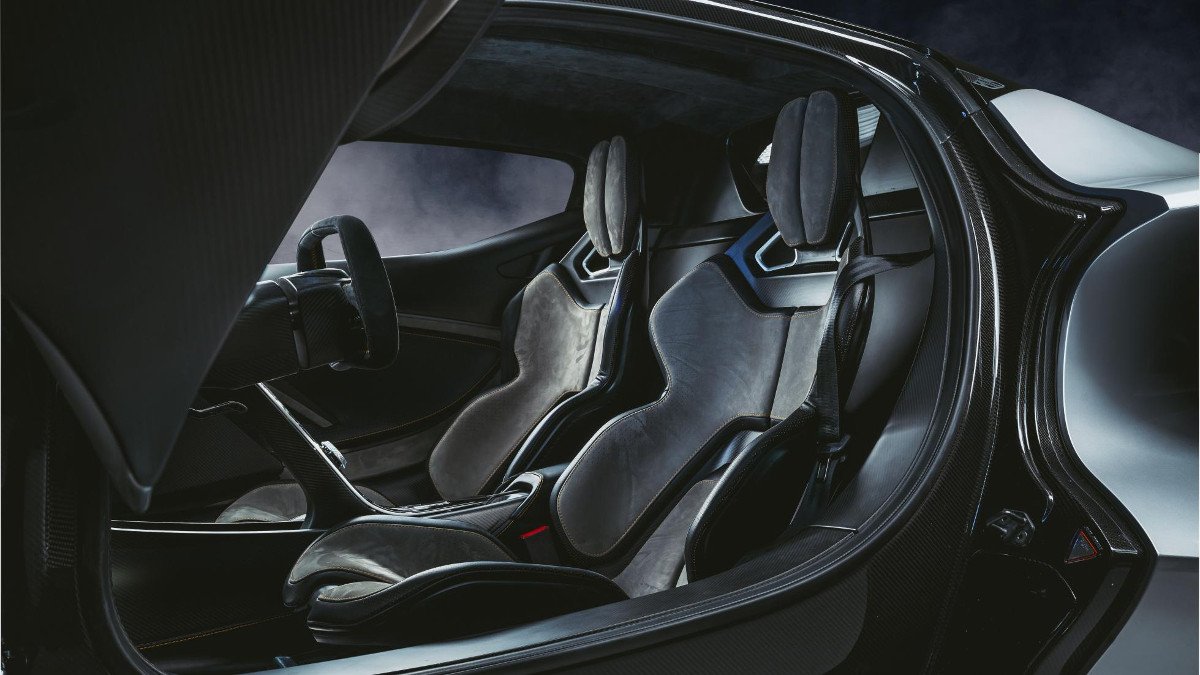 There's a strange yet wonderfully true story that on 16th November 1990, the British Parliament debated the morality of Lotus to sell its 377hp take on the Vauxhall Carlton, a family sedan with a top speed of 285kph. Thirty years on, Lotus is going to mic-drop a 2,000hp road car on the world.
Good thing all the MPs in its home country are otherwise occupied.
ADVERTISEMENT - CONTINUE READING BELOW ↓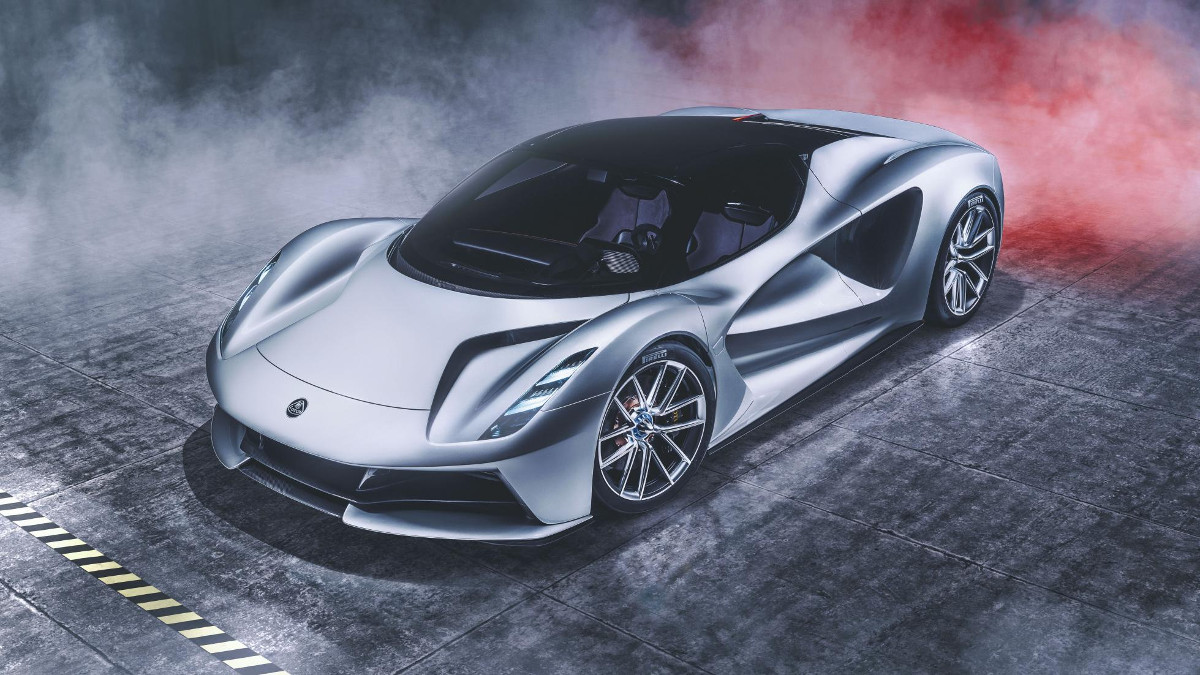 NOTE: This article first appeared on TopGear.com. Minor edits have been made.