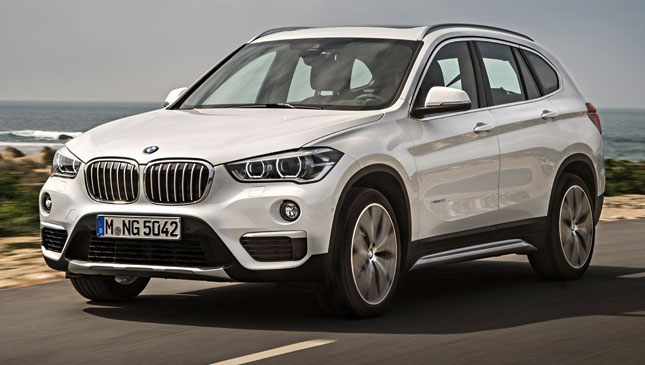 When BMW first came out with the X range of Sports Activity Vehicles (BMW-speak for SUVs), the world--purists in particular--were up in arms about the whole concept. The mere thought of the blue-and-white propeller brand building off-road-capable vehicles instead of the usual sports sedan and coupe fare was simply unacceptable. Fast-forward to today--a good 15 or so years later--and it looks like BMW was right after all. The X line isn't just one of its most successful model ranges, the series even spawned a few more iterations.
After the success of the X5, other models such as the smaller X3 and the coupe-like X6 and X4 have followed suit. But arguably one of the more sought-after models in the range is the X1. The X1 was first seen as a concept back in 2008, and hit the production floor a year later. Since then, it has sold over 730,000 units worldwide. Now, BMW says that it's time for a new model: Enter the second-generation X1.
At first glance, you won't really see the difference between this and the previous model. But isn't that the whole essence of most BMWs? It maintains the dynamic and bold twin-kidney grille, flanked by sleek headlamps that now feature full LED lighting for even better visibility. The front fascia likewise features a new bumper design with large air intakes for a sporty presence. The side, meanwhile, keeps the striking character line and signature D-pillar shape that has been a feature of the X family of SAVs.
Continue reading below ↓
Recommended Videos
While the overall look remains true to form, the new X1 keeps up with the market demand for more space with increased height (by some 53 mm), which in turn gives added passenger space. Knee room has been given a boost, as well as seating, with the seats now a bit higher for better overall visibility for all passengers. This being an X model, versatility is a given, thanks to the 505L of cargo space--85L more than the previous model. If this isn't enough, you can always fold down the rear seats to get as much as 1,550L of cargo volume. Added flexibility comes from an optional folding front seat and sliding rear seats, for the ability to haul all sorts of odd-shaped objects.
Of course, any BMW interior won't be complete without the driver-centric cockpit, and the X1 complies with this signature cabin design. There's also an impressive list of standard features, like an audio system with the now-requisite USB and auxiliary input, and the BMW-standard iDrive system with a 6.5-inch screen that is neatly integrated into the dash. Other really cool features are the head-up display, Dynamic Damper Control, and Driving Assistant Plus--all of which are designed to make driving safer and a lot more fun. Needless to say, buyers can specify options and trim to suit their individual tastes (in other markets anyway).
The new X1 will be powered by a host of engines--two gasoline and three diesel powerplants. Output ranges from 150hp all the way to 231hp, depending on the engine choice, and engines are mated to either a six-speed manual or an eight-speed Steptronic automatic gearbox. More important, BMW claims that the new range of motors can average anywhere from 15.6-24.4km/L. Naturally, the xDrive all-wheel drive system will be available on select models for go-anywhere capability. Also, the front-wheel drive system we saw on the 2-Series Active Tourer will also be an option.
The new BMW X1 will go on sale in Europe beginning in October. Hopefully, local distributor Asian Carmakers Corporation can bring this into our market soon after.