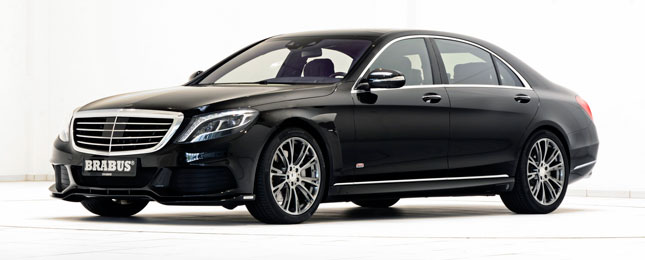 The Mercedes-Benz S500 Plug-in Hybrid is for folks who look for the ultimate luxury that the German brand has to offer, yet want to be kind to the environment. It offers power, luxury and eco-friendly motoring in one really cool package. What more can you ask for, right?
Well, how about a little more performance and a lot more exclusivity? While the stock S500 Plug-in Hybrid is already way up there in terms of snob factor, there is still a chance that some other CEO has the same model in the country-club parking lot. And this is where specialist Brabus comes in.
This German tuner has been churning out high-performance Mercs for some 38 years now. For the S500 Hybrid, it offers a kit that will boost the top-dog Mercedes-Benz's looks and give it that desired power upgrade. This comes in the form of the Brabus PowerXtra B50 Hybrid performance kit.
In stock form, the Mercedes S500 Plug-in Hybrid already develops a stout total system output of 448hp and 820Nm, coming from the 3.0-liter turbocharged V6 gasoline engine and plug-in electric motor. Thanks to the Brabus kit, these figures are boosted to 500hp and 890Nm. The result? Rest to 100kph comes in just 4.9 seconds, before the car dashes all the way to an electronically governed 250kph top speed.
Continue reading below ↓
Recommended Videos
Apart from the sheer performance, the Brabus PowerXtra B50 Hybrid kit uses special mapping for the fuel injection and ignition settings to make the car drivable in any situation and road condition. This means you get the most power and efficiency in any of the car's four driving modes. Moreover, the car still meets the strict Euro 6 emissions standards.
As any car enthusiast knows, power is only half the story with rides such as these. While you don't want to give away too much of what this car has to offer, a few tweaks to the looks and other bits won't hurt, right? This starts with larger front-end air intakes and lip spoiler that have both been tested in the wind tunnel for optimum efficiency. Complementing these is the aerodynamic bodykit that likewise helps give the car more slippery performance, as well as give it a meaner look. You can also specify illuminated Brabus logos, rocker panels and, of course, alloy wheels that can go as large as 22 inches. Finally, the specially designed Brabus quad-tailpipes hint at what lies under the hood (not to mention help improve performance).
Needless to say, Brabus can also give the car's other bits the special treatment. The interior, the infotainment system, and even stuff like scuff plates can be spec'd to make this ride truly your own.
Indeed, if you ever want to upgrade your Mercedes car's performance, the 'B' logo is what you should look for.