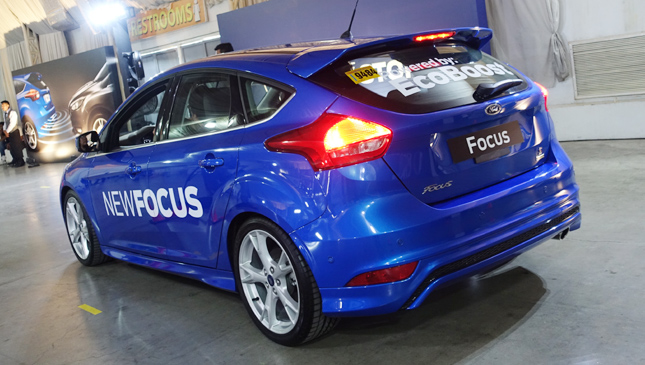 Let's get straight to the point: The new Ford Focus is a blast to drive. We were invited by Ford Philippines to the launch of the refreshed compact sedan and hatchback, and we were treated to a short but sweet drive through a tarmac circuit to find out just what made this update more than skin-deep.
First off, the Focus is now more fun as well as more economical. We have the new 1.5-liter turbocharged four-cylinder EcoBoost gasoline engine to thank for that. The powerplant is now lighter due to its aluminum block, and delivers up to 178hp and 240Nm. Combine the engine's refined performance with the vehicle's efficient six-speed automatic transmission, reduced weight and inspiring handling, and you've got an enjoyable car (as we found out soon enough).
The circuit consisted of a series of sharp turns and short straights, as well as a slalom toward the end. To be fair, we only had a handful of laps around it. But that was more than enough to give us an initial impression of what this Focus update was all about.
Steering was incredibly responsive, allowing the vehicle to perform nimbly through the turns and the slalom. But that's also with the aid of torque vectoring. And the straights were just lengthy enough to enable the refined engine to strut its stuff. This car is so fun that you're going to want to give it a good old pat on the hood once you're through with your first drive.
Continue reading below ↓
Recommended Videos
Exterior-wise, a lower and wider stance endows the new Focus with a sportier appearance. Lines flow from the vehicle's slim and stylish headlamps toward the rear that features a sculpted spoiler designed to improve aerodynamics, while a new hood scoop and updated fascia and tailgate arrangements add to the car's more aggressive overall appearance.
Ford designers opted to lean toward maturity with regard to the vehicle's interior. It features a simpler--albeit sleeker--cabin design with fewer dials and switches. Reorganized controls and an updated instrument panel should make "what does this button do?" moments few and far between. New sound-canceling materials such as sound-insulating windshield glass provide occupants with a quieter and more comfortable drive, as long as you aren't attacking the road like a madman.
The refreshed Focus can be had in four variants. The five-door hatchback model can be had in either Sport or Sport+, while the four-door sedan is available in Titanium or Titanium+. The hatchback variants have a dark/black interior, while the sedan variants have a light/beige cabin.
The Sport+ and the Titanium+ variants have 18-inch alloy wheels, paddle shifters, Enhanced Active Park Assist, Active City Stop, SYNC 2 connectivity system, keyless entry with push-button start, eight-inch multifunction screen, dual-zone climate control, ambient lighting, puddle lamps, and follow-me-home lighting.
Needless to say, drivers who suck at parking will no longer take an eternity backing up into a slot thanks to the Focus's new parking assist system. We got to try it out both in parallel and perpendicular parking situations, and it performed much better than we anticipated. Other safety and convenience features found on the refreshed model include an improved Active City Stop system, which prevents low-speed collisions, and Park-Out Assist, which helps drivers exit tight parking spaces (think parking assist in reverse).
You can check out the prices and exterior colors here.
The refreshed Ford Focus is packed to the brim with improvements both aesthetic- and performance-wise. If our initial experience behind the wheel is any indication of what owning this car feels like, then buyers will be in for one hell of a treat.
Exterior photos by Tracy Carpena and Drei Laurel