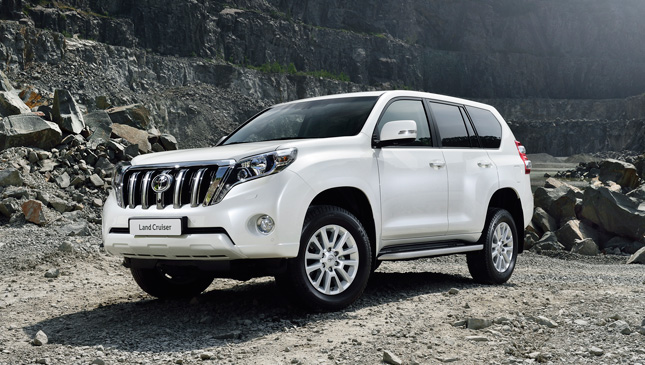 When it comes to the Toyota hierarchy of SUVs, you could say that the Land Cruiser Prado sits right smack in the middle of the pack. In our market, for instance, it is positioned between the high-end Land Cruiser 200 series and the more affordable Fortuner. Being "just right," of course, doesn't mean it can't use a little more spunk.
It seems that this is what the Japanese carmaker is thinking as it recently announced an upgrade for the midsize SUV. According to a report by CarAdvice, the Prado's current mill--a 3.0-liter four-cylinder turbodiesel--will be replaced by a smaller 2.8-liter four-pot turbo oil burner. If this sounds like a step down, allow us to explain.
You see, the current motor develops 163hp and 410Nm. That's enough to give the SUV adequate thrust in most situations. The good news is that the smaller 2.8-liter--which it will share with the upcoming next-generation Hilux--is slated to deliver 177hp. But if you're familiar with diesels, you'll know that the important figure is torque. In this case, the new engine will produce 420Nm for the manual, and 450Nm for the automatic version.
ADVERTISEMENT - CONTINUE READING BELOW ↓
Speaking of gearboxes, reports also say that the new Prado could get a new six-speed automatic transmission, in addition to a six-speed stick shift. This replaces the current five-speed auto gearbox. Such an upgrade will likewise result in an improvement in fuel economy, which currently averages a claimed mileage of roughly 12km/L when paired with the five-speed slushbox.
While no other details were revealed, the upgraded Prado may just come with the usual equipment upgrades, as well as exterior and interior tweaks.
The upgraded Land Cruiser Prado is set to be unveiled in June of this year. As for our market, Toyota Motor Philippines hasn't revealed when it will bring in the new engine and transmission upgrade for the Prado. This might also be a sign of things to come for the upcoming second-generation Fortuner.
ADVERTISEMENT - CONTINUE READING BELOW ↓
Recommended Videos