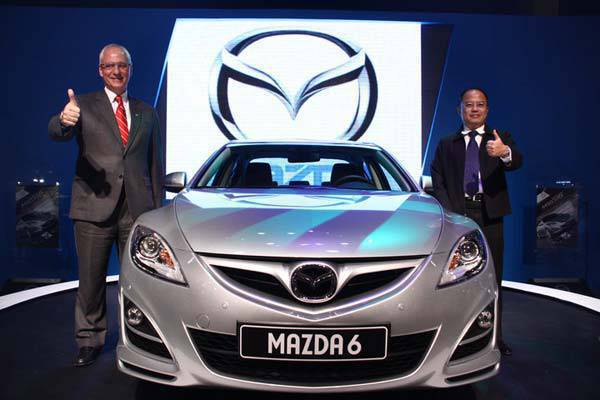 Ford Group Philippines is aiming to match the local automotive industry's growth this year but outgoing company president Rick Baker (in photo, left) said he will not be surprised if the company closed the year with higher-than-expected sales.
Ford Group, which includes the Mazda brand, sold 8,814 units in 2009. It held a 6.2 percent market share last year.
"I wouldn't be surprised if sales grew 20 percent," Baker said, attributing the growth to the company's new product offerings as well as to the improvements in the local economy.
He added that the optimistic forecast is made under the assumption that "things are smooth" in the economic and political fronts during and after the election period.
Continue reading below ↓
Recommended Videos
The Ford Group launched 2010 editions of the Ford Expedition Eddie Bauer EL, E-150 Club Wagon and the Explorer Eddie Bauer in February. It was followed by the introduction of new Ford Focus TDCi sedan variants in April.
The Mazda brand, on the other hand, launched the all-new Mazda 2 in March and the facelifted Mazda 6 last month.
The Ford Group is also expecting another winner in the Ford Fiesta, which is expected to be launched in the second half of the year.
Ford has earlier said the Fiesta will create "big waves" in the local market (click this link to read more about the Ford Fiesta).
Baker's 20-percent growth forecast is way higher than the automotive industry's official growth target of four percent in car sales this year. Chamber of Automotive Manufacturers in the Philippines, Inc. president Elizabeth H. Lee said industry players are looking at revising the target as sales have grown 35 percent since the start of 2010.
Check out the gallery below to see the latest introductions of Ford Group Philippines and get a glimpse of the upcoming Ford Fiesta.