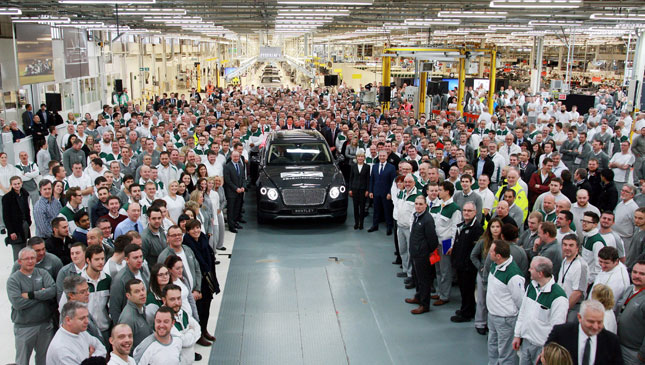 The first renderings of Bentley's SUV, the Bentayga, were so comical many were unsure if the British carmaker was serious about actually producing it. The Bentley aesthetic--circular headlights, honeycomb grille, massive flanks--were well-suited for large, stately sedans and coupes, but ungainly when applied to an SUV body.
Given that this plush SUV already shares an existing platform with fellow Volkswagen Group models (Volkswagen Touareg, Porsche Cayenne and Audi Q7), it makes sense to create an SUV and address the market demand.
Now those who feel that BMW X5s and Cadillac Escalades are too pedestrian, and clamor for the Bentayga have reason to celebrate: The first Bentley SUV has rolled off the factory floor. This signals the beginning of formal production in Bentley's factory in Crewe in the United Kingdom.
After four years since the concept was first revealed--during which 1,500 jobs have been created for the British carmaker--deliveries to customers will begin next month.
Bentley Motors chairman and chief executive Wolfgang Durheimer gave a statement on the occasion: "This car is a celebration of UK manufacturing at its very best, not only reinforcing our commitment to industry in this country, job creation and significant investment, but to our home in Crewe. This is an important moment in our history, where we reflect and celebrate. We also look ahead to delivering this extraordinary car to our customers."
Continue reading below ↓
Recommended Videos
The first Bentayga was finished with an anthracite paint job, and took 130 hours to produce. During its creation process, it passed through a new body store, a new paint shop, and a new assembly process--all part of an £840 million (P59.7 billion) investment program.
Even UK Prime Minister David Cameron chimed in: "The Bentayga represents an ambitious investment into the Crewe factory backed by £9.5 million (P674.56 million) from the Regional Growth Fund. It has created hundreds of valuable skilled jobs for the area, and secured the future of production onsite. Well done to all at Bentley. This is a moment of great pride for everyone who lives and works in Crewe."
Since we already have official representation here in the form of Bentley Manila, it's practically a given that this 6.0-liter twin-turbo V12-powered SUV will arrive in our market. We just hope it looks better in the metal than in photos.