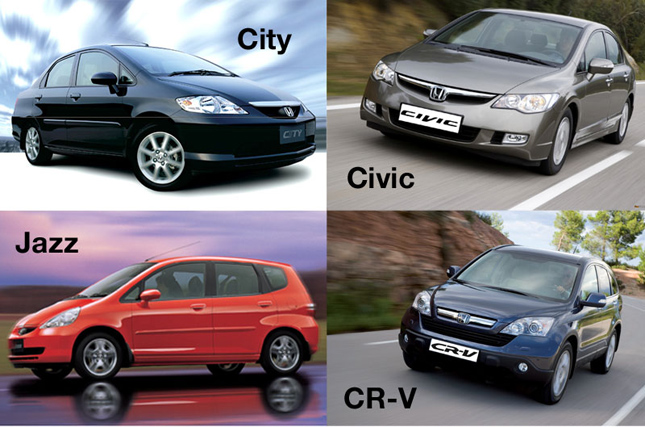 About a month after Honda Cars Philippines issued what it calls a "preventive measure" campaign regarding the airbags of Pilots, Accords and Civics, it is issuing a new round of similar measures on more models. To be specific, this program is to address a suspected defect in the inflator of the driver-side airbag.
The vehicles involved are the following:
* 2007-2011 CR-V;
* 2006, 2009-2012 Jazz;
* 2006-2011 Civic;
* 2003-2011 City; and
* 2011-2012 Insight.
We know the Insight was never officially sold in our market, so these units could be special orders.
Why use the politically correct term "preventive measure" instead of using the more popular word "recall"? Well, because it really is a preventive measure. This is a suspected defect, and no reported accidents or inquiries have occurred for this concern in the Philippines.
If your Honda is one of the affected models on the list below, you can set an appointment with any Honda dealership or service center nationwide. The replacement of the airbag inflator will take about one hour, and is free of charge for parts and labor. For more questions, Honda gave a telephone number (857-7240) and an e-mail address (update@hondaphil.com) for Honda owners.
ADVERTISEMENT - CONTINUE READING BELOW ↓
Here is the list of the affected models:
Model
Model Year
Frame
Affected units
From
To
Civic
2006
PADFD15306V000096
PADFD16406V002670
242
Civic
2006
PADFD15306V000001
PADFD16406V900002
3,451
Civic
2006
PADFD26706V000001
PADFD25506V900004
846
Civic
2006
JHMFD16406S200014
JHMFD16406S200014
1
Civic
2006
JHMFD15406S201370
JHMFD15406S214603
2
Civic
2006
PADFD25506V000271
PADFD26706V000600
90
Civic
2007
PADFD15307V101021
PADFD16407V106420
4,829
Civic
2007
PADFD25507V100331
PADFD26707V100810
240
Civic
2008
PADFD15308V202101
PADFD16408V209390
4,170
Civic
2008
PADFD26708V200811
PADFD26708V200960
150
Civic
2009
PADFD15309V303301
PADFD16409V310770
1,860
Civic
2009
PADFD26609V000151
PADFD26609V300420
420
Civic
2010
PADFD2660AV400421
PADFD2660AV400690
270
Civic
2010
PADFD1530AV101814
PADFD1640AV412300
2,041
Civic
2011
PADFD2660BV500691
PADFD2660BV500810
120
Civic
2011
PADFD1530BV504291
PADFD1640BV513110
1,050
CR-V
2007
MRHRE18307P010001
MRHRE17307P010003
5
CR-V
2007
MRHRE48407P020001
MRHRE48407P020003
3
CR-V
2007
MRHRE18307P010003
MRHRE18307P012253
3,002
CR-V
2007
JHLRE48307C200665
JHLRE48307C200665
1
CR-V
2007
MRHRE48407P020004
MRHRE48407P021293
1,290
CR-V
2008
MRHRE18308P010001
MRHRE18308P011920
2,280
CR-V
2008
MRHRE48408P020001
MRHRE48408P020870
870
CR-V
2009
MRHRE18309P010001
MRHRE18309P010930
1,170
CR-V
2009
MRHRE48409P020001
MRHRE48409P020360
360
CR-V
2010
MRHRE4840AP040001
MRHRE4840AP040630
630
CR-V
2010
MRHRE1830AP020001
MRHRE1830AP021680
1,980
CR-V
2011
MRHRE1730BP010001
MRHRE1850BP010480
930
CR-V
2011
MRHRE4840BP030001
MRHRE4840BP030210
209
Jazz
2006
MRHGD37706P020001
MRHGD38706P020332
452
Jazz
2009
MRHGE68309P020001
MRHGE68309P020935
1,357
Jazz
2009
MRHGE88509P030001
MRHGE88509P031145
1,145
Jazz
2010
MRHGE6830AP020001
MRHGE6830AP020510
810
Jazz
2010
MRHGE8850AP030001
MRHGE8850AP031170
1,169
Jazz
2011
MRHGE6830BP020001
MRHGE6830BP020210
330
Jazz
2011
MRHGE8850BP020001
MRHGE8850BP020720
718
Jazz
2012
MRHGE6830CP020001
MRHGE6830CP020330
540
Jazz
2012
MRHGE8850CP020001
MRHGE8850CP021231
1,231
City
2003
MRHGD66703P020008
MRHGD657X3P900006
17
City
2004
PADCD85504V000061
PADCD86704V000300
240
City
2004
MRHGD65264P910148
MRHGD65264P910148
1
City
2004
MRHGD86804P900004
MRHGD86804P900005
2
City
2005
PADCD86705V100301
PADCD86705V100360
60
City
2006
PADCD85506V200091
PADCD86706V900003
1,173
City
2007
PADCD85507V300481
PADCD86707V301410
180
City
2007
PADCD85507V300421
PADCD86707V301290
150
City
2008
PADCD85508V400541
PADCD86708V401920
780
City
2009
PADGM16409V000001
PADGM16409V900003
4,715
City
2009
PADGM26509V000001
PADGM26509V900013
3,703
City
2010
PADGM1530AV102131
PADGM1640AV105580
5,280
City
2010
PADGM2650AV103691
PADGM2650AV108010
4,320
City
2011
PADGM2650BV208011
PADGM2650BV210290
2,280
City
2011
PADGM1530BV204411
PADGM1640BV206690
2,400
Insight
2011
JHMZE2870BS203276
JHMZE2870BS203276
1
Insight
2012
JHMZE2850CS200008
JHMZE2850CS200008
1
Total
65,567
ADVERTISEMENT - CONTINUE READING BELOW ↓
Recommended Videos