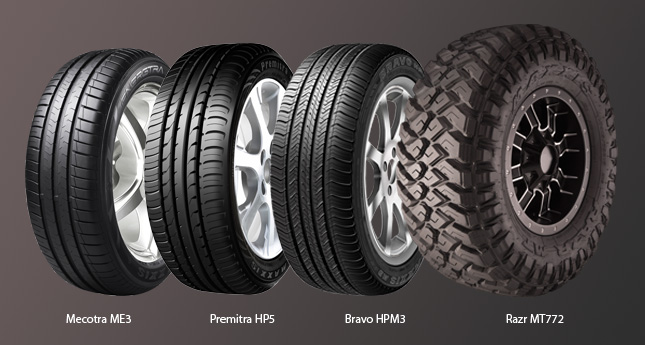 We're not really sure when we'll finally be able to rid of the inevitabable rain. Thankfully, you won't need to worry much when automotive companies are proactive in their campaigns in making sure that you are safe on the road during the rainy season. Like Maxxis, the tire company from Taiwan. It just launched tires for all kinds of cars (yes, suitable for almost all segments).
The Mecotra ME3, for example, is equipped with a Nano Science and Technology (NST) compound that will help achieve high wet grip and low rolling resistance. Its tread pattern is also designed to improve aquaplaning with multi-bulge points of sipe. There's also an arch groove in the pattern for effective water displacement. The Metra ME3 is recommended for small displacement cars, sedans, and crossovers.
Continue reading below ↓
Recommended Videos
The obvious highlight of the tire range, however, was the Premitra HP5. The Permitra is designed to make your track days safer despite rainy weather. It's for high-performance cars and full-size sedans. It is equipped with a full silica tread compound that promises to deliver high-speed traction and excellent wet and dry performance. The tire design features four main grooves that will enhance water dispersal and improve aquaplaning resistance. Something cool to note also is the electric conductive channel in the tread. This channel will dissipate the static electricity caused by friction.
For SUVs and crossovers, Maxxis would recommend using its new Bravo HPM3. The Bravo is designed with a continuous center rib with slanted sipes that will provide high-speed stability in diferent weather conditions. Wide circumferential grooves will also channel water away from the contact patch to improve hydroplaning resistance.
And in case you didn't know, the tire-maker is known for creating extreme off-road tires and even sponsoring a Dakar Rally Team. So, off-road enthusiasts might also be interested in the Maxxis Razr MT772. The Razr's tread features a stair shape design on the shoulder for increased traction and performance on sand, loose soil, and mud terrain. Plus it's constructed with three-ply sidewall for casing endurance and durability.
No one knows when Metro Manila drivers will have to tread flood water again, but best to be prepared and equipped, especially with the right car shoes.