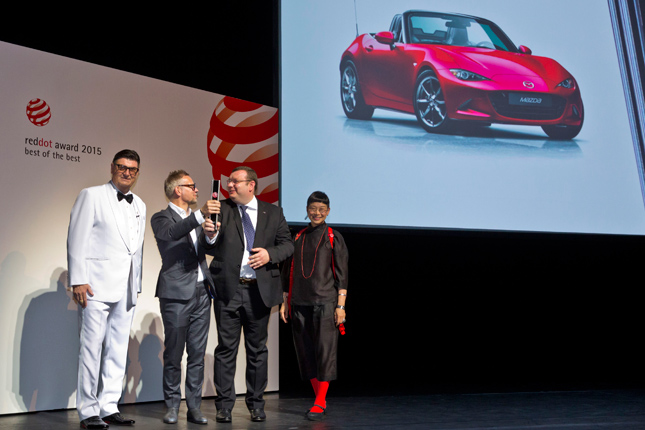 The Red Dot design award is one of the most prestigious competitions in the world in the field of design. You may have seen this logo slapped onto some of the nice products you use. This year, the Mazda MX-5 won the "Red Dot: Best of the Best" prize at a gala ceremony in Essen, Germany. This accolade goes to exceptionally groundbreaking designs across many industries.
The Japanese carmaker is especially proud that two more of its vehicles won Red Dot awards this year: the CX-3 for outstanding design quality, and the 2 for honorable mention. But the latest MX-5 is undoubtedly the star this time. Its bold face, short overhangs and sweeping lines are a validation of the success of Mazda's Kodo design language.
"The MX-5 has always been about creating smiles, and design is a key part of its success," says Kevin Rice, Mazda Europe's design director, who accepted the Red Dot trophy together with vice president of communications Wojciech Halarewicz. "Balancing tradition and progress, the new model was an exercise in knowing what to change and what not to. And I believe every inch of this car radiates life, movement and the promise of fun behind the wheel."
The Red Dot product design jury of 38 international experts evaluated the entries based on criteria ranging from the degree of design innovation to functionality, ergonomics and ecological compatibility. The jury appraised 4,928 submissions from 56 countries this year, selecting the best entries in 31 categories, including motor vehicles. The winners now earn the right to bear the Red Dot symbol, the international seal of design excellence that we see on certain products. Initiated in 1955 by the Germany-based Design Zentrum Nordrhein Westfalen, the annual product competition is considered the world's largest.
ADVERTISEMENT - CONTINUE READING BELOW ↓
The MX-5 hasn't arrived here yet--but it will soon, although the initial shipment is sold out--and it's already getting awards. We can't wait to get to know it better soon.