Toyota Motor Philippines (TMP) has launched yet another promo this month, but this time it caters not to all Toyota customers in general but to a specific group of people: Grab drivers and operators.
Through its new 'Up For Grab' promo, TMP is offering up to 65% in savings on change oil and filter services for select variants of some of the vehicles in its lineup. The said service will cost only P999 for the Wigo, Avanza, and Vios, and P1,599 and P1,999 for the gasoline- and diesel-powered Innova models, respectively. You can check out the detailed price matrix below: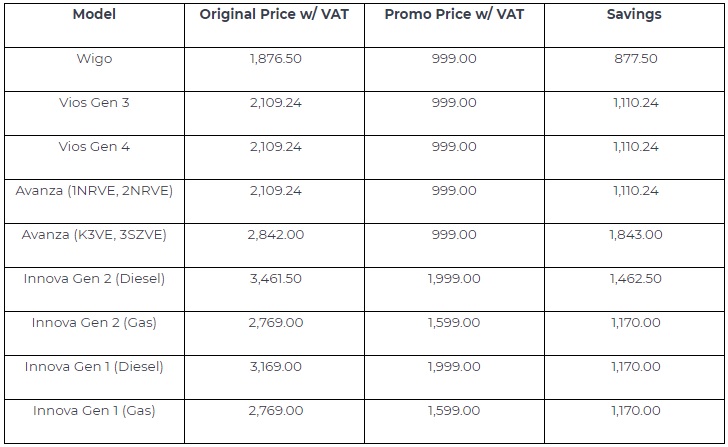 This package includes genuine Toyota motor oil, oil filter, drain plug gasket, materials, labor, and a car wash to boot. What customers need to avail of this promo is an official Grab ID or simply the Grab App for confirmation that the Toyota brought in for servicing is indeed an active Grab unit. This offer lasts until August 31, 2020 and is available in all Toyota dealerships nationwide.
This initiative is one of the many efforts of TMP to lend a helping hand to its community, the most recent one being its donation of 30 Vios units to various public hospitals across the country. To read more on its previous efforts throughout this COVID-19 pandemic, click here.
For more of our stories on the ongoing crisis, click here. For the latest news and updates on COVID-19, check out reportr.world/covid-19.