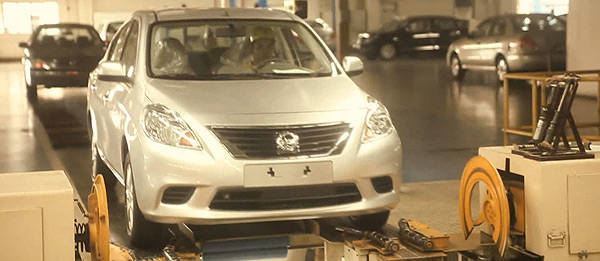 Nissan Motor Philippines Inc. (NMPI) is taking a page off one of its rival carmaker's books by having its newest contender in the subcompact sedan category produced locally, much like its top competitor for the same vehicle category. Toyota Motor Philippines also assembles the best-selling Vios in the country.
The 1.5-liter Almera--which will be officially introduced in January 2013--is currently being assembled by local workers at the Nissan Technopark, a sprawling 236,439sqm facility in Santa Rosa, Laguna, which is one of the country's biggest manufacturing hubs.
Besides the Almera, the plant currently produces other Nissan vehicles like the X-Trail, the Grand Livina, and the 1.6-liter Sentra. Of NMPI's vehicle lineup, only the Teana and the Sentra 200 are being imported from Japan and Mexico, respectively.
According to NMPI, sustaining vehicle operations in the Philippines is definitely a challenge as local players are faced with high manufacturing costs. In addition, Philippine car manufacturers and assemblers need to contend with imported completely built-up (CBU) vehicles, "which have become more attractive over the years due to free trade agreements with other regions."
With more meaningful incentives, NMPI believes that the Philippines can easily become one of the busiest vehicle production hubs in the region. The company even aims to maximize the changing trend in Nissan's global vehicle planning and development, such as what happened with the Almera.
Continue reading below ↓
Recommended Videos
According to NMPI president and chief executive Allen Chen, the usual strategy of Nissan is to do vehicle planning and development in major countries first, and then introduce the vehicle to emerging markets.
"However, with the new Almera, Nissan focused firmly on the emerging countries first, and created vehicles that meet the needs of these markets," said Chen. "Nissan was able to develop a vehicle that is practical and affordable yet is equipped with enough features to satisfy the discriminating taste of customers."
Much like it did with its other locally produced models, NMPI had to undergo a series of stringent processes, which lasted for about 18 months, before it was able to start the production of the Almera.
Hundreds of Almera units are now being produced at NMPI's plant before it is publicly launched next month. Have you already placed your order for a unit?