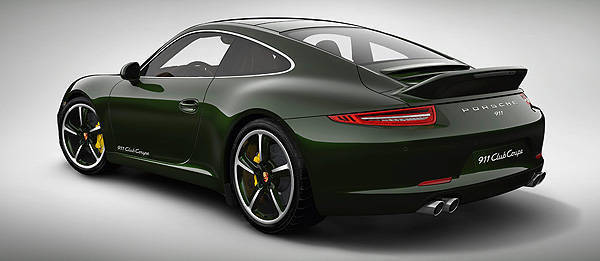 Porsche is celebrating the 60th anniversary of the founding of the very first clubs dedicated to its vehicles by unveiling a very limited-edition model of its most iconic nameplate.
In honor of the 13 founding members of the first two Porsche clubs that were established just months apart in Germany in 1952--four years after the first Porsche model, the 356, had been built--the German carmaker will produce 13 units of the 911 Club Coupe.
Based on the 911 Carrera S Coupe, the 911 Club Coupe comes in Porsche's classic Brewster Green exterior color and is equipped with a distinctive front spoiler and its archetypal 'duck tail' rear spoiler.
Owning the 911 Club Coupe, however, isn't an easy process where just about anyone can walk into a Porsche showroom and order it on a first-come, first-served basis.
To be eligible to own the 911 Club Coupe, a prospective owner must first be a member of one of the 640 official Porsche Clubs in 75 countries around the world. If the buyer satisfies that one specific qualification, he or she must also agree to the following stipulations made by Porsche:
ADVERTISEMENT - CONTINUE READING BELOW ↓
* They are entitled to participate only once and in person;
* They will not assign to a third party the right to purchase one 911 Club Coupe;
ADVERTISEMENT - CONTINUE READING BELOW ↓
Recommended Videos
* They will neither sell nor offer for sale the 911 Club Coupe purchased for a period of 12 months; and
* They will not purchase the 911 Club Coupe "in the name of, for the account of or on behalf of a third party who is not himself/herself eligible to participate."
Porsche even goes as far as to specify that the last stipulation applies particularly to commercial resellers.
Of the 13 911 Club Coupes, only 12 club members--drawn through a lottery--will have the opportunity to acquire the vehicle as one unit will remain with the carmaker "to honor the Porsche Club World."