First things first: Yes, this the RB15, Red Bull Racing's 2019 Formula 1 car, looking like a Spider-Man cosplayer. No, it's not gonna carry on looking like this for the entire season—the livery is a one-off for the launch, and you might remember that the RB14 also donned a special design scheme for its unveil last year.
Ahead of the first preseason test in Barcelona next week, the RB15 has racked up some mileage at Silverstone Circuit for the team's filming day, during which it's shared the track with Mercedes-AMG's W10 and Toro Rosso's STR14. This marks the first time the senior Red Bull outfit is running on Honda power after ending its long-time partnership with Renault, but it already has some valuable information on the Honda power units from Toro Rosso's experience of using them last year.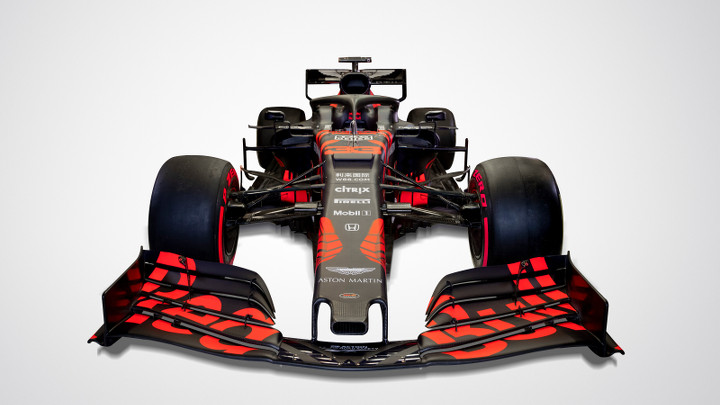 Continue reading below ↓
Recommended Videos
And by the way, Aston Martin is still the Red Bull's title sponsor, despite Honda being the new power-unit supplier—that the two automotive brands appeal to different sets of customers is the justification for this.
Now the team's more senior driver after Daniel Ricciardo's move to Renault, Max Verstappen is "optimistic but realistic" heading into the season. "I guess up until Australia, anyway, you can't really set goals because it's a bit blind," he says. "In Formula 1, it's so related to the package you get, so I'm always quite easygoing. I'm always going try to do as good as I can and try to get the best out of myself, but you're so dependent on what you get as a package, so you just have to wait."
The Dutchman is regarded as one of the best overtakers on the grid. Asked about the 2019 regulation changes, which focus on reducing fuel saving and aerodynamic turbulence to improve overtaking, he replies: "I don't think it's going to improve racing because the cars have too much downforce and they're too wide, but we'll see. Some tracks are better for overtaking than others."
What he's more excited about, he says, is the new power unit: "I want to feel how it upshifts, downshifts, how the drivability is, how much power there is. And from there onwards, you just start to work together with the car and [find] what you can improve."
Pierre Gasly has been promoted from Toro Rosso as Verstappen's teammate. "To have a super-competitive teammate next to me, for sure, will push me, and will make me develop myself and learn a lot faster," says the Frenchman.
Gasly also benefits from prior working experience with Honda, when he competed in Super Formula two years ago. "I went to Japan a lot, spent time in the country to learn the culture, to learn the way they communicate, the way they work," he recalls. "It's really different from what we have in Europe, so you really need to adapt yourself to the culture and understand how things work there if you want to extract the best from the people. This helped me in Toro Rosso as well."
He adds: "This will help the relation I will have with the engineers. But we need to give them time... When you start a new partnership, it always takes time before things run smoothly and in the most efficient way. I think it will take time, but [in terms of mentality], both Red Bull and Honda have the same targets, and I'm sure they will manage to achieve what they want."