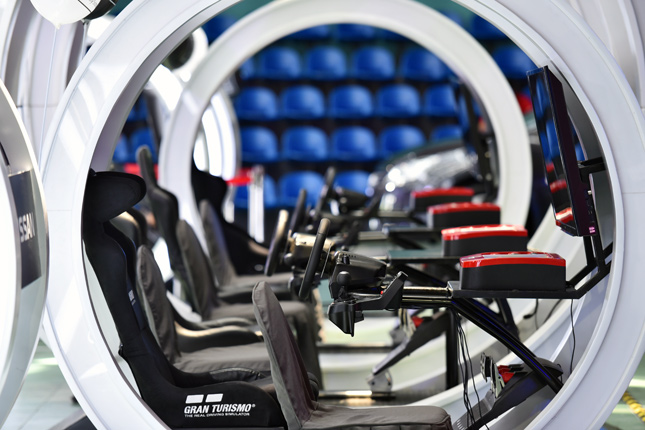 As you know, the 24th Trans Sport Show will be held on May 15 to 17 at the World Trade Center in Pasay City. That's this weekend, in case you're losing track of the days. And as has been the tradition, Top Gear Philippines will have a booth at the show--located at the reception lobby, to be exact.
And as in the past, we want to treat our readers and followers to the best car-show experience possible by putting together an entertaining booth. So for this year's Trans Sport Show, we're doing this: Our booth will host a weekend of live events (or qualifiers) of the Nissan GT Academy. Yep, the Top Gear booth at the 2015 Trans Sport Show will feature four (4) simulator pods for the qualifying sessions of the popular virtual-racing competition.
So instead of hanging out at the usual mall to try and secure a qualified time among the top 20 participants, all you have to do from Friday to Sunday this weekend is to linger at our Trans Sport Show booth. Aside from having the chance to set times at the four pods, you will also get the chance to win raffle items--not to mention meet Traffic Stopper Sara de Guzman, who is Nissan Philippines' marketing muse. If you're lucky, Sam Pinto might even show up to cheer on your hot lap.
ADVERTISEMENT - CONTINUE READING BELOW ↓
Anyway, here are the current top 20 times that you need to beat this weekend:
Top 20 performers as of last qualifier date (May 10)
1. Terence Lallave (1:02.347)
2. Cameron Jordan Padillo (1:02.358)
3. Jan Millard Lacuna (1:02.409)
4. Francisco Adriano (1:02.442)
5. Rafael Miru Lesaguis (1:02.499)
6. Daryl Brady (1:02.573)
7. Rodolfo Faustino (1:02.606)
8. Michael Vincent Yap (1:02.618)
9. Rio Halili (1:02.642)
10. Paolo Vittorio Alcance (1:02.719)
11. Luis Antonio Moreno (1:02.742)
12. Onyl Malabanan (1:02.770)
13. Joel Erickson Urbi (1:02.794)
14. Paolo Miguel Bringas (1:02.838)
15. Rabboni John Buenaventura (1:02.912)
16. Brent Nathaniel Fullero (1:02.925)
17. Mark Angelo Villamor (1:02.949)
18. Timothy Robert Melendrez (1:02.951)
19. Madison Valdez (1:02.959)
20. Jose Gerard Policarpio (1:02.969)
You read that right: All provisional top 20 participants are down to a minute and two seconds. Just hairline fractions of a second separate them from top to bottom. They're that good. Do you have what it takes to join them? Only one way to find out: Go to our booth at the Trans Sport Show this weekend. The good news is that admission is free, since our booth is located at the lobby of World Trade Center.
ADVERTISEMENT - CONTINUE READING BELOW ↓
Recommended Videos
If you're planning on doing multiple trials, we suggest you download the registration form now and print as many copies as you want to save yourself a little time at the venue. The registration form may be downloaded here.
See you this weekend, guys. Remember: You could be the next virtual-to-reality race car driver!