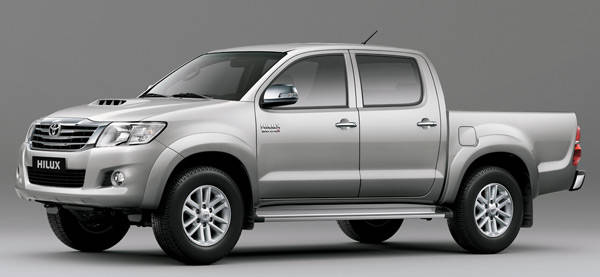 Think about this for a second: From January to October this year, the Toyota Hilux sold 4,462 units. That total is more than the year-to-date sales of Universal Motors Corporation (4,127), Suzuki Philippines (3,891) or Nissan Motor Philippines (1,225). If what we're trying to point out is still lost on you, here it is in simpler terms: A single pickup model is currently outselling the entire product line of several local distributors.
The Hilux is the best-selling pickup in the Philippines. And with the introduction of a variable nozzle turbocharger in September, sales will only get stronger in the coming months. According to Toyota Motor Philippines marketing vice president Sherwin Chua-Lim, the backlog of Hilux orders is now "more than a month." Chua-Lim adds that they normally move around 450 Hilux units a month.
"We noticed a higher demand for the Hilux after the major change (face-lift) in August last year," explains the Toyota executive. "Then when the VNT Hilux came out in September, demand went even higher, especially for 4x2 diesel units."
Chua-Lim adds, however, that it's not just his company that's seeing stronger pickup sales. "The pickup market has been increasing the past few years," he says. "The volume this year is almost the same as last year mainly because of supply limitation during the first semester of the year due to the flooding in Thailand last year. But pickup sales last year marked a 20-percent increase versus 2010."
Continue reading below ↓
Recommended Videos
This year alone, three new pickups arrived on our shores: the Chevrolet Colorado, the Ford Ranger and the Mazda BT-50.
So, what does Toyota attribute the pickup's recent surge in popularity to?
"Pickup demand has been improving because the pickup's usage is no longer limited to just utility and business," Chua-Lim tells us. "The pickup has become a multipurpose vehicle that can now also function as an everyday car."
Will you ever consider using a pickup as a leisure or family vehicle? Take our poll.
[poll]367[poll]