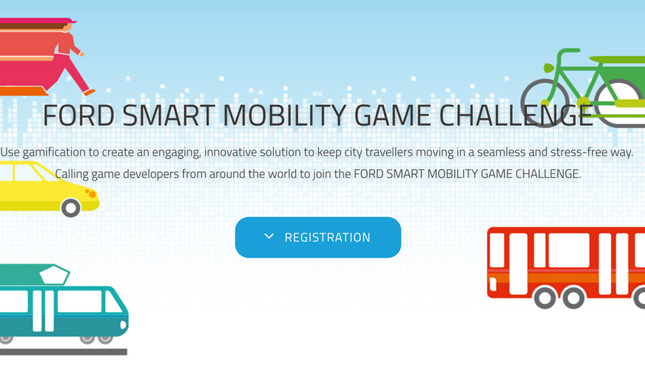 Just a few days ago, we wrote about Ford's participation in this year's Gamescom event in Cologne, Germany. The event, if you recall, showed off two cool Ford vehicles--the awesome GT and a one-off Forza Focus RS that was driven to the gaming congress by our very own Stig. Apparently, Ford seems to be doing more than just letting loose its hot rides and letting a playful racer drive them around.
The Blue Oval automaker is actually trying to make a difference in the way we will move around in the future, and it is tapping gamers to help it achieve this goal. Ford, through its Smart Mobility Game Challenge, is inviting the gaming community to come up with innovative solutions that will help make mobility, commuting and transportation more efficient for future generations.
Have you ever wondered how those video-game characters can easily get from one level to the next? And don't you find it cool how they are rewarded for being able to have such a great run at it? Well, this is part of the hurdle that Ford has posed at the gaming congress. Why not use game developers' talents to help solve the mess that is our daily commute?
Continue reading below ↓
Recommended Videos
With traffic becoming a major problem in many urban areas--don't we know this all too well?--many have expressed that their journey to and from work is even more stressful than their time at the office itself. Add to this some cities having a very inefficient transport system (you don't need to go far), and you've got a recipe for urban chaos. Ford thinks that video-game developers can suggest a few ideas on how to resolve these issues.
For example, developers can utilize how their game characters easily travel from one area of the game to the next, and translate this into a real-world scenario. They can even challenge commuters to take the best routes and reward them for it. This is even made easier with the use of devices that are at pretty much everyone's disposal nowadays—smartphones.
The Smart Mobility Game Challenge entries will be judged by a panel made up of some of the brightest minds in the academic and gaming community. The winner will receive 10,000 euros (P500,000) and even have their work showcased at next year's Mobile World Congress in Barcelona, Spain. How cool is that?
But more than the prizes, what's really awesome is the fact that your work may just be the key to helping solve the bedlam that many of us have to deal with day in and day out. It can make the lives of people a lot easier and less stressful. Hopefully, whatever these solutions are, they can find their way to our part of the world, and our very own MMDA will use them. Just saying.