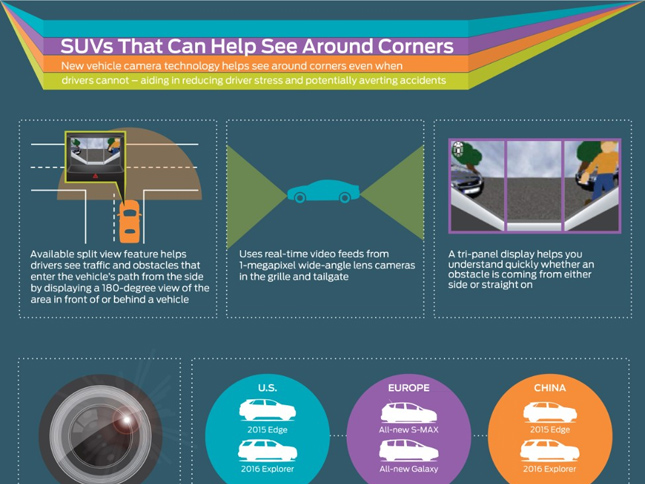 The backing-up camera used to be a novelty when it first came out a few years ago. Back then, it was only available on high-end cars and made parking a lot easier, not to mention make the driver look oh-so-cool. Today, this feature comes standard on many cars sold in the market, including the top-spec variants of the subcompact Honda twins--the Jazz and the City. In fact, the Japanese brand even offers several camera viewing angles to ease your woes while slotting into that tight parking space.
Apart from backing-up cameras, some carmakers like Nissan offer "surround-view" cameras for even safer driving. With all these cameras mounted in various parts of the vehicle, you tend to wonder: What will they think of next? Well, Ford thinks that the next phase is allowing drivers to see around corners.
The new technology acts as an "eye" to help see around the turn or even the dangerous blind corner. Thanks to a pair of one-megapixel wide-angle lenses--one mounted on the grille and another on the tailgate--drivers get a 180-degree view of the road ahead and behind them (when reversing). The live feeds are shown on a tri-panel screen on the instrument cluster display, and help the driver see whether an obstacle is heading toward his or her direction.
Continue reading below ↓
Recommended Videos
If you think this is cool, wait until you see what Ford has in store for the near future. The Blue Oval brand has announced that it plans to roll out the most advanced camera technology real soon, first fielding it on the Super Duty series of pickup trucks. Using a total of seven cameras scattered around the vehicle, the technology utilizes advanced digital architecture to make it possible for drivers to see around a truck or even a full-size trailer. This makes driving on the highway a lot safer. And don't worry about having a dirty camera lens--a washer system is part of the setup.
The best part is this isn't a pipe dream. Ford has been offering backing-up cameras since 2007 with the Expedition, and will begin rolling out the Edge and the 2016 Explorer with split-view cameras. The American carmaker plans to make the feature available in its entire global SUV lineup by the year 2020. Hopefully, this includes the Philippines, specifically for the Everest and the Escape. With this new technology, it would be a lot easier to see that bus coming toward you.