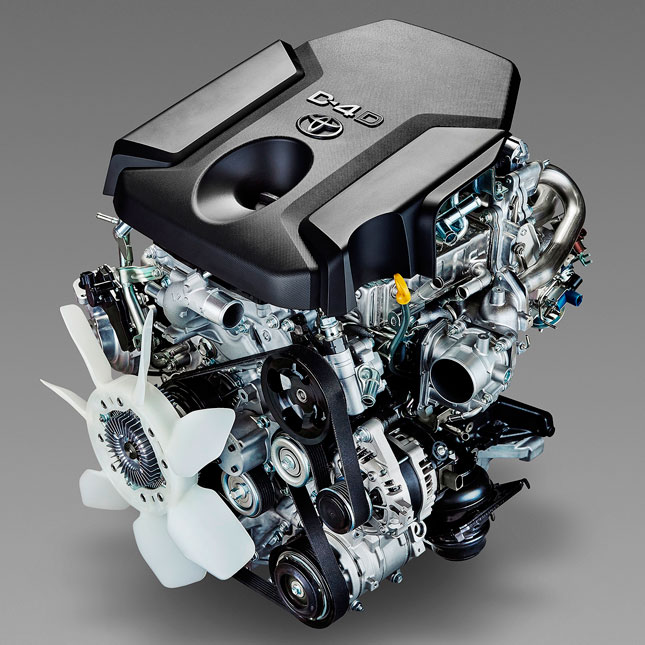 Toyota is no stranger to diesel engines. Those of you who are old enough may remember the HiAce van being offered with a diesel mill back in the '80s. While that powerplant was the noisy and anemic oil-burner, it did the job of ferrying families who spent as little as possible at the gas pump.
Fast-forward to 2006, and Toyota conquered the market with its IMV range of SUVs, pickups and MPVs, powered by either a 2.5-liter or the more potent 3.0-liter diesel engine. Sure, this lump wasn't the most powerful motor in the business, yet it delivered pretty decent fuel economy, and more than adequate pull and thrust in most driving situations. Now, Toyota wants to get with the times as it gives us a glimpse of its latest range of diesel motors.
You know that the next-generation Hilux and the upcoming Fortuner and Innova will be powered by this new range of oil-burners. But what exactly makes Toyota's new GD-series diesels so special?
For one thing, the new direct-injection engine makes use of the world's first Thermo Swing Wall Insulation technology. It likewise utilizes silica-reinforced porous anodized aluminum in places like the pistons. By combining these with a new port shape, a new combustion chamber, and other technologies, the new engine essentially has better thermal efficiency for better combustion. In plain English, this means your motor burns the fuel and air mixture better for more power and improved fuel efficiency.
Continue reading below ↓
Recommended Videos
In addition to the cool new engine tech, the new GD engine series features a more compact variable-geometry turbocharger. Compared to the current model, this new turbo is 30% more compact and has a new impeller and turbines that make for faster engine response and instant torque over a wide spread of the rev range.
Finally, the new diesel motor uses the urea Selective Catalytic Reduction system--a first for any Toyota. This filter essentially eliminates up to 99% of harmful emissions, like the poisonous nitrogen oxide. This will help make these engines and their corresponding vehicles Euro 6-compliant and truly clean-burning.
But is the GD better than its predecessor, the current KD family of engines? The top-spec 2.8-liter 1GD-FTV diesel that does duty in the newly launched Hilux, for example, may be smaller than the top-of-the-range 3.0-liter diesel motor found in its predecessor. Yet it puts out more power (174hp versus 163hp) and a more impressive torque figure (450Nm versus 343Nm). Toyota likewise claims that fuel economy has improved by roughly 15%.
Of course, all these are merely press talk. We do hope to see how these new engines perform once they arrive under the hoods of the new Hilux, Innova and Fortuner soon. Needless to say, we'll let you in on it once we find out. Let's keep our fingers crossed.