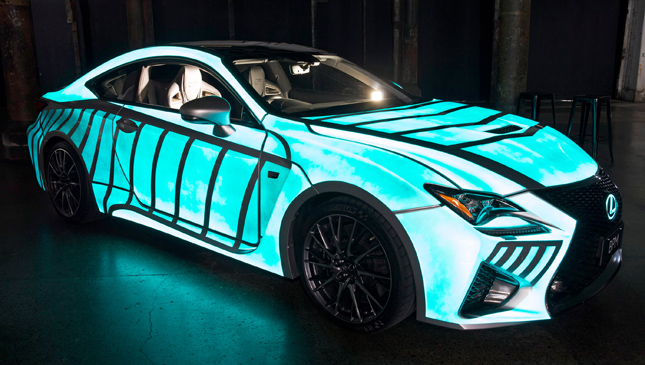 If you're a car guy, just thinking about certain makes and models of automobiles makes you feel like you're in love. You know the feeling: sweaty palms, excitement, faster heartbeat.
Well, now, there is a car that can actually let the world know how excited you are to be driving it. Lexus Australia has just developed a special model that displays a person's heartbeat, and shows this on its exterior. The unique, one-off RC F V8 coupe has been jointly produced with creative agency M&C Saatchi, to show the world the special bond between man and machine.
It begins with the RC F being connected to its driver via a heartbeat monitor and an electrical system in the vehicle. The person's heartbeat and pulses are then converted to an electric charge, which is then displayed as a bright "glow" on the car's specially painted electroluminescent bodywork. The innovative paint and body panels were done by US-based specialist Lumilor.
ADVERTISEMENT - CONTINUE READING BELOW ↓
The paintwork glows as the person's heart beats. The more excited the driver gets, the faster and brighter the paint lights up. It is all part of Lexus's thrust to show the world that it can build exciting cars that are fun to drive and can get your pulse racing. In fact, this tech-laden concept comes at the heels of yet another cool innovation that has been making geeks salivate like crazy: the Lexus Hoverboard. While still in its prototype phase, the Hoverboard, just like the heartbeat car, shows that such sci-fi inventions are possible.
With cars having paintwork like this, containing your excitement has just become a little harder to do, especially if you see a pretty lady walk by. But that's another story altogether.