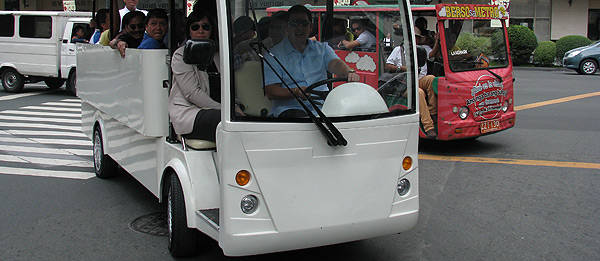 Political issues never cease to keep our lawmakers busy but Sen. Ralph Recto, author of the Alternative Fuel Vehicles Incentive Act of 2011, is hoping his proposal will soon be passed into law. By soon, he is looking at June 30--when lawmakers are done playing the role of an impeachment judge and can focus on other legislative processes.
"As the title of the measure suggests, fiscal and non-fiscal incentives shall be granted to the importation and manufacture of electric, hybrid and other vehicles that use alternative sources of energy such as, but not limited to, solar, wind, hydrogen fuel cell, compressed natural gas or liquefied natural gas, and liquefied petroleum gas," said Recto. "If we can finish the impeachment trial by the end of May, I'm confident we can pass the bill before June 30."
Recto noted though that the House of Representatives needs to pass a similar bill before the Alternative Fuel Vehicles Incentives Act can be passed into law.
The lawmaker also added that the incentives sought by the Act will not only reward the local manufacturers and assemblers of electric vehicles and its parts but the importers and distributors of alternative fueled vehicles as well as their owners.
Continue reading below ↓
Recommended Videos
The bill seeks to exempt from paying excise taxes and duties for nine years the manufacturers and assemblers of completely knocked-down parts of electric, hybrid and other alternative fueled vehicles, incuding those that have been converted from internal-combustion units. Value-added tax imposed on the purchase and importation of raw materials, spare parts, components and capital equipment used in the manufacture or assembly of electric, hybrid and other alternative fuel vehicles shall also be suspended for nine years.
Importers of completely-built units of electric, hybrid and other alternative fuel vehicles, meanwhile, will also be exempted from the payment of excise taxes and duties for nine years.
Alternative-fueled-vehicle owners, on the other hand, will not only receive a fiscal incentive in the form of the exemption from paying the Motor Vehicle User's Charge--otherwise known as the Road User's Tax-- imposed by the Land Transportation Office. They will also receive non-fiscal benefits like priority in the initial registration and renewal of vehicles. They will also be exempted from the number-coding scheme implemented by the Metropolitan Manila Development Authority and various local government units and be provided with free parking spaces in business and commercial establishments.
Public-utility-vehicle operators that exclusively utilize alternative fuel vehicles will also be given priority by the Land Transportation Franchising and Regulatory Board in the approval of their applications for a franchise to operate, including its renewal also for nine years.
"With this bill, we hope to bring down the cost of alternative fueled vehicles," said Recto, "to put it within reach so that more of them are used on our roads and highways."
According to Recto, with the incentives granted under the bill, the P2.25-million price tag of the Toyota Prius can go down to as low as P1.6 million, and the cost of the e-jeepney, currently at P625,000, could go down to P490,000.
"These are just estimates. The prices could go down further as the demand increases," added Recto. "Ultimately, we are saying that we want the alternative to be the mainstream in due time."