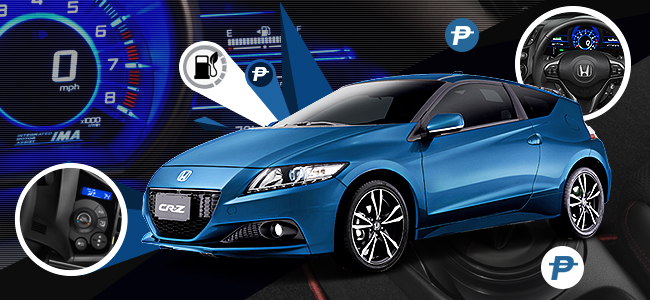 Hi, sir Botchi! I plan to buy the Honda CR-Z, and I need to know the pros and cons about the car in terms of its fuel consumption, hybrid system and reliability. Basically, I want to know everything about the car. I would really appreciate your help. Thank you, sir! God bless!
Joseph Tan
Joseph, thank you for your e-mail regarding the Honda CR-Z. It's not as popular as the Toyota 86, the Subaru BRZ or even the Hyundai Genesis Coupe, but it's a great car and a fantastic tuning base to start from.
The CR-Z uses a 1.5-liter L-series gasoline engine and Honda's Integrated Motor Assist (IMA) electric motor that adds a useful bump in power. The goal of the CR-Z's hybrid system is to boost performance without increasing fuel consumption to achieve its targets. This is a different use of hybrid technology compared to rival Toyota, which uses its hybrid systems to improve fuel economy. The CR-Z--in industry terms--is a half or soft hybrid because it doesn't offer a full-electric driving mode, unlike Toyota's Prius and Prius C, or Lexus's GS450h.
The local-market CR-Z, which was launched just last year, is the updated one that has a more powerful IMA electric motor (15kW, up from 10kW in pre-facelift, gray-market models imported from the US) and a more powerful lithium-ion battery pack. There's a Plus Sport button, which gives added power for five seconds, handy when exiting out of a tight corner, getting the jump on your racing opponent, or overtaking a slow-moving vehicle on a tight mountain pass.
Continue reading below ↓
Recommended Videos
The CR-Z has great brakes, steering and suspension, although I much prefer the Mugen suspension, which is available from Honda. It's also far easier to live with on a daily basis as it's roomier and more comfortable than the 86 or the BRZ once you're actually sitting down inside the car. But like the 86 and the BR-Z, if you're anything above 5'6", the rear seats are pretty much useless.
(Check out: Honda CR-Z variants, specs and prices)
From an aftermarket point of view, there are not as many parts available for it compared to (again) the 86 and the BRZ, but there's quite a lot going around: turbo kits from GReddy and Top Secret; a supercharger kit from HKS; a piggyback ECU from both GReddy (E-Manage) and HKS (F-Con iS or F-Con V-Pro); and, of course, suspension (shocks and springs, coilovers, bushing kit, sway bars and chassis-stiffening bars), wheels/tires and bodykits. You can easily spend another P1.0-1.5 million on aftermarket parts for the CR-Z.
Gripes? Rearward visibility is surprisingly poor. The A-pillar sometimes blocks my particular field of peripheral vision, and the roof is quite low (I've banged my ears a couple of times getting in and out). Somehow, I can't get it into my head that the CR-Z has the stance of a low sports car. I never expected good fuel consumption, but it's an easy 9-10km/L, which is an added bonus.
I had the opportunity to borrow the CR-Z twice. The first time was the pre-facelift CR-Z, and afterwards the face-lifted CR-Z with the more powerful IMA setup. I tremendously enjoyed both units--and so did my wife, who loves Hondas. Now my wife's bugging me to get her one, too.
The CR-Z might be underrated, but it's a stellar performer nonetheless. My choice would be a full Mugen-equipped CR-Z in manual. It's perfect for the track, where its predecessor--the CR-X--made a name for itself outpacing faster, more powerful and more expensive cars on the circuit.
It might be a hybrid, but the CR-Z's hybrid system aims to improve performance. Think of it as being in the same vein as the Porsche 918 Spyder, the McLaren P1 and the Ferrari LaFerrari--all of which have hybrid drive technology assisting their performance.
Good luck! I hope this helps you!
Botchi Santos
Consumer Editor
[poll]555[poll]